GOP Vermont Gov. Says He Won't Vote for Trump But 'Would Consider' Supporting Biden
Vermont Governor Phil Scott said Friday that he has decided he will not vote for President Donald Trump in the 2020 presidential election.
Scott, a Republican, has been a vocal critic of Trump for years and said previously that he did not vote for Trump in the 2016 presidential election, according to the Associated Press.
During a coronavirus news briefing in Vermont on Friday, one reporter asked Scott if he has decided which of the two presidential candidates he will support in the wake of the Democratic National Convention. The convention was held as a mostly virtual event earlier this week and concluded on Thursday night with former Vice President Joe Biden formally accepting his party's nomination.
"I've been quite adamant in not supporting the president," Scott said. "I won't be voting for President Trump."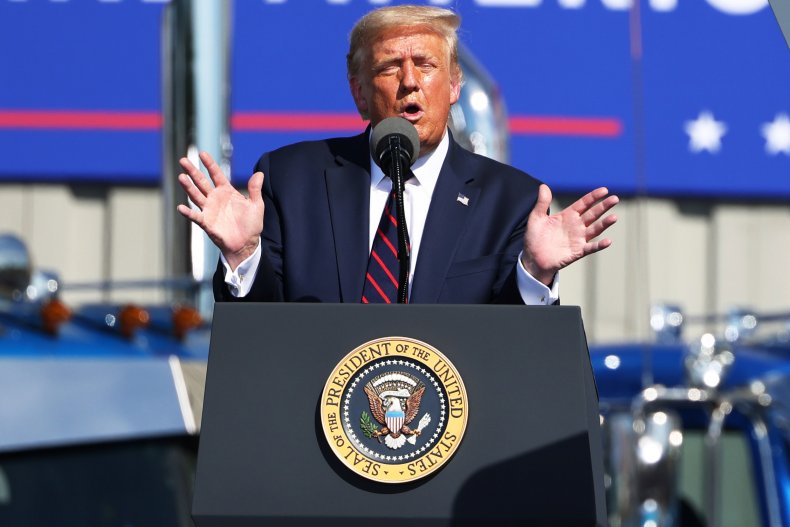 Trump is expected to formally accept his party's nomination for reelection during the Republican National Convention next week. Newsweek reached out to Trump's campaign for comment but did not receive a response in time for publication.
Though Scott said he has decided against voting for the incumbent president, he said he is still unsure if he will support Trump's Democratic challenger.
"I have not decided at this point whether to cast a vote for former Vice President Biden," Scott said. "But it's something that I would consider. I just haven't made that decision at this point."
Earlier this year, Scott said that he believed Trump "shouldn't be in office," according to the Associated Press. Scott supported the Democrats' impeachment inquiry in 2019, which ended with the House of Representatives approving two articles of impeachment and the Senate acquitting the president of both.
"I believe that the president abused his powers," Scott said when asked about the impeachment inquiry during a news conference in February. "I didn't vote for the president, and I don't believe that he should be in office."
Scott is far from alone in speaking out against Trump as Election Day draws near. Though Trump has recently said he retains strong support from his Republican base, some defectors launched anti-Trump campaigns in efforts to shift Republican support from Trump to Biden. While one of those campaigns, Republican Voters Against Trump, gathers and shares videos of Republican voters explaining why they do not intend to support Trump in November, another, called The Lincoln Project, is actively targeting Trump and vulnerable congressional seats by sharing campaign ads endorsing their challengers.
In Vermont, voters have leaned blue in every presidential election since 1988, according to data compiled by 270towin.com. Election results from the AP said that Hillary Clinton won more than 56 percent of voters within the state when Trump first ran for president in 2016. In the two prior elections, the AP's results found that former President Barack Obama won 67 and 68 percent of the vote in Vermont, both elections in which Biden joined Obama on the ticket as his running mate.