GOP Witness Tim Morrison Says There Was Quid Pro Quo At Impeachment Inquiry Testimony
Former National Security Council official Tim Morrison said there was a quid pro quo concerning the release of military aid to Ukraine at a televised impeachment inquiry hearing yesterday.
The former senior director for European affairs told lawmakers during public testimony that the U.S. Ambassador to the European Union, Gordon Sondland, told Ukraine that military assistance to the country would only be released if it got its lead prosecutor to make a statement about an investigation into former Vice President Joe Biden and his son Hunter Biden, who held a position on the board of Ukrainian energy firm Bursima.
Morrison made the claim when asked to recall what Sondland had told him was said at a September 1 meeting between the U.S. Ambassador to the E.U. and Andriy Yermak, an aide to Ukrainian President Volodymyr Zelenskiy.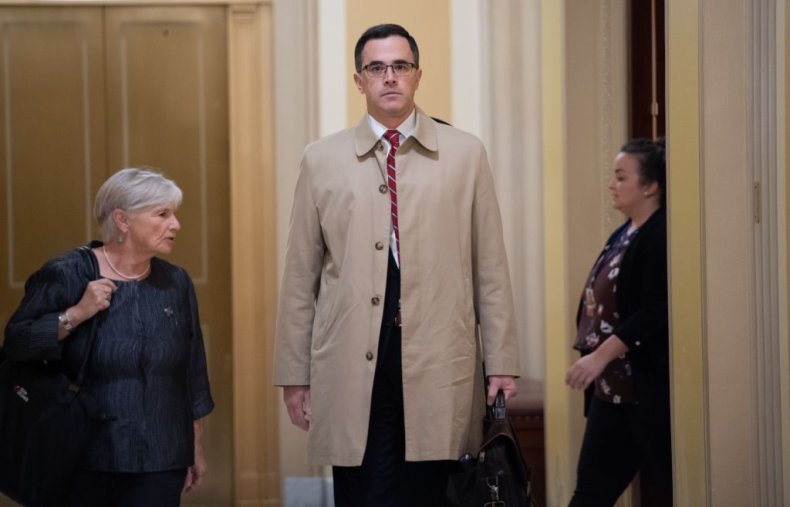 At the former NSC official's testimony yesterday, Democratic counsel Daniel Goldman asked Morrison: "What did Ambassador Sondland tell you that he told Yermak?"
"That the Ukrainians would have to have the Prosecutor General make a statement with respect to the investigations as a condition of having the aid lifted," Morrison replied.
He also told lawmakers that he did not see anything wrong with the July phone call between President Trump and Zelenskiy that led to the launch of the impeachment inquiry during his public testimony.
The allegation that President Donald Trump had nearly $400 million of military aid temporarily withheld from Ukraine in an effort to pressure the country into publicly opening an investigation into his political rival and former Vice President Joe Biden has been at the center of the ongoing impeachment inquiry.
Trump has repeatedly and strongly denied that any quid pro quo existed in relation to Ukraine and told media yesterday that the ongoing impeachment inquiry was a "kangaroo" court.
But the broadcast testimony of Morrison yesterday may still come as a blow to the president and the GOP, even though it is not the first time the former senior NSC official has said a quid pro quo regarding Ukraine existed.
At a closed door hearing with House representatives, he said Sondland told Yermak it would be "sufficient if the new Ukrainian Prosecutor General... would commit to pursue the Burisma investigation," in return for the release of military aid.
This conversation was also referenced in the testimony top U.S. diplomat Bill Taylor. Morrison said the "substance" of Taylor's recounting of the conversation was correct but said he was wrong on the details because he claimed Sondland told Yermak that President Zelenskiy, not the Prosecutor General, needed to commit to the investigation.
His claim that there was a quid pro quo arrangement came as he disputed the account of fellow inquiry witness and top U.S. diplomat Bill Taylor, who claimed Sondland told Yermak military aid would be released if President Zelenskiy committed to an investigation of the Bidens and Burisma, according to a transcript of Morrison's private testimony.
His claim that there was a quid pro quo regarding the release of military aid to Ukraine in front of cameras yesterday will no doubt present a challenge to Ambassador Sondland.
The top U.S. diplomat in the European Union is due to appear before lawmakers leading the impeachment inquiry at a public hearing this morning (Wednesday, November 20).