GOP Women Much Less Likely to Get COVID Vaccine than GOP Men: Poll
Republican women will be far less willing than Republican men to take a COVID-19 vaccine when one becomes available, according to a new poll.
A national NPR/PBS NewsHour/Marist poll released Wednesday found that although a 61 percent majority of GOP men said they would take the vaccine, only 34 percent GOP women agreed. Democratic women also appeared to be more reluctant than their male counterparts, although both were more likely to agree than Republicans, with 85 percent of men and 70 percent of women saying they would choose to be vaccinated.
However, a 71 percent majority of Independent women said they would take the vaccine, more than the 62 percent of Independent men who agreed. Regardless of gender, similar numbers of Independents, 5 to 6 percent, were uncertain of their choice. Republican and Democratic women were less certain. GOP women who said they were not sure numbered 10 percent, compared to 5 percent of men, while 13 percent of Democratic women and no Democratic men were uncertain.
The poll found that 61 percent of adults were willing to take the vaccine overall, with 32 percent unwilling and another 7 percent undecided. A previous edition of the same poll conducted in September found that only 49 percent were willing, while 35 percent were not and 5 percent were unsure. Wednesday's poll was conducted among 1,065 U.S. adults between December 1 and December 6, with a margin of error of 3.7 percent.
Republican women were also more likely to approve of President Donald Trump's handling of the pandemic than men, according to the poll. An 87 percent majority approved, while 78 percent of GOP men agreed. Hardly any Democratic men or women approved, with 3 percent of men and 4 percent of women approving. Independent men were almost twice as likely as Independent women to approve of Trump's handling than women, 42 percent to 22 percent.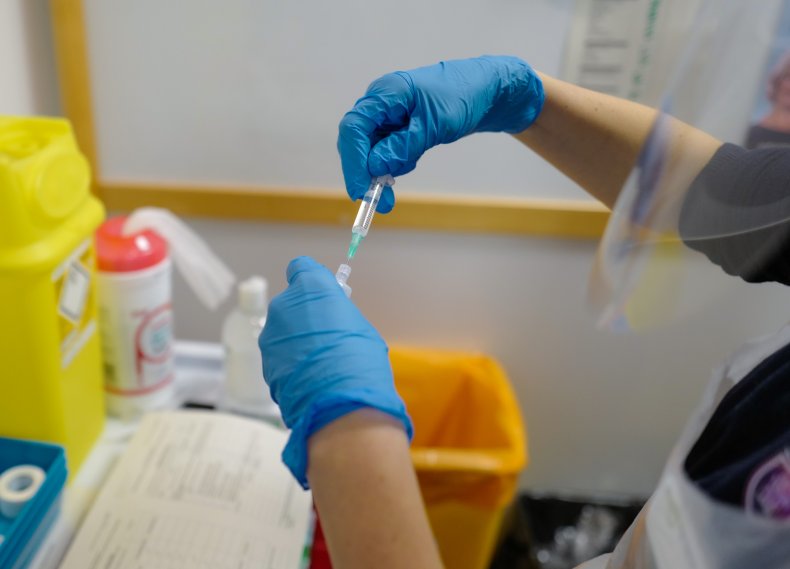 Previous polling has shown that Republicans are generally more reluctant to be vaccinated than Democrats. Even before the presidential election, when some Democrats expressed concerns that Trump was pushing the release of a vaccine before it was safe in order to win political points, most said they would take one if it became available. In an Economist/YouGov poll from early September, a 53 percent majority of Democrats said they would take the vaccine, compared to only 31 percent of Republicans, although 31 percent of both groups said they were not sure.
Trump has repeatedly touted his role in vaccine development amid the pandemic, which has included championing Operation Warp Speed, the initiative to accelerate development of vaccines and treatments for COVID-19. However, prior to being elected president in 2016, Trump promoted discredited anti-vaccine conspiracy theories on social media, tweeting in 2014 that a "massive shot of many vaccines" results in autism in children—an idea that has been thoroughly debunked by medical experts.
Newsweek reached out to the GOP for comment.
The Food and Drug Administration is expected to conduct hearings on Thursday and next week that could result in emergency approval of two promising vaccines from Pfizer/BioNTech and Moderna. Research has suggested that both vaccines may be around 95 percent effective, without any major life-threatening reactions being observed in trials. Limited doses of the two-dose vaccines could be available for front-line health care workers and other vulnerable individuals soon, while the wider population will likely have to wait until several months into next year.
Another poll released Wednesday, by the Associated Press and NORC Center for Public Affairs Research, found that only 47 percent of U.S. adults are willing to get the vaccine. That would fall well below the 70 percent of the population that experts believe will need to be vaccinated to achieve herd immunity, increasingly the likelihood that anti-vaccine sentiment could result in the virus continuing to infect and kill Americans even though effective and widely available vaccines could end the pandemic.