A powerhouse political fundraiser known for supporting Republican women has intentionally been keeping distance from Reps. Marjorie Taylor Greene and Lauren Boebert, calling them "carnival barkers" and "shameless self-promoters."
The Value In Electing Women Political Action Committee has lent its support to every Republican woman currently serving in the United States Congress and Senate, with a notable deviation in the cases of Greene from Georgia and Boebert from Colorado. It's an exception Julie Conway, VIEW PAC's executive director said was "intentional."
"While we rightfully celebrate the number of GOP women serving in the House, I've always professed quality over quantity," Conway told Business Insider Wednesday in an email.
"The work of Congress is not a joke or reality show. Our women have fought too hard for too long to be respected and taken seriously as legislators, policymakers and thought leaders. We cannot let this work be erased by individuals who chose to be shameless self-promoters and carnival barkers."
Rep. Boebert said in an email to Newsweek, "Julie who? Never heard of her," in response to a request for comment Wednesday.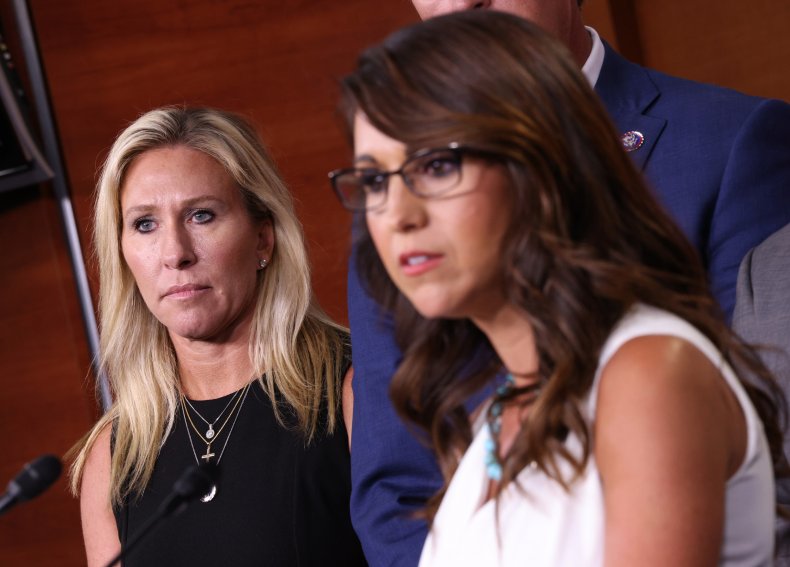 Greene has made headlines as a polarizing figure for her outspoken former belief in the QAnon conspiracy theories, her anti-vaccination stance, and a controversial statement she made comparing Speaker of the House Nancy Pelosi's mask mandate to the Holocaust. She also ran into criticism for hosting a "gun giveaway" contest on Twitter.
Similarly, Boebert has drawn attention for her controversial stances, like her link to the QAnon movement. She faced backlash after she criticized a trans weightlifter on Twitter, said migrant parents were "self-separating" from their children at the border, and voted against Capitol police receiving medals for serving during the Capitol riot.
"I think that they would rather draw attention to themselves, and really Marjorie Taylor Greene more than Boebert, but they're cut from the same cloth," Conway said.
"There is too much at stake and too many true public servants to allow the noise of the few to overshadow the work of the many."
Newsweek reached out to Greene's office but did not hear back before press time.
In the last 11 years, VIEW PAC is responsible for fundraising and distributing over $20 million for GOP House and Senate candidates, said Conway.
A record number of Republican women were elected to Congress in 2020, and Conway said she intends to support that trend however she can with her PAC. She said she wanted to help reelect "all of the GOP women who deserve to be" and get more worthy candidates into the House and Senate.