Republican Senator John Barrasso on Sunday backed Mike Pence for doing his "constitutional duty" to certify the 2020 election, amid ongoing attacks from former President Donald Trump against his former vice president.
Appearing on Fox News Sunday, Barrasso commented on Pence's remarks this week in which he said he had no right to overturn the results of the presidential election, despite facing pressure from Trump to do so.
"I heard this week that President Trump said I had the right to overturn the election. President Trump is wrong. I had no right to overturn the election," Pence said in a speech on Friday. "The presidency belongs to the American people, and the American people alone."
In response, Barrasso complimented Pence for doing the right thing and noted that he himself voted to certify the election.
"I think Mike Pence did his constitutional duty that day," said the Wyoming lawmaker. "It's not the Congress that elects the president, it's the American people." Barrasso also said that the Republican Party needs to work on becoming more unified, and said his focus remains on future elections rather than the 2020 race.
"People of Wyoming are fed up as they are all across the country with what's happening today. And my focus is on the future, taking back the House, taking back the Senate, the 2022 elections, not the 2020 elections," he said.
Barrasso is the latest lawmaker to give his opinion on the matter as tensions between Trump and Pence appeared to reach new highs this week.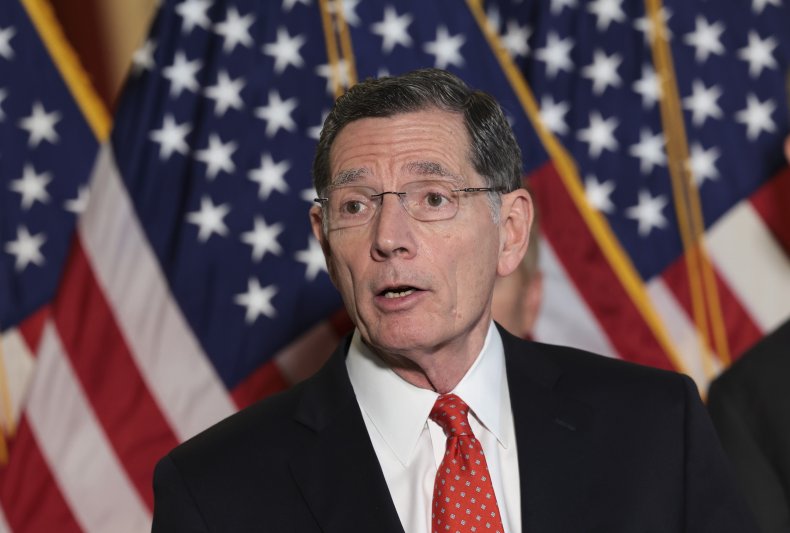 Over the past year, Trump has repeatedly asserted that Pence had the power to reject election results from several key states that he claimed, without evidence, were stolen from him due to voter fraud. On Tuesday, the former president suggested Pence should be investigated for not sending Electoral College votes back to state legislatures "for recertification or approval."
Pence's response on Friday ignited a flurry of both praise and condemnation from Republicans. Several figures, including former Trump aide Steve Bannon, attacked Pence for being disloyal to the former president.
Trump also lashed out against Pence in a statement on Friday night, accusing his former vice president of acting as "an automatic conveyor belt for the Old Crow Mitch McConnell to get Biden elected President as quickly as possible," before adding, "I was right and everyone knows it."
Others, including GOP voters, have praised Pence for standing up against Trump.
"I was pleasantly surprised with how he handled it," said Republican voter Christine Pratt, who attended Pence's speech. "I thought he did a great job. I think it's time to move on from the 2020 election and look forward to 2024."
Florida GOP Senator Marco Rubio on Sunday rejected Trump's claim that Pence had the power to overturn the election, noting on Face the Nation, "Vice presidents can't simply decide not to certify an election."
Former New Jersey Governor Chris Christie, a Republican, on Sunday called Trump's response to Pence's speech "immature," adding on ABC's This Week, "January 6 was a riot that was incited by Donald Trump in an effort to intimidate Mike Pence and the Congress into doing exactly what he said in his own words last week—overturn the election."