GOP's Madison Cawthorn Says He Shouldn't Have Tweeted 'Cry More, Lib' on Election Night
Republican congressional newcomer Madison Cawthorn addressed a confrontational Election Night tweet in new interview comments, saying he "shouldn't have done that" given his rising status as a federal public official. Cawthorn, who is 25 years old, secured a win against Democratic incumbent Moe Davis to represent North Carolina's 11th congressional district in the U.S. House during this month's general election. He will become the youngest member of Congress in January.
Shortly after the November 3 race was called in his favor, Cawthorn tweeted, "Cry more, Lib," a message that drew criticism from some social media users who felt it was unprofessional, given the circumstances. Speaking to Jewish Insider in a wide-ranging interview published Monday, the forthcoming congressman said his Twitter post was directed at critics and "cancel culture," rather than his Democratic opponent. Cawthorn also suggested the sentiment was born out of competitive spirit, but he noted that he crossed a line "in the heat of victory."
"I will say that it was directed at a sect of the liberal party that has really bought into cancel culture.… There's just been so much, you know, blatant lies about me, specifically when it comes to questions of Nazism and racism," Cawthorn told the outlet.
"It was a lash out at that cancel culture saying, 'You know what, people saw through your lies,' and it was kind of just, like, gloating in victory. But I'll say it was probably not the most congressional thing I've ever done," he continued. "I have to represent everybody now, so I shouldn't have done that."
Cawthorn faced backlash over the summer, when Instagram posts that chronicled his 2017 visit to the Eagle's Nest, a Nazi retreat site in southeastern Germany, resurfaced online. Language he used to caption the photos raised questions about his perspective, as people scrutinized their apparent lightheartedness and perceived inappropriate tone, in light of the now–tourist site's history.
At the time, Cawthorn quickly dismissed criticisms of his social media activity, saying his attitude was misinterpreted and acknowledging the heinous crimes committed under Hitler and the Nazi regime. Beside a photograph of U.S. Army soldiers celebrating the end of World War II at the Eagle's Nest, Cawthorn said, "This was the history [he] had in mind" during his visit. "It was a surreal experience to be remembering their joy in a place where the Nazi regime had plotted unspeakable acts of evil," he wrote on Facebook.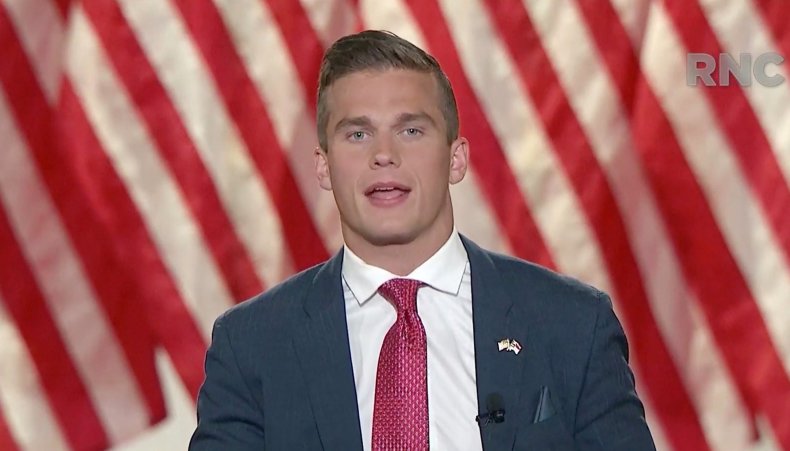 Although some believed his campaign deleted the Instagram posts in response to their recirculation, they were only removed temporarily while Cawthorn formulated his written explanation.
Newsweek reached out to Cawthorn and Davis' congressional campaigns for additional comments but did not receive replies in time for publication.