GOP's Stimulus Bill Focuses on Kids and Health Care—Both Areas Voters Think Trump Is Failing In
As legislators debate the next economic relief package on Capitol Hill, President Donald Trump faces majority disapproval ratings for his push to reopen schools and how he's handled health care, two key areas of the Republicans' plan.
Senate Majority Leader Mitch McConnell offered a glimpse of the GOP plan on Monday, saying on the Senate floor that it will focus on "kids, jobs and health care." To that end, Republicans plan to allocate $105 billion for educators, resources for coronavirus vaccine and therapeutic development, support for hospitals and protections for seniors from premium spikes.
"This majority will be laying down another historic proposal very soon," McConnell said.
Tackling the three issues of jobs, health care and kids will begin with "the facts" to develop "real, targeted solutions on the subjects that matter most to American families," he said.
A majority of voters in six swing states—Arizona, Florida, Michigan, North Carolina, Pennsylvania and Wisconsin—consider day care and reopening K-12 schools as a top priority for the government, according to a CNBC/Change Research poll. However, the goal to reopen doesn't come without concern, as 43 percent, a plurality of voters, are worried in-person classes will not be safe for students in the fall.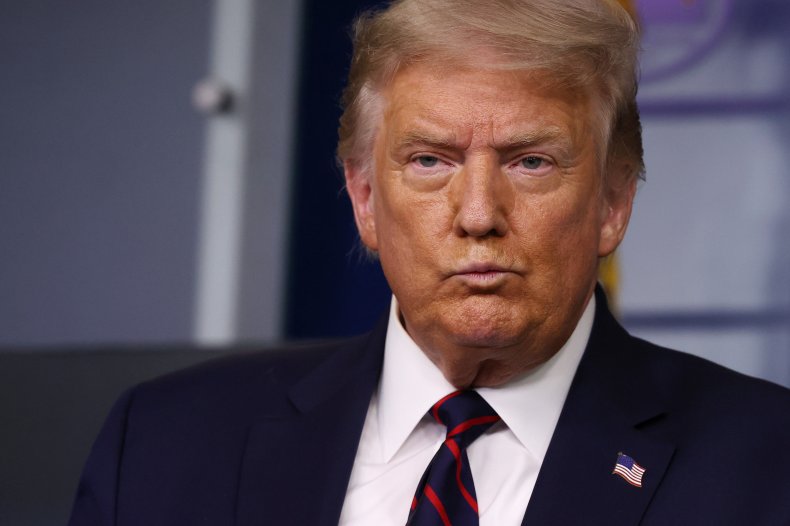 Trump and Education Secretary Betsy DeVos are leading the charge to reopen schools, a move the White House defends as being in the best interest of children. Sally Goza, president of the American Academy of Pediatrics, agreed that keeping kids out of the classroom could result in "serious consequences" for children's health and well-being. Schools provide an opportunity for learning social and emotional skills, as well as meals and mental health support, and also help identify abuse situations.
All "critical reasons" to resume in-person classes, said Goza, who wants the Trump administration to financially invest in the education system so schools can reopen safely.
Trump has done more than just nudge schools toward reopening; he's threatened to withhold federal funding if the institutions don't open. Along with that being a constitutionally dubious action, voters aren't on board with how Trump is handling reopening schools.
More than double the number of voters disapprove of Trump's approach to reopening schools than approve, 61 to 29 percent, a July 15 Quinnipiac Poll found. The poll was conducted days after Trump's remarks about reopening schools at a White House event on July 7.
Nearly identical percentages of voters, 62 percent to 31 percent, think it will be unsafe to send students to K-12 schools in the fall.
White House officials initially indicated $70 billion of the next economic relief package would be reserved for schools, but on Tuesday McConnell raised that to $105 billion. An increase from what was included in the Health and Economic Recovery Omnibus Emergency Solutions (HEROES) Act, which the House passed in May largely along party lines, the amount is closer to what the American Federation of Teachers (AFT) thinks is necessary.
On Monday, the AFT, the second largest teachers union in the country, published a report that called for $116.5 billion for the "fullest and safest possible reopening." Funding a mix of online-only schooling and hybrids of online and in-person instruction, that money would give schools the ability to provide masks, plexiglass and other resources to help stop the virus from spreading.
Along with getting students back in school, McConnell said, a "major focus" is health care.
"The reason is obvious. If we lose control of the virus or if research stalls, then everything else will be window dressing," the Senate leader said.
Part of that focus will include investing in developing better diagnostics, treatment for COVID-19 and continuing the "fastest race for a new vaccine in human history." Vaccines are moving forward at an unprecedented rate, and on Wednesday Health and Human Services Secretary Alex Azar announced the government had entered an advance purchase contract with Pfizer for 100 million doses of a potential vaccine.
Health care has never been a major selling point for Trump's campaign, but his approval rating on the topic has declined since the start of the pandemic. Only 35 percent of those surveyed in the Quinnipiac poll approved of Trump's handling of health care, a 4 percentage point decrease from June and a 6-point decrease from his May high of 41 percent.
Republicans will need to come to an agreement with Democrats on what's included in the relief package, and the original plan is likely to shift as negotiations continue. One thing both sides agree on is that a bill should be on Trump's desk before the congressional summer recess begins the first week of August.