The GOP's War of the Roses | Opinion
As pundits ponder the looming prospect of a "Republican Civil War," they instinctively draw dire analogies with the cataclysmic conflict between Union and Confederacy some 160 years ago.
But to gain a more illuminating perspective on the bitter struggle within the GOP, analysts should go back four hundred years further and consider England's violent civil strife between 1455 to 1487, later designated the War of the Roses. In its cloddish pointlessness, its exclusive, self-destructive focus on power and personality to the exclusion of any issues of lasting significance, that medieval bloodbath presaged the take-no-prisoners fight among today's Republicans far more closely than more recent, issues-based struggles like the War Between the States.
The War of the Roses took its name from two noble families, the House of Lancaster (symbolized by a red rose) and the House of York (represented by a white rose). The two clans—closely related to one another, of course—pursued claims to the English throne through warfare that lasted more than 30 years. In the process, close to 50,000 Englishmen perished on the field of battle, annihilating nearly 10 percent of the adult male population—the proportional equivalent of some 10,000,000 Americans today.
No, Republican internal struggles won't produce a similarly catastrophic death toll, but they could mean the death of the Grand Old Party as a meaningful factor in American politics. And like the War of the Roses, today's competition between those who exalt Donald Trump as a great president and fearless fighter for what's right (and for the Right), and those who despise him as a corrupt, self-serving, narcissistic buffoon, centers almost solely on personal allegiance or enmity rather than ideological divergence of any kind.
The elevation of Joe Biden and Kamala Harris is already demonstrating that Republicans of every stripe share a common impulse to counteract the Democratic agenda and to push back from the same direction. We may not agree with one another on every detail of immigration reform, but we all seek to limit the progressive instinct for indiscriminate increase in numbers of both legal and illegal immigrants. On abortion, a few conservatives equate the procedure with murder, but all oppose the idea of governmental funding to promote and reward it. On guns, some, if not most, support common-sense reforms (like background checks to help keep firearms away from the mentally ill) but very few back the confiscatory, restrictive policies advanced by today's most ardent progressives.
On issue after issue, Republicans remain close enough to one another (and distant enough from the left-lurching Dems) to compromise. That's the beauty of the American political tradition which, at its best, produces politicos deft enough to cut deals and to meet each other halfway for the nation's sake. President Biden's inaugural address, which deployed the word "unity" some 11 times, also should have mentioned, at least once, the word "compromise"—the only plausible path to unity and the sole escape route from our polarized politics.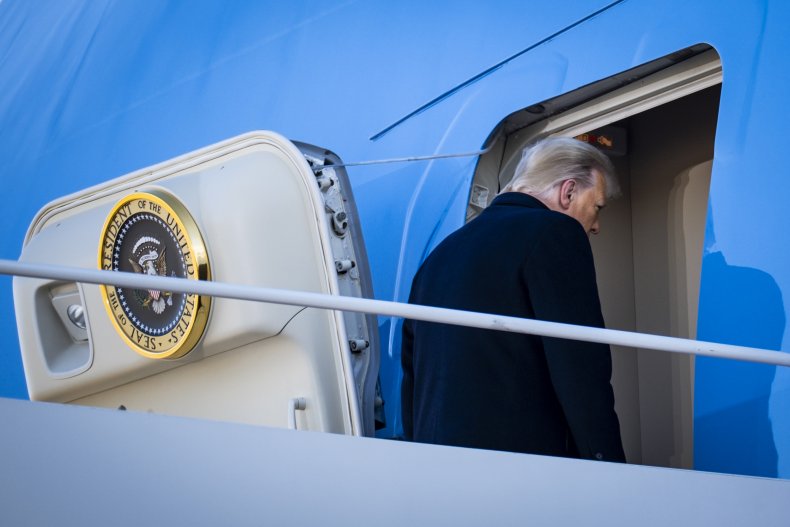 The problem for the nation writ large and for the Republican Party in particular isn't some "irrepressible conflict," to echo William Henry Seward's phrase anticipating the real Civil War. We're not separated by policy or ideology; our unbridgeable gap, our irreconcilable differences, all come from diametrically opposed perceptions of the one figure who's dominated the nation's politics and captivated our consciousness for the last six years.
And as this year's annual impeachment ritual proves, there's no compromise when it comes to character... or at least no compromise when it comes to this character.
A third of the country adores him with reckless abandon, another third despises him with flaming ferocity and a final third wishes he'd simply go away and take the whole tiresome quarrel with him.
The impeachment process cries out for compromise. Trump knows, at some level, that he handled the post-election period in a horribly irresponsible manner. His Democratic pursuers must also realize, in their reflective moments, that they'll never corral the 17 Republican senators they need to convict him of incitement, and that he'll get yet another chance to claim he's once again proven his innocence while triumphing over his howling and relentless pursuers.
All of this medieval warfare only blocks, or at least postpones, Biden's promises for a return to normalcy—not an Aquarian age of "harmony and understanding, sympathy and trust abounding," but just an old-fashioned Washington where liberals and conservatives squabble over spending and deficits and government regulation, abandoning the exhausting, no-middle-ground debate as to whether the 45th president counts as Messianic or diabolical.
The original War of the Roses eventually got its most celebrated chronicler, William Shakespeare, more than a century after the ferocious fighting had finished. The end of the pointless struggle among ruthless cousins who shared language, nationality, faith and even bloodlines, came when the son of a Red Rose, Lancastrian mother wed a lady of the White Rose House of York, and together they seized the throne to usher in a new age of splendor for Britain. They also produced a remarkable granddaughter, Elizabeth I, who not only united the country (really), but became the queenly patron of the Bard of Avon. One of his first plays, Henry VI, Part I, explored the murky beginnings of the uncompromising insanity that afflicted the late 15th century, while providing subsequent generations with a pertinent warning about needless conflict:
Good Lord, what madness rules in brainsick men
When for so slight and frivolous a cause
Such factious emulations shall arise!
Michael Medved hosts a daily radio talk show and is author, most recently, of God's Hand On America: Divine Providence in the Modern Era. Follow him on Twitter: @MedvedSHOW.
The views expressed in this article are the writer's own.