Gordon Hayward Scores 30 points in Blowout Win over Warriors, Sparks Ecstatic Twitter Reaction
Gordon Hayward and the Boston Celtics put weeks of disappointment behind them with a statement win against the Golden State Warriors on Tuesday night.
Coming into the game on the back of one win in six outings and amid talks of a group beset by internal feuds, the Celtics blew away the defending champions with a 128-95 victory at the Oracle Arena.
If predicting such a margin of victory was improbable before the game, picking Hayward as the man responsible for the lion's share of it was just as unlikely. The 28-year-old came off the bench to score 30 points in 28 minutes, shooting 12-of-16 from the field and added seven rebounds and six assists.
Hayward sank four of six attempts from three points and put up 19 points in the first half alone, as Boston opened up a 25-point gap over the Warriors.
His exploit meant Hayward is only the third ever Celtic player in history to score 30 or more points while coming off the bench during a regular season game. Kevin McHale did it five times each in both the 1983-84 and 1989-90 seasons, while Ricky Davis achieved the feat three times in the 2004-05 campaign.
It marked a remarkable turnaround for Hayward, who lost the whole of last season after fracturing his ankle in his first ever game for the Celtics and has struggled for rhythm this year. In the last meeting against the Warriors, on January 26, Hayward had finished with two points on 0-for-5 shooting.
His performance on Tuesday night, however, had social media gushing with praise.
Kyrie Irving, who finished with 19 points and 11 rebounds, paid tribute to his teammate's resilience and hinted there was more to come from the former Butler forward.
"I am big on confidence, he is big on confidence, we are born on the same day so if anybody can understand what it's like to go through a tragic injury like he did last year," Irving told Players Only on TNT after the game.
"Coming back into the season dealing with what he is dealing with, you know this is around the time when he gets it going."
"Resilience, patience, perseverance and just being there for one another and celebrating your teammates' success," the Celtics point guard said when asked what was needed going into the final 17 games and the playoffs.
Hayward is a critical player for Boston, who has often looked disjointed this season. According to Basketball Reference, the Celtics are 10-1 when Hayward scores 15 or more points and 20-20 when he's kept to less than 10 points.
The fact he averages 10.7 points per game this season, compared to a career average of 15.1 points per game goes some way in explaining Boston's struggles.
With the win over the Warriors, the Celtics improved to 39-26 for the season and strengthened their grasp on fifth seed in the Eastern Conference standings but remain 2.5 games behind fourth-placed Philadelphia.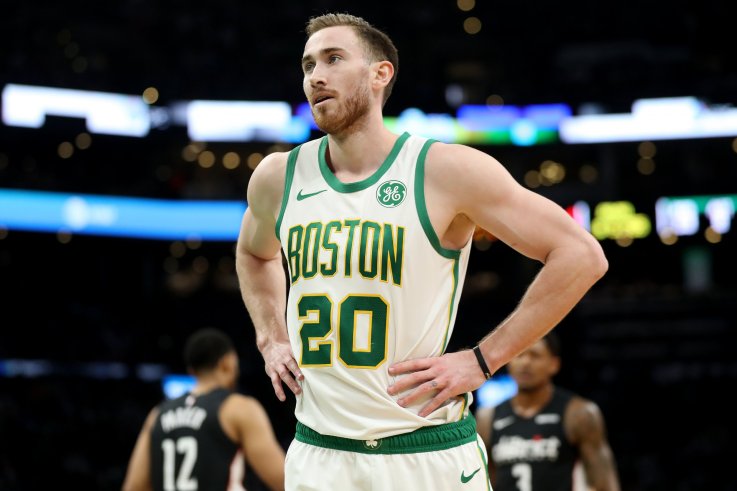 Boston has another three games left on his four-game road trip, with games against the Sacramento Kings, Los Angeles Lakers and Los Angeles Clippers next.
Gordon Hayward Scores 30 points in Blowout Win over Warriors, Sparks Ecstatic Twitter Reaction | Sports