Gordon Ramsay Divides Fans Over Controversial Lamb TikTok
Gordon Ramsay is facing a backlash over a TikTok he made about selecting a lamb for the slaughter—but some fans are defending the celebrity and asking critics where they think their lamb chops come from.
The Hells Kitchen star is no stranger to TikTok and regularly uses the platform to share humorous clips and cooking videos with fans, but he drew the ire of animal rights activists earlier this week.
The TikTok in question shows Ramsay, 55, climbing into a pen of about 10 white lambs while rubbing his hands together and repeatedly saying "yummy."
"I'm going to eat you," the chef said to the group of lambs, before adding: "Which one's going in the oven first?"
He selected a lamb by pointing and saying: "You."
The clip ends with Ramsay jumping into the pen and startling the group of young animals.
The video has gone viral and now clocked up a staggering 9.7 million views on TikTok.
Ramsay's caption reads: "The Lamb sauce was still not found in the making of this video......."
This is a reference to a 2006 meme from a scene on his show Hell's Kitchen, in which he asked a contestant for lamb sauce.
The notion that the chef was selecting one of the innocent lambs for the slaughter has upset many fans, with legions of people commenting on the video to express their disgust.
"I'm not even vegetarian but this is very sad," read one comment.
While another added: "Ok I am not a vegan or vegetarian but that crosses the line."
Another critic added in a duet video: "What a classless, out-of-touch and heartless way to treat another sentient being."
Another said: "Those are babies. Literal babies. This is not normal behavior ... it's not funny. it's not entertaining and if you think animals don't understand us, look how scared they are when he gets in the pen."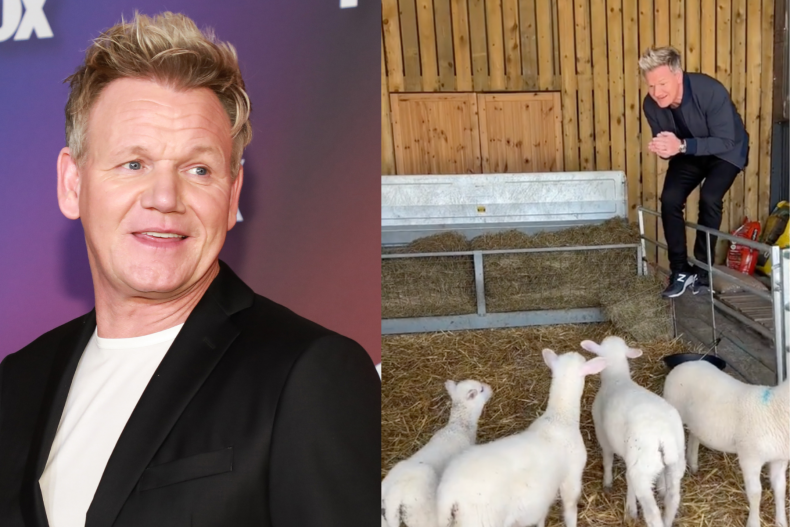 Newsweek has contacted Ramsay's representatives for comment.
Insider reported that Ramsay wrote: "No animals were cooked in the making of this video," but that comment appears to have been deleted.
On the other hand, some fans are defending Ramsay and stating that meat eaters should be comfortable with the reality of where their food comes from.
"I want the people who were outraged to tell me where exactly they think lamb chops are supposed to come from," read one viral tweet.
While another added: "Gordon Ramsay facing backlash after slaughtering people's illusions about where food comes from."