Gordon Ramsay's Surprising Talent Revealed in Viral Video Viewed Nearly 70M Times
There's no doubt that chef Gordon Ramsay knows his way around a kitchen. His multi-million dollar franchise includes cooking shows, restaurants, cookbooks, and more. However, many might not know Ramsay has another talent. So, he took to the web to show the world.
In a TikTok video that garnered nearly 70 million views in two days, Ramsay showed off his cooking skills as he seasoned a plate of mixed items and then danced.
He tagged daughter Matilda "Tilly" Ramsay in the caption saying,"Hey @tillyramsay did you say I can't #dance ?? #fooddance #tiktokfood."
Many chimed in to show their support of the chef's moves, including the official TikTok acocount who wrote, "saturdays are for ramsay tiktok."
"Couldn't be the food dance without me," Ramsay replied with a wink face emoji.
Others credited Ramsay's social media team, deeming him the "greatest of all time (GOAT)."
It's not the first time the unabashedly opinionated chef posted a video that received such massive attention. With 28.7 million followers and dozens of videos that showcase the chef's off-camera personality, people continue to flock to his page.
Ramsay launched his TikTok account on January 7, 2020 with a post showing him in his 24 Hours to Hell and Back disguise. That clip amassed 7.9 million views and almost 900,000 likes.
The devoted father of five had his first viral TikTok video on March 21, 2020 with nearly 27 million views. This video featured daughter Tilly, offering the first peek at his personal life — and dance skills.
During an interview with Extra, the TV personality described how protective he is of his children — especially when the girls brought home boyfriends.
"I just stand there, about to chop onions and stare at them with a knife and go, 'You are not going upstairs, you little s***,'" Ramsay said.
Tilly — who's following in her dad's culinary footsteps — shares a close bond and a birthday. Ramsay posted an emotional tribute on Instagram to show his love of Tilly.
"I can't think of a better person to share my birthday with than this adorable gracious young lady @tillyramsay always putting others first before herself and you've grown up to become an amazing role model Happy Birthday darling can't wait to see you very soon love you so much Dad," he captioned a series of five photos.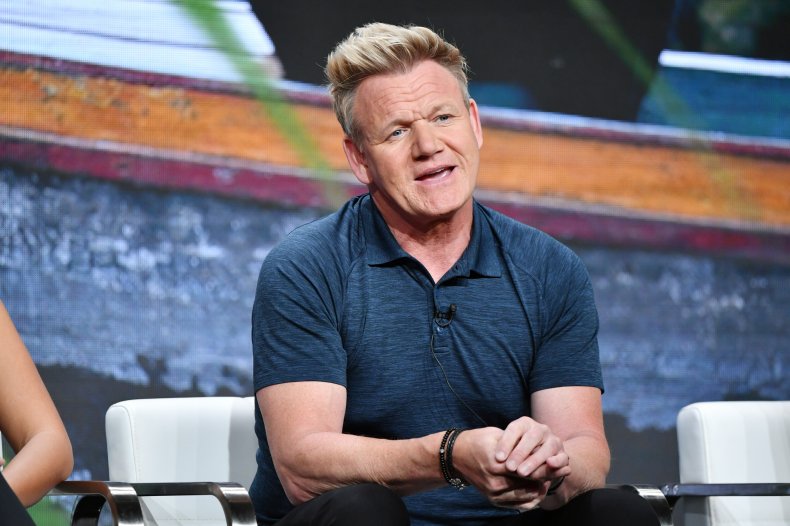 Ramsay may not win any dance awards, but fans are all for the light-hearted content from the man who coined the phrase "idiot sandwich."