Gordon Sondland Confirms 'Quid Pro Quo' In Ukraine Dealings: 'The Answer is Yes'
Ambassador Gordon Sondland directly implicated President Donald Trump Wednesday in a "quid pro quo" agreement linking a White House visit in exchange for Ukraine's president launching investigations into his political opponents.
"I know that members of this committee have frequently framed these complicated issues in the form of a simple question: 'Was there a 'quid pro quo?'" Sondland testified. "With regard to the requested White House call and White House meeting, the answer is yes."
Sondland added: "We followed the president's orders."
The ambassador appeared before the House Intelligence Committee Wednesday morning to publicly testify on his knowledge of the Ukraine controversy at the center of the House Democrats' impeachment inquiry.
Newsweek subscription offers >
The impeachment probe was launched in late September amid reports that Trump attempted to pressure Ukrainian President Volodymyr Zelenskiy to investigate former Vice President Joe Biden and his son Hunter over what Trump alleged were corrupt business deals. The president also reportedly temporarily withheld nearly $400 million in military aid to the nation in order to get Zelenskiy to announce the inquiries.
The ambassador also shared emails with the House panel that will show that the leadership in the State Department, the National Security Council and the White House were all informed about the Ukraine efforts from May 2019 until the military aid was released in September.
"They knew what we were doing and why," Sondland told lawmakers. "Everyone was in the loop. It was no secret."
Sondland is one of the most highly anticipated witnesses to testify as part of the inquiry. The ambassador is one of the so-called "three amigos" who helped lead Trump's Ukraine agenda, along with former U.S. special envoy for Ukraine Kurt Volker and Energy Secretary Rick Perry.
Newsweek subscription offers >
During his closed-door deposition last month, Sondland said he was directed by the president to work together with Rudy Giuliani, Trump's personal lawyer, on Ukraine policy. At first, he said he was not aware of any "quid pro quo" arrangement between Trump and Zelenskiy for military assistance.
But he later amended his initial testimony to acknowledge that he informed a top Ukrainian official that millions in U.S. military aid would be blocked "until Ukraine provided the public anti-corruption statement that we had been discussing."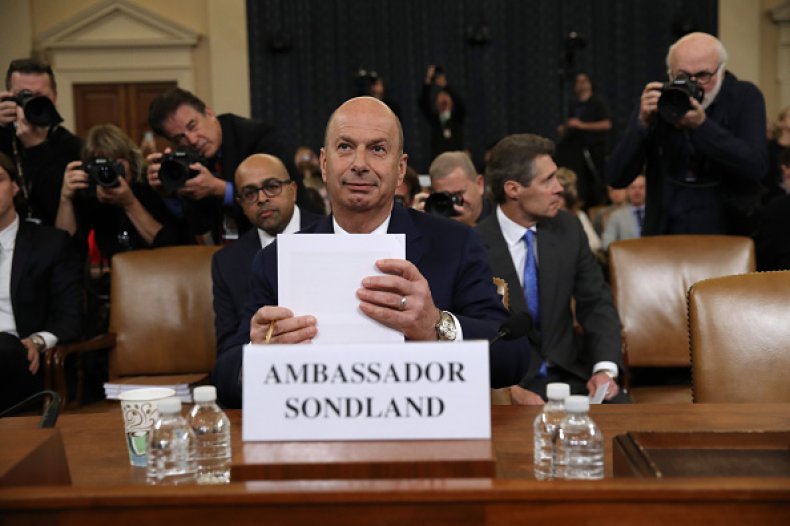 His new statement added to the testimonies provided by other national security officials that detailed the efforts by Trump and Giuliani to link the military assistance to the Ukraine investigations that would politically aid the president.
The ambassador added in his supplemental testimony that "I always believed that suspending aid to Ukraine was ill-advised, although I did not know (and still do not know) when, why, or by whom the aid was suspended."
Sondland, a longtime Republican donor and wealthy businessman, had no diplomatic experience before joining the Trump administration in 2017. After he donated to Trump's 2016 campaign, the president appointed Sondland to be the ambassador to the European Union — a group of nations that does not include Ukraine.
Trump had initially referred to Sondland as "a really good man and great American" before he emerged as a witness in October. Then, after Sondland revised his testimony to include key information about the blocked aid to Ukraine, Trump told reporters that "I hardly know the gentleman."
Gordon Sondland Confirms 'Quid Pro Quo' In Ukraine Dealings: 'The Answer is Yes' | U.S.