Gordon Track Forecast: When Will the Hurricane, Tropical Storm Hit Mississippi?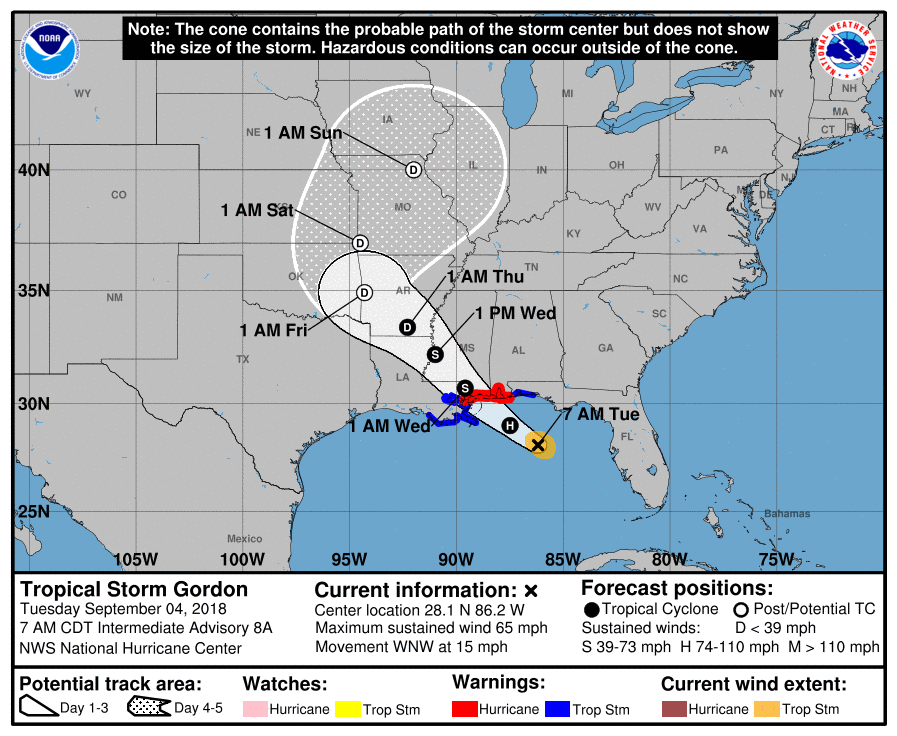 Tropical Storm Gordon is forecast to strengthen into a hurricane later today, likely striking the Mississippi Coast with a direct hit overnight.
Gordon will likely be a category 1 hurricane when it hits, with forecasts predicting landfall most likely along the Mississippi Coast. No hurricane has made landfall in Mississippi since Katrina more than a decade ago. Hurricane warnings are posted across the Alabama coast since hurricane winds are typically strongest on the eastern side.
The National Hurricane Center is warning of "life-threatening" storm surge and conditions, and the latest forecasts call for up to 12 inches of rain across the northern Gulf Coast region, including Mississippi, Alabama, and Louisiana, and northward into Arkansas as the storm moves inland the next few days. A hurricane warning is in effect for the mouth of the Pearl River in Mississippi to the Alabama-Florida border. Storm surge in the warning area may reach three to five feet.
Already coastal residents from Florida to Louisiana are preparing, but it's the Mississippi Coast scurrying in preparation today since Gordon is expected to make landfall there at hurricane strength.
When will the hurricane (or tropical storm) hit Mississippi?
Gordon is forecast to make landfall at Mississippi overnight tonight (Tuesday into the early overnight hours of Wednesday.) with maximum sustained winds of 74 miles per hour or more. It will land somewhere along Mississippi's coastal counties including Hanccok, Harrison, and Jackson.
"The eye of the storm is expected to hit Harrison County sometime Tuesday night," NWS meteorologist Phil Grigsby told the Sun Herald. "But it's not really an 'eye' because the storm still doesn't have a well-defined center because it's not a well-designed system."
Forecasting from The National Hurricane center updated early Tuesday morning shows Gordon making landfall along the Mississippi coast, close to the Louisiana border, at about 1 a.m. tonight (early Wednesday morning.)
Gordon's path is then forecast to move into south Mississippi, near McComb, by Wednesday afternoon, before moving across northern Louisiana and into southern Arkansas Thursday and Friday.
As of 7 a.m. today, Gordon had maximum sustained winds of 65 mph though it is expected to strengthen to sustained winds of at least 74 mph. Once on land, rapid weakening is expected, the NHC said.
Tropical-storm-force winds extend up to 80 miles from Gordon's center. The storm has slowed a bit, but is still moving fast across the gulf by a tropical storm standard, forecasters say. That may help with rainfall amounts but significant totals may occur nonetheless.
Thus, a flood warning is also in effect for rivers in the Mississippi Coast region including the Wolf River, Tchoutacabouffa River, and Biloxi River.