Ending Speculation, Joe Biden Declines Presidential Run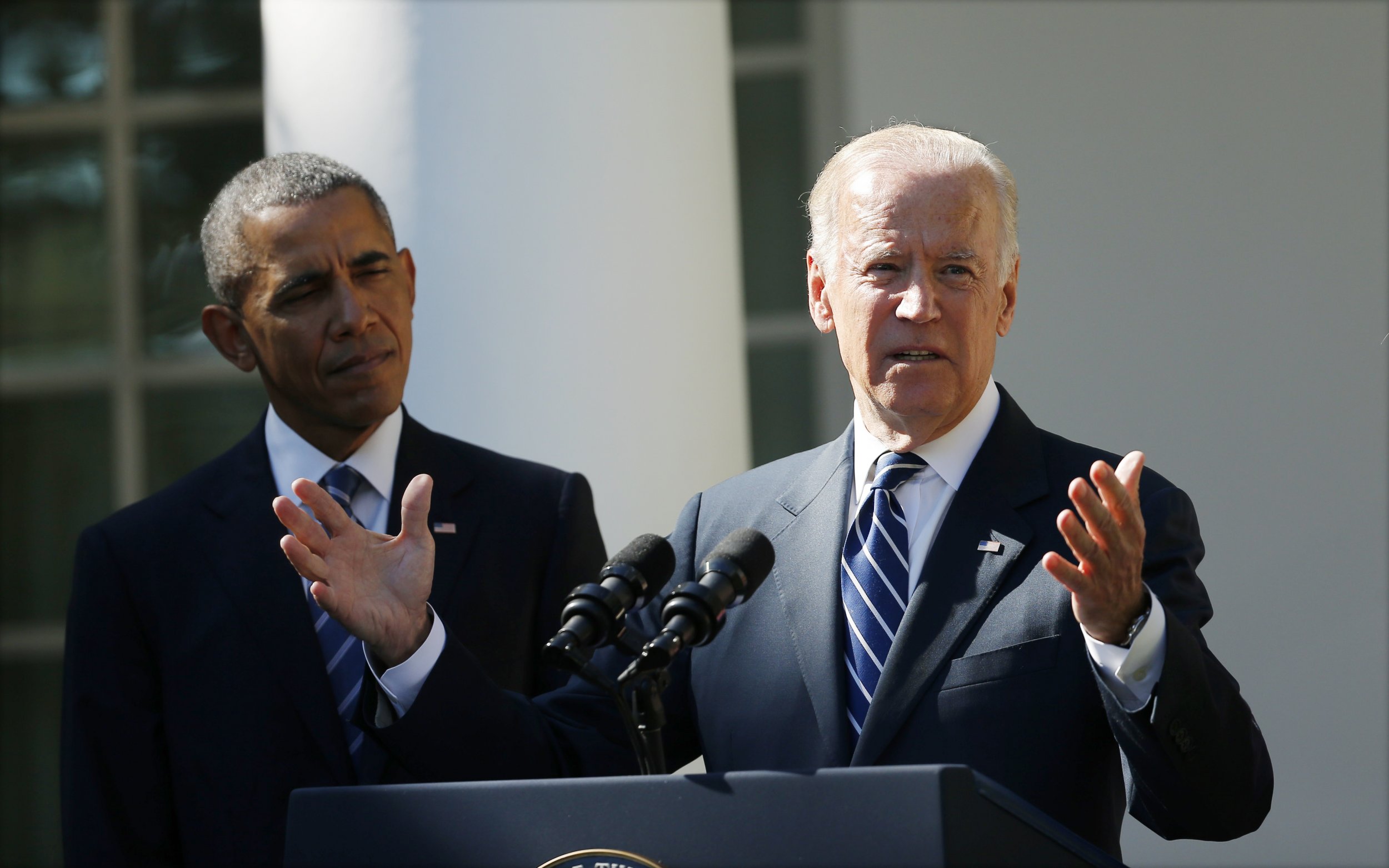 Ending months of fevered speculation, Vice President Joe Biden announced that he will not enter the 2016 presidential race—a move that cleared the field for the leading candidates Hillary Clinton and Bernie Sanders, who have amassed massive war chests, numerous endorsements and thousands of loyal followers.
Standing in the White House Rose Garden with his wife, Jill, and President Barack Obama by his side, Biden said the "grieving process" stemming from the death of his son Beau earlier this year did not allow a presidential bid. He vowed to use his remaining time in office to promote a cure for cancer, which claimed his son's life, and took what could be perceived as a thinly veiled jab at Clinton by saying Republicans are not the enemy. In the first presidential debate, Clinton was asked who is the enemy she is most proud of having, and she replied, "The Republicans."
This would have been Biden's third run for the presidency, and it faced long odds. His first was an aborted effort to win the 1988 Democratic nomination, which ended in 1987 after he was accused of plagiarizing the words of Britain's Labour Party leader Neil Kinnock. Biden tried again in 2008 but dropped out after the Iowa caucuses—where he garnered just 1 percent of the vote, far behind front-runners Clinton and Obama, and just ahead of "Uncommitted."
Still, Biden had a considerable following, having won on two national tickets as Obama's VP. By clearing 51 percent of the popular vote in two elections, the Obama-Biden ticket was the first to do so since Nixon-Eisenhower in 1952 and 1956. A cadre of Biden loyalists had been urging him to run. Just last week, his former chief of staff and successor to his Senate seat, Ted Kaufman, issued a long memo describing what a Biden presidential campaign would look like.
Biden now joins the ranks of Daniel Webster, Hubert Humphrey, Barry Goldwater and other long-serving senators who never achieved their ultimate aim of reaching the presidency. He turns 73 next month, so a 2020 bid seems unlikely. Biden can point to a 36-year career in the Senate, making him the 17th longest-serving member in that body, as well as eight years as a loyal vice president and the president's closest adviser. As vice president, Biden has been given large portfolios, including managing the 2009 stimulus package, and as a former chair of the Senate Foreign Relations Committee, where he helped mentor a young Obama, he kept up his numerous ties with world leaders.
Despite its proximity to power, the vice presidency has always been an uncertain springboard for seeking the Oval Office. No sitting VP seeking his party's nomination has failed to win that coveted prize since Alben Barkley lost in 1952. However, only John Adams, Thomas Jefferson, George H.W. Bush and Martin Van Buren have gone straight from the vice presidency into the presidency. Many have failed—most recently Hubert Humphrey and Al Gore.
Leaving aside his mourning, Biden's challenges for getting the nomination were considerable. In addition to the Herculean task of catching up with Clinton and Sanders in terms of organization and money, Biden has yet to present a rationale for why he should be president instead of Clinton, who can also boast experience and the imprimatur of the Obama administration, where she served as secretary of state. She would also give the country the chance to elect its first-ever woman president. There doesn't seem to be any ideological market niche that Biden would have filled.
Biden would have found it difficult to get traction in a Democratic party that has changed considerably since the last time he ran for office on his own. In the Black Lives Matter era of protests over police killings and incarceration, Biden must defend his record as the architect of the 1994 crime bill that expanded sentences and promote the size and scope of police forces. In a party that is overwhelmingly skeptical of trade deals like the Trans-Pacific Partnership facing congressional consideration, Biden would have been the only candidate in the race who supports it—unless he does an about-face, like the one Clinton did earlier this month. At a time when Senator Elizabeth Warren of Massachusetts is a lodestar for Democrats who are disgusted with Wall Street, Biden would have been scrutinized for his support of financial institutions while he was a senator representing Delaware, whose banking laws make it home for many of the nation's top lenders. Credit card rates, student loan terms, bankruptcy laws—all are among the areas where anti–Wall Street activists would have grilled Biden.
And his Senate record offered a mixed bag for supporters and opponents alike. He opposed the 1991 Gulf War but, like Clinton, voted to authorize the Iraq War in 2002. He was a zealous advocate for military intervention in the Balkans in the 1990s and for arms control in the 1970s and '80s. His chairmanship of the Senate Judiciary Committee put him in the limelight during the Clarence Thomas confirmation hearings to the Supreme Court. Although he voted against Thomas's nomination, many feminists were angered that Biden shared Anita Hill's harassment allegations with the committee but not the public.
Biden's trajectory has been marked by triumph and tragedy. Raised in working class Scranton, Pennsylvania, and near Wilmington, Delaware, he grew up in modest circumstances, often telling the story of his father moving away to support the family. A product of Catholic schools, he won his first office in 1969, when the current president was just 8 years old—Butch Cassidy and the Sundance Kid was the No. 1 film and Elvis Presley's "Suspicious Minds" the top song.
In 1972, a landslide year for Richard Nixon, Biden was elected to the U.S. Senate at the young age of 29 and was due to be sworn in just after he turned 30—the constitutional minimum age to be seated in the chamber. But his wife and daughter were killed in a car accident, and his two young sons were badly injured. Biden considered abdicating the seat even before being sworn in, but party elders convinced him stay. For the next 36 years as a senator, he commuted home to Delaware every night to be with his sons, Hunter and Beau.
Tragedy struck again this year when Beau, just 40 and the attorney general of Delaware, died of brain cancer at Walter Reed National Medical Center. The young veteran encouraged his father to run for the presidency, and Biden has privately and publicly wrestled with his grief in the months since, while Washington wondered whether Beau's wishes, which Biden helped publicize, would help push him into the race.
"I felt like I was letting down Beau, letting down my parents, letting down my family if I didn't just get up," Biden told Stephen Colbert earlier this fall.
But it was a bold Biden who emerged in the Rose Garden—one who seemed determined to play a role in this election and who decidedly did not endorse Clinton or even offer her a kind word.