The Gores Lead the Wave of 'Silver Divorce'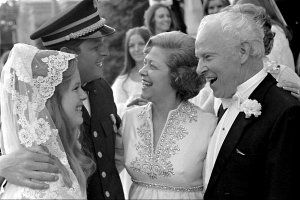 They are high-school sweethearts who seemed happily married for 40 years after raising four children. But the announcement that Al and Tipper Gore were splitting up was not a surprise to researchers who study the most divorcing cohort in American history. Al is 61 and Tipper is 62, which means they came of age in the 1960s and '70s, an era when even the most intimate relationships were radically altered by huge social upheaval. "This is the generation that weathered a lot of changes that didn't match their expectations when they walked down the aisle," says Betsey Stevenson, an assistant professor of business and public policy at the University of Pennsylvania who studies marriage trends. "In some respects, it's a miracle how many of them stayed together."
Marriage researchers have long known that the rockiest years are the early ones, and, generally speaking, the longer a couple is married, the less likely they are to divorce. That's still true, says Stevenson, but "silver divorce" is no longer rare, and that's particularly true for the baby-boom generation, born between 1946 and 1964. In the 1950s, many couples married just past age 20, but only 8 percent were divorced at the 10-year mark. After 20 years, just 19 percent had split; after 30 years, 26 percent were divorced; and after 40 years, only 30 percent were no longer together.
The Gores married in 1970, when divorce rates had just begun a dramatic spike upward. Their contemporaries had much less stable marriages. Within 10 years, 27 percent of their unions had broken up. And after 30 years together, more than half were divorced. As those couples now start to hit the 40-year mark, the rate is slowing down, but some continue to divorce.
"If you look at every single year of marriage, they have the highest divorce rates of anyone born before or after them," Stevenson says. In fact, she adds, this group of baby boomers is most responsible for the commonly heard statistic that one out of every two first marriages will eventually end in divorce. Based on their track record to date, however, baby boomers' divorce rates will clearly end up being higher than that. About 4 percent of divorces every year now involve those married 40 years or more, she says.
The increase in silver divorces is not strictly an American phenomenon. The rate of divorce among those 55 and older is also creeping up in Britain, France, Canada, and Japan, even though divorce rates on the whole are inching down. "I keep hearing people say that this is rare or unusual, but it's not," Stevenson says.
Ironically, it's the fact that the '70s cohort was also the most marrying generation that set them up to be the most likely to divorce. After all, you have to be married to get divorced. And because they tended to marry in their early 20s and are expected to live into their 80s or 90s, theirs may be the generation that lives the most years as married couples, especially if you include people who remarry. "A couple like the Gores, if they had stayed together, had the prospect of being married for 70 years before one of them was likely to die," Stevenson says. "That's a long time."
And the years of social turbulence for these couples are far from over, she says. In the early years of their marriages, these couples were the first to confront the challenges of juggling two careers and balancing family and work. Now, as they face retirement, there are likely to be more battles over whether to keep working or start a new, slower-paced way of life. "They're not only trying to figure out what to do with the years ahead, but who they want to do it with," Stevenson says. "They're blazing a new way to live their lives past 60, and they're figuring it out right now.
"Some will decide they have a lot of living left to do, and they may want to stop and reevaluate whether their marriage will continue to work for them over the next two decades," she says. "Some may make different choices about how to live the rest of their lives than they would if they thought they would die in a few years."
Rather than assuming divorces like the Gores' represent failure, it may make sense to cast their relationship as more than 35 years of success. "There is no way of knowing when things stopped working well for the Gores," Stevenson says, thinking back on the couple's famous kiss at the 2000 Democratic convention. "But none of us has any reason to believe it wasn't a good marriage for 30 or more years. I don't think we should look at a marriage that ends after 40 years as a failure because it didn't make it to 60 or 70 years. It doesn't mean that most of those years weren't as special as we thought they were."
In any case, they are definitely a sign of what's to come. As the newlyweds of the '70s continue to age, we'll likely see record numbers of silver anniversaries reached, as well as a record number of silver divorces. Once again, the Gores will be trendsetters.