Watch: Gorilla 'Bolingo' Mimics Trainer's Every Move, Hugs Her Through Glass
Busch Gardens Tampa Bay posted video to Facebook Wednesday that showed Bolingo the gorilla and 28-year-old animal trainer Rachel Hale mimicking each other's every move.
Busch Gardens said the cross-species couple interacts each week as part of trust-building activities aimed at forging a positive relationship between Bolingo and the African-themed park trainers. Hale, an animal care specialist, has worked with Bolingo for about three years on increasingly cognitive behavior, including lessons on how the gorilla can decipher shapes and colors.
"Take a look at this progression of enrichment moments with Bolingo and animal care specialist, Rachel!" the theme park wrote. "This type of training enables us to build trusting and positive relationships with the animals that call Busch Gardens Tampa Bay home in order to provide them with the most mentally and physically stimulating environment possible."
The video shows the gorilla mirroring Hale's movements as she stands on her hands and even pretends to hug Bolingo through the glass. Hale told WJW-TV he is one of seven gorillas at the park and she primarily works with gorillas and chimpanzees.
"When looking at the overall welfare of our animals, we provide our animals with positive environments based on choice where they voluntarily participate in any anything we do," Hale told WJW-TV.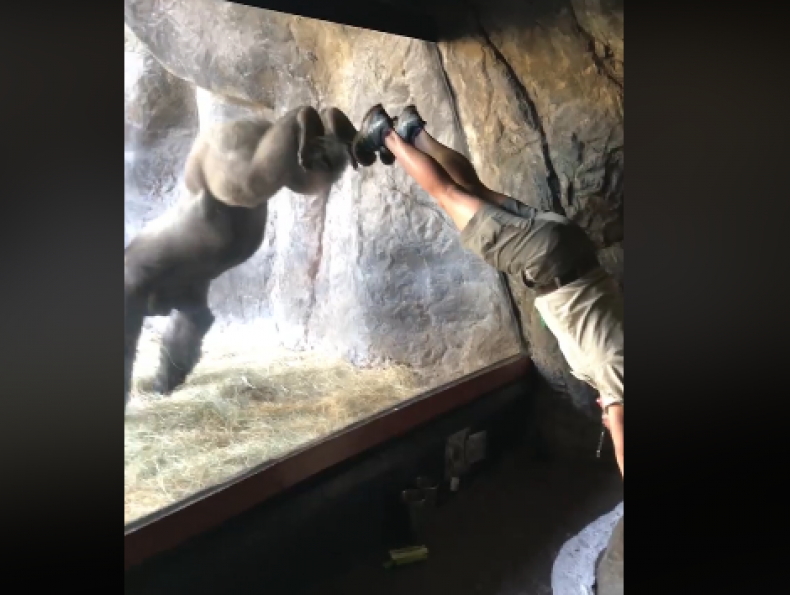 Hale said Bolingo's "goofy, energetic and intelligent" personality never gets old and she loves watching him sprint across his enclosed habitat for their enrichment sessions.
"My goal each and every day is to find new ways to keep him engaged," Hale told the Tampa Bay Times. "He's picky about what interests him, so the session that you are seeing in the video is me having to think outside the box for new ideas."
Guests can visit Bolingo and the rest of the gorilla troop in the park's Myombe Reserve.