Gorilla Crow: There's a Video of a Crow That Looks like a Gorilla on Twitter and It's Everything You Imagine
A crow that looks like a gorilla has gotten Twitter all excited.
Dubbed gorilla crow, a video of the bird—which is perched on its wings, like an ape on its forearms—has been shared over 100,000 times.
The video, which was taken at the Parco shopping center in Nagoya, Japan, was posted by user @keita_simpson. Keitaro told Newsweek that on first seeing the crow, he was shocked as it looked like a "zombie" but after watching for a while, thought it was pretty. He said he watched the crow for about a minute.
Keitaro's video of the crow was subsequently shared by @LlamaInaTux:
Thousands of people responded to the video, commenting on the crow's strange appearance.
However, an explanation for the bird's stance quickly emerged. Kaeli Swift, a corvid researcher—the family of birds that includes crows—from the University of Washington, said it was sunbathing—a perfectly normal and well-documented behavior.
She said it was a large-billed crow, which accounts for its face looking "a little out of proportion." The large billed crow is a species found in Asia. As its name suggests, its bill is slightly larger than other crows, giving it more of a raven-like appearance.
Swift then goes on to explain the way the crow is standing: "This bird is not missing its legs and propping itself up with its wings, that would be physically impossible," she wrote. "Also, not that it's relevant to the answer, but a crow without legs couldn't fly, because it couldn't generate any lift. So legless crow is a dead crow.
"What it's actually doing is sunning itself. When birds sun they drop their wings and cock their tails. At the right angle that could obscure the legs and tail making it look like they're missing.
"Usually the mouth is open and the body is closer to the ground, making the behavior more obvious, but perhaps the videographer caught it in a moment of transition."
Swift said that sunning is a common behavior that serves a few purposes. It can help the bird to warm up, while also helping to care for their feathers. By exposing their wings to the sun, birds can protect their feathers from bacteria and mites, she said. In a blog post about sunbathing crows, Swift adds: "Far from being a signal of distress or heat exhaustion, observing this posture in crows is like watching them ruffle around in a puddle. It's a routine, and important part of their self care regimen."
Another explanation, suggested by Dave Slager—also a bird researcher at the University of Washington—was that the bird may be emaciated.
In an email interview with Newsweek, Swift said that from the photo, the crow appears to be a starving adult. "If you look at the bird's chest you can see it's more V shaped than round, that indicates that it is emaciated," she said. "Since malnourished or sick birds will droop their wings like that, that could explain the behavior entirely, especially because its mouth isn't open or its head cocked to one side, which are part of the typical sunning posture as I indicated in my drawings [below]. But they two aren't mutually exclusive, so it could have been a malnourished bird that was trying to sun.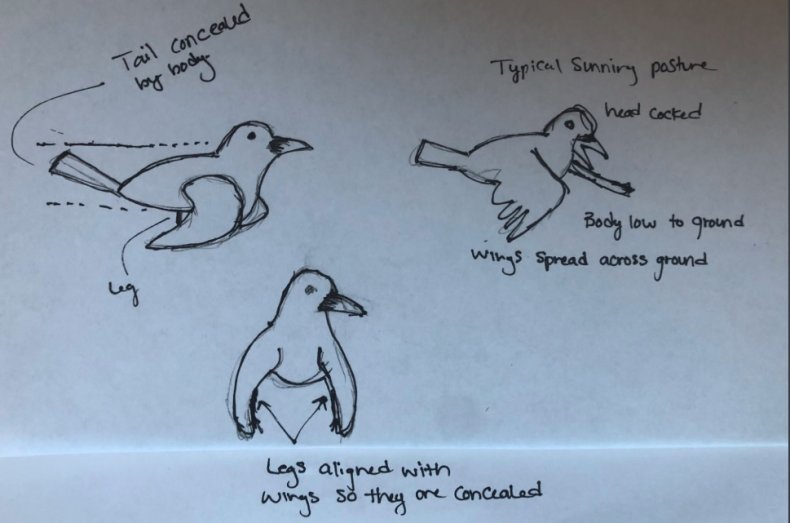 "So the main knows are that it's a large-billed crow, it's an adult, it's emaciated, and it has legs.
"The unknowns are why it's drooping its wings...could have been sunning, could be weakness. I guess we also can't say for sure that the tail is present but obscured. It might just be missing. They loose their tails sometimes after run-ins with predators."
Crows are believed to be among the most intelligent bird species in the world. They are able to make and use tools and share information to make group decisions. Research also shows they recognize human faces—and can hold a grudge against people who treat them badly for years.
This article has been updated to include quotes from Kaeli Swift.