Playboy Says It Will Appeal White House Decision to Suspend Press Pass of Reporter Brian Karem
Playboy announced Friday night that it would appeal a decision by the White House to suspend the press credentials of one of its reporters, Brian Karem.
Karem, the magazine's senior White House correspondent, tweeted earlier on Friday that he received an e-mail shortly before close of day informing him that his White House press pass has been suspended for 30 days beginning on Monday.
The penalty is reportedly related to an altercation between Karem and former White House aide Sebastian Gorka at a Rose Garden announcement in early July.
President Donald Trump had convened a gaggle of supporters, officials and reporters to reveal his administration's decision to formally end its quest to add a citizenship question on the 2020 census, the result of insurmountable legal hurdles.
Some Trump supporters sitting in the Rose Garden had been taunting the press who were cordoned off behind them, and Karem quipped that "this is a group of people that are eager for demonic possession."
Karem says many of them laughed. But then Gorka emerged from the crowd to harangue Karem for his comment.
"And you're a journalist, right," Gorka shouted at Karem from afar.
Karem implored Gorka to "come on over here and talk to me, brother. We can go outside and have a long conversation."
"You're a punk!" Gorka screamed in reply. "You're not a journalist! You're a punk!"
The Washington Post's media critic Erik Wemple did not dither on Gorka's culpability following the confrontation.
"There are no equivalencies here," he wrote in a column. "Gorka, in a typical posture, went out of his way to menace a member of the White House media."
The White House reportedly warned Karem in its message to him that he "failed to abide by basic norms of decorum and order" the afternoon of the Gorka confrontation, suggesting that he had been rude to Gorka, who was described as "a guest of the president."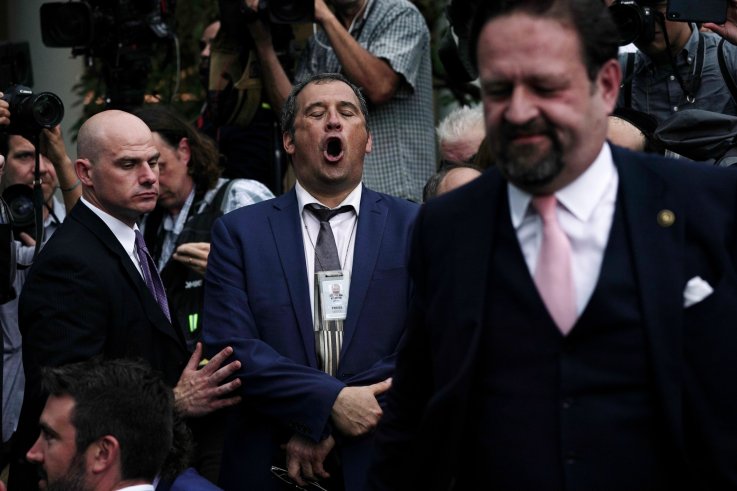 Karem told the Post that he thinks the Rose Garden citation is just a pretext for removing his press credentials, an action he believes to have been taken as retaliation for his tough questioning of the president.
"They're claiming [the reason is] something that happened 21 days ago. I'm there every day. If this was an issue, it should've been brought to my attention long before now," he told the paper. "I know what they say the issue is, but that's not the real issue, or they could've talked to me at any point in time prior to now. As a matter of record, they never spoke to me once about it."
Playboy wrote on its Twitter feed Friday night that, since 1953, it "has fought to protect First Amendment rights, and the fight must continue today."
The Trump White House has previously tried, unsuccessfully, to revoke press credentials of hard-charging reporters. In November 2018 the Trump administration stripped CNN reporter Jim Acosta of his press pass after a tense exchange between himself and the president at a press conference.
CNN sued the administration in federal court, and a U.S. district judge ordered that the so-called "hard pass" be returned to Acosta while the litigation was ongoing, finding that the reporter's due process rights under the Constitution had not been heeded. The White House ultimately dropped its opposition to the suit.
Playboy Says It Will Appeal White House Decision to Suspend Press Pass of Reporter Brian Karem | Politics