Where is 'Gossip Girl' Filmed? Showrunner Shares 'Gorgeous' Locations
Upper East Siders and loyal GG followers can sleep easy knowing Gossip Girl is back on our screens. The first three episodes of Part 2 are available to stream now on HBO Max, alongside the high drama and glamour of Part 1.
Everybody knows Gossip Girl is set in New York City. In the reboot, however, things are a little different. The richest kid in NYC, Otto "Obie" Bergmann IV (played by Eli Brown), lives in Brooklyn, which was viewed as a less-desirable borough in the original (Hello lonely boy!). Constance Billard is on the Upper East Side, but outside school the kids hang out in Brooklyn's DUMBO neighborhood.
That said, Manhattan will always have Gossip Girl's heart—and showrunner Joshua Safran seems to feel the same way.
Safran told Newsweek that his favorite filming locations for the reboot include two Manhattan restaurants, The Grill and Le CouCou.
"I really love the big restaurants. I just love going to the restaurants. All of the restaurants we've shot in Season 1 are very important restaurants to me and I love them," he said.
"The spaces are so gorgeous like The Grill in Episode 8 where Aki's dad gives the speech about Picasso. It is actually true that Picasso was sold [there], so it's fun to play on those things.
"There's Le Coucou, where we shot also the dinner with Aki's dad in Episode 6. So, the series features big restaurants, which I kind of love the most because they really are iconic New York, and they were all closed during the pandemic. So, it was nice to be in those rooms again because you couldn't be in those rooms. I would say those are the best."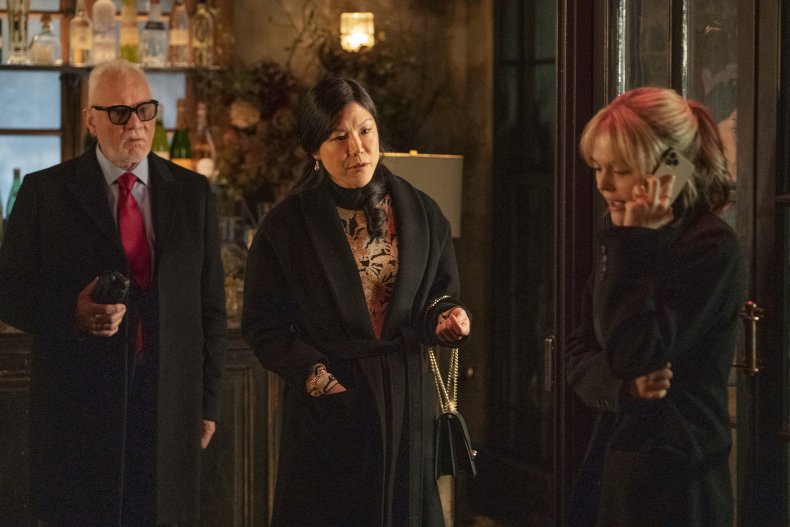 Safran added that the New York Public Theater, which appeared in Part 1, was "incredible" and his favorite location for the first season.
Fans will remember that in Episode 3, Max (Thomas Doherty) revealed his father's infidelities at the theater and Julien (Jordan Alexander) invited her father's secret girlfriend Lola (Elizabeth Lail) in a bid to expose his lies.
Just like the original series, the Gossip Girl reboot is filmed all over New York City— including the Met steps where the popular girls sit.
The Museum of the City of New York serves as the exterior location for Constance Billard-St. Jude's. The museum is in East Harlem on Fifth Avenue and houses more than 750,000 works of art.
Ralph Lauren's flagship men's store, at 867 Madison Avenue, appears in Part 2 of the reboot, with Aki going on a date there.
In Part 1, Julien walks in a Christopher John Rogers fashion show at the Park Avenue Armory. The building, a National Guard armory built in 1880, is now a venue for concerts, plays and art exhibitions.
Julien also throws a party for Zoya's (Whitney Peak) birthday, at Webster Hall, which is at 125 East 11th Street in the East Village.
Other filming locations include Park Avenue, the New York Academy of Medicine, SoHo, Greenwich Village, Great Jones Spa and the Kings County Distillery.
Landmarks such as the Manhattan Bridge and Central Park also appear in Gossip Girl, alongside Broadway, Wanamaker Place, Astor Place and University Place.
Many interior scenes are shot at Steiner Studios in Brooklyn, which has also been used for Joker, The Marvelous Mrs. Maisel and City on a Hill.
Gossip Girl is streaming on HBO Max now.