'Gossip Girl' Recap: HBO Max Shows Returns With 3 Episodes and It's As Dramatic As Ever
Happy Thanksgiving Upper East Siders! What better way to celebrate than to catch up with the students of Constance Billard?
HBO Max has dropped the next three episodes of the Gossip Girl reboot and fans are in for a treat. As per tradition, there is a Thanksgiving episode and, of course, Gossip Girl is serving drama, drama and a side of more drama. Episode 8 follows the fallout of some odd Thanksgiving confessions and Episode 9 reveals somebody's dark past.
Newsweek has a three-part episode breakdown of the return of the Gossip Girl reboot below.
'Gossip Girl' Episode 7 Recap: 'Once Upon a Time in the Upper West'
Audrey's (played by Emily Alyn Lind) mother Kiki Hope (Laura Benanti) maybe was not so wrong after all when she begged the question, "Three's too many, don't you think?"
The Gossip Girl reboot's Thanksgiving episode is all about complicated love triangles, one filled with betrayal and the other full of curiosity and lust.
Gossip Girl fans will remember how Obie (Eli Brown) did a full 180 in Part 1, going from the sweetest guy at Constance Billard to a cheat and liar. Obie and Julien "JC" Calloway (Jordan Alexander) kissed in the Part 1 finale at the dockyard protests and at the beginning of Episode 7, we learn they slept together that evening. Poor Zoya (Whitney Peak).
Instead of telling Zoya the truth, JC and Obie attempt to pretend nothing happened. JC even encourages Zoya to tell Obie the truth about how she feels, which somehow leads to Obie telling Zoya he is in love with her, a statement we all know isn't true, even JC.
When JC hears of Zoya's happy news, she runs to Obie's apartment where he admits he is in love with her, not Zoya. Classic Obie.
The other love triangle in Gossip Girl is between Aki (Evan Mock), Max (Thomas Doherty) and Audrey, which is continuing to flourish, even if Aki and Audrey's romantic relationship may be feeling the strain. We even get flashbacks to their first night together early in the episode and, let's just say, it is NSFW.
Elsewhere, Max's predatory classics teacher Rafa (played by Jason Gotay) continues to blackmail Gossip Girl, after Max submitted the video of him and Rafa having sex with the intention of GG sharing it with her followers.
For insurance purposes, Rafa knows Kate (Tavi Gevinson) and Jordan (Adam Chanler-Berat) are the ones behind Gossip Girl and saw the video. He wants them to find dirt on Max, so he can threaten him if Max tries to post the video elsewhere. If Kate and Jordan fail, Rafa insists he will expose them as the Gossip Girl ringleaders. The pressure is on. So much so, Kate and Jordan secure themselves an invite to Zoya's dad's (Johnathan Fernandez) Thanksgiving in a bid to delete the video off of Max's phone.
They don't succeed in deleting the video, but they do manage to send Rafa a recording of Max admitting he was the one who pursued Rafa and the one who was initially inappropriate, leading Rafa to back down from his Gossip Girl reign and even quit Constance Billard. Is this the last we have seen of Rafa though? Probably not.
So there you have it, two teachers attending their 14-year-old student's Thanksgiving. It is hard to believe and if that was not weird enough, Aki, Audrey, Max, JC and all of their respective parents conveniently find a seat at Zoya's table, despite them technically being her enemies. Obie is there too and he is about to find himself in the hot seat.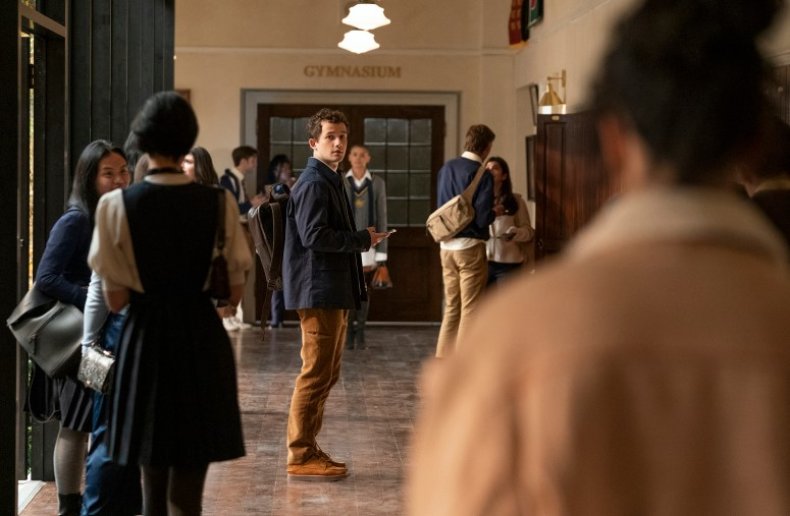 Unlike previous Gossip Girl Thanksgiving episodes, this year isn't about sabotage, it is about honesty. Aki's mother Jodi (Hettienne Park) asks Obie directly if she has been avoiding her son because of his bisexuality. Out of the blue, Aki announces to the entire table that he is sleeping with Max and Audrey and JC tries to sabotage Obie and Zoya's first night alone together in front of their parents.
If that was not enough with the confessions, Aki reveals to the table he received a voicemail from his father, warning him to stay away from Julien but he is not entirely sure why. Aki, then plays the voicemail out loud and somehow this leads Zoya to realize Obie cheated on her with JC, despite the voicemail being totally unrelated.
Unfortunately, that is where the drama between our toxic trio Obie, JC, and Zoya stops, hopefully, to be revealed in Episode 8.
However, in true Gossip Girl tradition, the jaw-dropping drama does not end there.
As everybody heads home from Thanksgiving dinner, JC's dad Davis (Luke Kirby) fiancée Lola (Elizabeth Lail), is drunk in the bathroom and confesses to Kate she is unsure if Davis proposed because he loves her or to prevent her from testifying against him.
What impending lawsuit or court case exactly Lola is referring to is not revealed, but things aren't looking good for Davis. Perhaps the gossip surrounding Julien's father is what Aki's father was warning him about after all...
Gossip Girl Episode 8 Recap: 'Posts on a Scandal'
Episode 8 of Gossip Girl picked up immediately from the fallout of Thanksgiving. The only people to come out of the dinner alive were Aki, Audrey, and Max, who decided to embrace the sexual tension between them for another evening.
As for Julien, she is walking around Constance Billard, completely paranoid everybody is looking and talking about her after she heard Aki's father's voicemail at Thanksgiving.
Eventually, exactly what Aki's father was referring to came to light and it is not pretty, in fact, it is terrible, and devastating for Julien if the rumors are true.
It turns out, her father Davis has been accused of sexual misconduct by an employee named Lauren. It is a story Aki's father had been trying to run in his papers but the story was killed because there was not enough evidence against Davis, or enough to place the alleged victim at the location where the misconduct was said to take place.
Later in the episode, it is revealed Lauren was coming forward with someone else's story as the real alleged victim was not ready to tell her story. The true woman making the allegations is Davis' colleague Riley, and potentially many other women.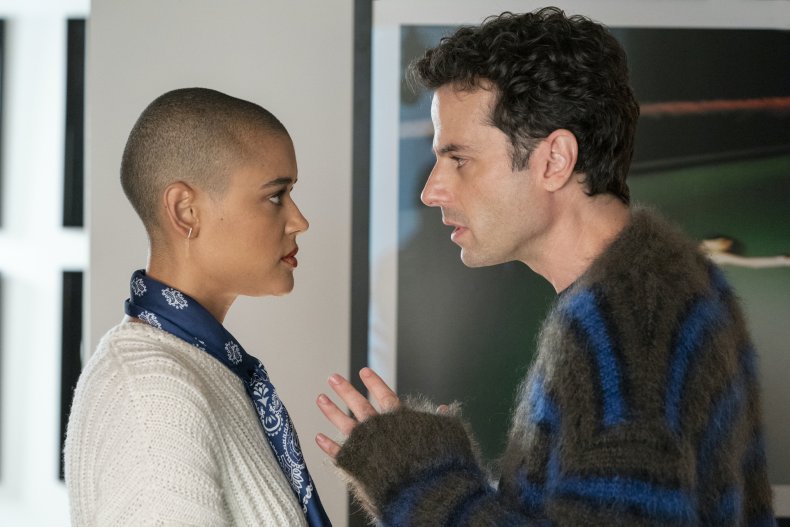 After retrieving the evidence against her father from Aki (who forwarded his dad's email chain with reporters to her), JC enlisted the help of Zoya to search through her dad's phone records. They came across an old BlackBerry Davis would have used at the time (hello 2011!), which contains several messages from women who Davis dated.
Each message begins with the women messaging Davis stating they had no memory of their date after just a few drinks, with some women questioning if they had slept together or not. Clearly, Davis' dates were not in a fit state to consent to anything and there is a huge possibility Davis took serious advantage of them.
Of course, Julien is absolutely distraught and wants absolutely nothing to do with her father, setting the foundations of what will happen in Episode 9.
Elsewhere in the Julien heavy episode, Kate has lost total control of Gossip Girl after other teachers at Constance Billard decided to kick her out of their little "GG" community. Power now rests with Kate's ex-fling and fellow colleague, Scott, and Gossip Girl fans know all too well what happens when Gossip Girl falls into the wrong hands.
Gossip Girl Episode 9 Recap: 'Blackberry Narcissus'
If you need a lesson in the power of the #MeToo Movement and male privilege, Gossip Girl Episode 9 is the one to watch.
The episode begins with the bold and brave JC speaking to a lawyer, against her father. She is determined to get to the truth of what happened, however, she is encouraged to remain silent by her female lawyer who explains the alleged victims may not be ready to tell their story and it's important to respect that.
At first Julien listens, but out of desperation to know the truth and after a savage post by Gossip Girl which suggests Julien may be complicit in her father's behavior, she sets out to find justice by texting all of the women whose text messages were on her dad's BlackBerry.
If we brush over the ridiculous idea that JC is actually being chased by paparazzi and obsessed Gossip Girl followers, she is seriously about to land herself in hot water, thanks to Kate Keller's (aka Gossip Girl 2.0) desperation to reclaim power after being kicked out of the Gossip Girl Instagram account.
For the past two episodes, Kate has (not out of choice) turned her back on Gossip Girl after becoming concerned about her student's welfare, particularly Julien. However, Kate has done a full 180 and really does unintentionally make Julien's life hell, all for her own gain.
Kate takes Jordan's phone and goes on Instagram Live via the Gossip Girl account and streams Julien having a conversation with Riley, one of her father's alleged victims. Ultimately, the post re-instates the narrative JC is trying to silence her father's victims.
To an extent, this is true but it is not as bad as it looks. Alongside Zoya's dad Nick who is a lawyer, JC explains to Riley if she goes public now, her colleague Laura, who previously accused Davis of sexual assault as a cover for Riley, could face libel charges and ultimately discredit Riley's story.
Poor JC, she really is trying to do the right thing. There is no sympathy here for Kate, who knows exactly how big of a mistake she has made here.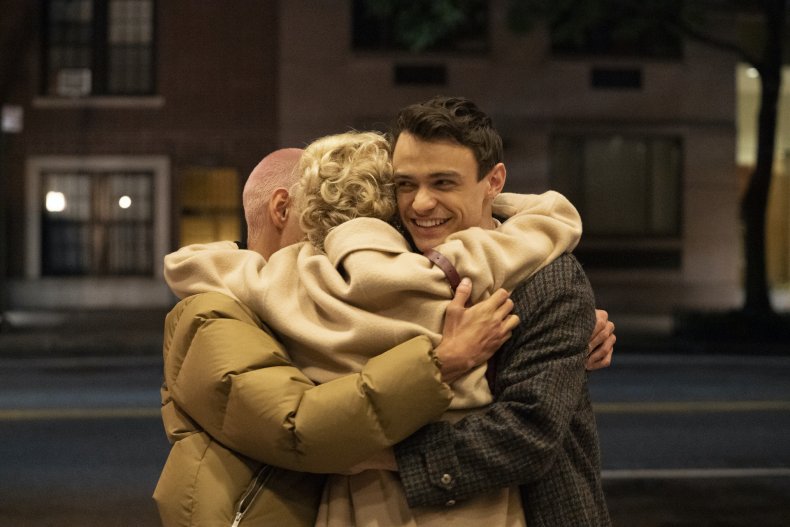 Elsewhere in the episode, audiences see a more vulnerable side to Max, who is starting to fall hard for both Aki and Audrey.
However, Aki and Audrey have made it pretty clear they are done with their not-so-secret late night rendezvous, leaving Max feeling alone, particularly as he tries to process his parent's separation.
With that being said, Aki and Audrey are still trying to figure out their relationship and Aki himself is still exploring his bisexuality. They both even decide to try and date other people but ultimately they realize they only need each other. Hopefully, they realize the only part they are missing in their love story is Max, ASAP.
'Till next time.
X O X O
Gossip Girl is streaming on HBO Max now.