The 'Gossip Girl' Trailer is Out—And Fans Know Exactly Which New Characters Match the Old Ones
Nearly a decade after the finale of the original series aired, HBO Max announced Gossip Girl was getting a reboot. Gossip Girl originally aired between 2007 and 2012 and starred Blake Lively, Leighton Meester, Penn Badgley, Chace Crawford, and Ed Westwick. Now, the show is back with a brand new cast, with Gossip Girl (played by Kristen Bell) jeopardizing their reputation at any given moment.
The rebooted version serves as a sequel to the original, with the original series' executive producer Joshua Safran and co-creators Josh Schwartz and Stephanie Savage at the helm.
Gossip Girl 2.0 is set in Manhattan and the same world as the original series. Except for this time around, it won't be a blog Gossip Girl is using. Instead, the master manipulator will be using social media outlets such as Facebook, Instagram, and Twitter to stir gossip in Manhattan.
The new characters will attend Constance Billard and St. Jude's, the Upper East Side prep schools attended by the show's original characters.
The new series is not a direct continuation of the first series but will feature references and will focus on similar themes.
At the moment, it remains unknown if any members of the show's original cast will make an appearance in the new series.
Regardless, their presence will most definitely be felt as some of the show's new characters have an eerie resemblance to the show's most iconic characters.
Who are the new characters in Gossip Girl?
Julien Calloway
If the trailer is anything to go by, Julien Calloway (Sacred Lies star Jordan Alexander) has a striking similarity to Serena van der Woodsen (played by Blake Lively).
Julien is described as a teen influencer and several behind-the-scenes photos and videos have shown Julien out partying.
Gossip Girl fans will recall in the first series, Serena was Manhattan's "it girl" and the original influencer.
Audrey Hope
Audrey Hope (played by Doctor Sleep's Emily Alyn Lind) appears to be the Blair Waldorf (Leighton Meester) of the new series.
Her mother is an athleisure designer and in the original series, Blair's mother was a famous fashion designer.
Audrey also appears to be close friends with the Serena of the group, Julien.
OG Gossip Girl fans will know Blair and Serena were best friends and later frenemies but fans will have to wait and see whether Audrey and Julien will have the same relationship.
Audrey's character is also described by Deadline as having "been in a long term relationship and is beginning to wonder what more could be out there."
One thing is for sure, Audrey's situation sounds awfully familiar to Blair's feelings about her long-term boyfriend Nate (Chace Crawford) in season one of Gossip Girl.
Max Wolfe
Thomas Doherty takes on the role of Max Wolfe, who has a striking resemblance to Chuck Bass (Ed Westwick).
OG Gossip Girl fans will recognize the eerie similar smirk to Chuck Doherty gave as Max at the end of the trailer when states something feels better in "the best way."
The reinvented Chuck will see himself in a three-way bisexual relationship with two other characters.
When asked about his character's love life in an interview with Cosmopolitan, Doherty said: "Yes, I do get naked, and yes, I do indulge."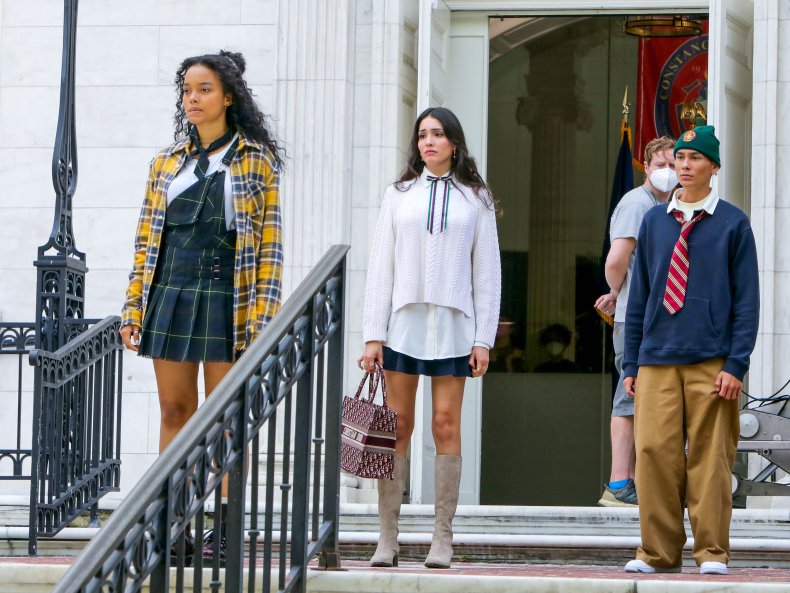 Otto 'Obie' Bergmann IV
Nate Archibald fans will be over the moon to hear there is a character in the reboot who is just like him.
Pretty Little Liars star Eli Brown plays Obie In the reboot, a "rich do-gooder" from Germany.
Gossip Girl fans will remember Nate in the first series was born into wealth. He was the son of Howard "The Captain" Archibald (Sam Robards), a successful business magnate and former Navy captain, and Anne Archibald (Francie Swift), a member of the Vanderbilt family.
Fans are certain Obie will have similarities to Nate, especially after photographs were shared of Brown as Obie on the official Gossip Girl Instagram page.
Fans took to comment to express their certainty that Obie is Nate.
One fan commented: "If this isn't Nate Archibald reincarnated I don't know what is what is."
A second fan added: "Nate Archibald suureee."
Zoya Lott
Whitney Peak stars as Zoya Lott, a "relatable-ish tour guide" and the outsider of the group, much like Dan (Penn Badgley) and Jenny Humphrey (Taylor Momsen).
Peak is best known for playing Judith Blackwood in Netflix's Chilling Adventures of Sabrina.
In the trailer, Julien can be seen inviting Zoya to sit on the Met steps with her and her friends, much like what happened to Jenny in the original series when Bl invited her to join the inner circle.
However, Gossip Girl fans know how disastrous Jenny and Blair's friendship ended so hopefully, things will be a little different for Zoya.
The official Gossip Girl Instagram account recently posted a clip of Zoya looking around a room with the caption "It's not about getting on top but staying on top. Best of luck, Z."
Fans took to the comment section to share their excitement and many drew similarities to the Humphrey family.
One fan commented: "she giving jenny a run for her money."
A second fan posted: "New lonely girl?"
Kate Keller
Fashion blogger and actress Tavi Gevinson will take on the role of Kate Keller.
A video posted on the official Gossip Girl Instagram account suggests Kate likes to be left alone, drawing similarities with Gossip Girl villain, Georgina Sparks (Michelle Trachtenberg).
Fans were quick to spot the resemblance thanks to the video caption which read: "Careful, K. The easiest targets fly solo."
One fan commented below: "why she seems like Georgina?? omg SÓ EXCITED FOR THIS."
A second fan added: "Georgina vibes!!"
Gossip Girl premieres Thursday, July 8 on HBO Max.