Gossip Girl on HBO Max follows a new generation of Upper East Side teenagers attending the infamous elite school Constance Billard. Sadly, there's no Blair (played by Leighton Meester), Serena (Blake Lively), Chuck (Ed Westwick), Dan (Penn Badgley), or Nate (Chace Crawford), but not much has changed in the world of Gossip Girl in nine years. Gossip Girl still exists, this time in the form of teacher Kate Keller (Tavi Gevinson) and she is now all over social media, instead of a blog.
Meet the new generation of Gossip Girl's victims: Queen Bee Julien (Jordan Alexander) and her boyfriend Obie (Eli Brown), Chuck Bass reincarnated Max Wolfe (Thomas Doherty), Blair Waldorf 2.0 Audrey Hope (Emily Alyn Lind), and her skater boyfriend Aki (Evan Mock), and of course Julien's minions Luna (Zión Moreno) and Monet (Savannah Smith).
Zoya (Whitney Peak) is the new girl at Constance Billard and the half-sister of Julien.
Showrunner Joshua Safran, who was a writer and executive producer on the original series, has sprinkled references to the earlier show throughout the new episodes, ranging from name drops to costumes and locations. Newsweek has a full list of the Easter Eggs hidden in the reboot.
All of the Original 'Gossip Girl' Easter Eggs Hidden in the Reboot
Episode 1—"Just Another Girl on the MTA"
The first episode introduces viewers to the new world of Gossip Girl.
Much of the drama surrounds Queen Bee Julien, who is channeling some serious Serena van der Woodsen vibes, and her half-sister Zoya (Jenny Humphries with less emo). You can read the full recap of Episode 1 here.
Those of us in our mid-twenties may have been hesitant to get on board with the reboot version. We remember a time pre and post-Gossip Girl world and one thing is for sure, Gossip Girl was a pop culture reset back in the 2000s. Need not worry, within the first few minutes the references to the original world of Gossip Girl were everywhere to be seen.
1. Shout out to Dan and Nate
Six minutes into the first episode, we get our first nod to the original cast and a little update on where Mr. Gossip Girl is himself. Dan Humphrey isn't Gossip Girl anymore, he actually made it as a successful author. Go, Dan!
There's a quick reference to the students who have gone on to greater things since leaving Constance, including Nate Archibald. Apparently, he was a distinguished student—are we forgetting that he was arrested at least three times?
2. Rebecca Sherman
Who is Rebecca Sherman? Well, it turns out the Constance Billard teacher is a former pupil who was in the class of '09—meaning she went to school with Dan, Nate, Chuck, Serena and Blair. Small world.
Rebecca (Sarah Baskin) was the woman who sparked the revival of Gossip Girl by sharing her high school experience with her colleagues.
She said: "When I was a student, we lived under constant threat. People like Nate were scared straight. It was this thing that started in Freshman year, called itself Gossip Girl. Kind of like an Orwellian big sister. Kept tabs on students it deemed important.
"If she knew your secrets, and she always did, she told them. She kept us all accountable. Everyone thought it was me but it was actually one of my classmates— Dan Humphrey."
Rebecca did not appear in Gossip Girl but her name was mentioned in the Season 2 finale of Gossip Girl, which aired in 2009.
The episode shows the rich teens graduating from high school and trying to figure out Gossip Girl's true identity.
At the graduation after-party, Chuck shows Blair a blurry Facebook profile with the name Rebecca Sherman and a photo of a brown-haired girl wearing a beret.
Blair shuts down Chuck's suggestion, exclaiming: "No, her head's always in a book. She doesn't have time to be posting all the time."
At the end of the episode, Eric van der Woodsen's (Connor Paolo) boyfriend Jonathan (Matt Doyle) is accused of being Gossip Girl.
3. The Met Steps
Once again, the rich kids gather on the steps of the Met for lunch, just like the OGs.
4. The Fashion
There is a lot to unpack about the fashion in the first episode.
First of all, teacher Kate Keller is wearing an outfit very similar to the one Serena van der Woodsen wore in the show's pilot episode, neck scarf included.
Kate's outfit is a nod to the passage of time and the generational gap between her and the Gen Z students. Kate would probably be the same as Serena now, making all of us original fans feel a little old.
The first episode also features shout-outs to brands that featured in the original series such as Alice + Olivia and Zara.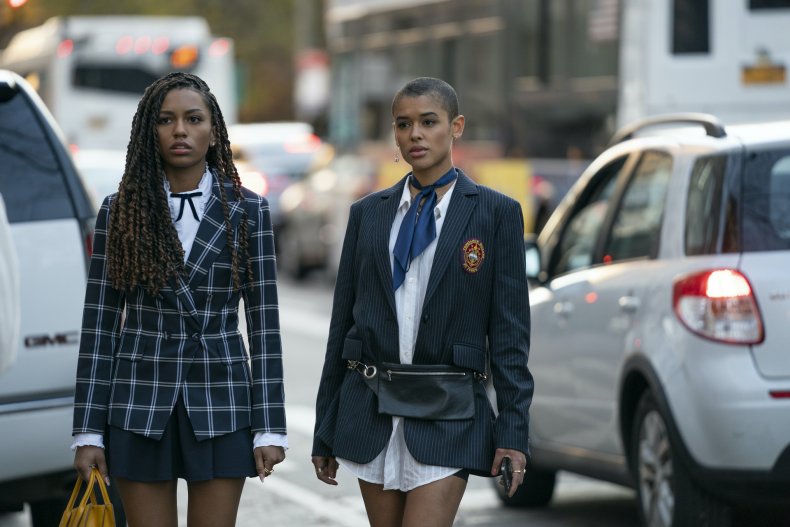 5. The Headbands
Apparently, headbands are no longer a thing in this new Gossip Girl.
Queen Bee, Blair Waldorf wore her headbands with pride when she was a student at Constance Billard. It quickly became her iconic look and a trend worldwide.
However, the new Queen of Constance Billard is anti-headband and even removes Zoya's from her head, refashioning it as a scarf.
6. The Martinis
Blair and Serena's favorite drink in the original series was a martini. The new cast also cannot seem to get enough of, despite being underage.
In the first episode of Gossip Girl, Blair and Serena make up over martinis after Serena abandoned Blair at Constance to go to boarding school.
In the reboot, Julien invites Zoya out in New York for the first time and offers her a martini.
Episode 2—"She's Having a Maybe"
Zoya and Julien are at war at the beginning of Episode 2. Julien and Obie have broken up, Obie is pretty much in love with Zoya, and Julien and Zoya's dad still hate each other. What else? Max and Aki kissed and Aki liked it... but then Max slept with Aki's girlfriend Audrey. Gossip Girl got canceled and verified again and Julien actually might be a nice person. There is a lot to unpack, read the full recap here.
There aren't too many Easter Eggs in this episode but there is one right at the very beginning. In the episode, we have a very niche and loose Gossip Girl reference but it 100% matters.
1. Alec Baldwin
There is a shout-out to award-winning actor Alec Baldwin, one of whose children apparently attends Constance Billard. The "last time Alec Baldwin confiscated my phone, I never got it back," cries one of the teachers at the parent-teacher evening.
Alec Baldwin did not appear in the first series of Gossip Girl but his brother William Baldwin did. He played Dr. William van der Woodsen, the absent father of Serena and Eric in the third and fourth seasons of Gossip Girl.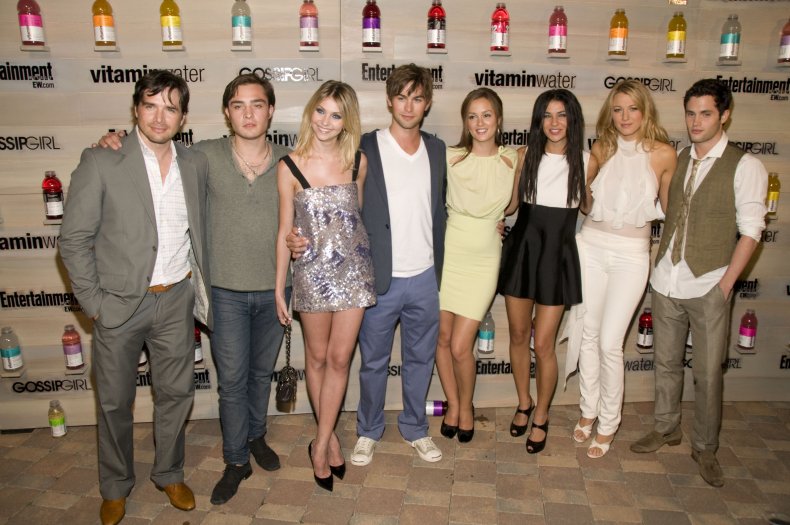 2. DUMBO
DUMBO is back. Originally portrayed as the poorer area of New York in the series, which is ridiculous, the spot is now where the characters hang out.
In the second episode, Zoya opens her phone to an Instagram Story post of Max "Deep in DUMBO" having drinks, and sadly she "wasn't invited to the party."
The show's richest character Obie Bergmann also lives in DUMBO, compared to Jenny and Dan Humphrey who were seen as the poorer kids at school.
Speaking to Town & Country Mag, showrunner Joshua Safran commented on the use of DUMBO in the new series. He said: "In the original, Dan was the poor kid and he lived in Brooklyn, which was ridiculous then, of course.... And now the richest character of our show lives in Dumbo."
Episode 3
— "Lies Wide Shut"
In Episode 3, we were treated to the Thomas Doherty show as Gossip Girl dug deep into Max Wolfe's backstory. Read the full recap here.

1. "What did you do, kill someone?"
Audrey ran to Julien to tell her the shocking news she had cheated on Aki with Max the night before.
"I did something bad! I'm a terrible person!" screams Audrey in the girls' bathroom.
In a niche nod to the original Gossip Girl when Serena believed she had killed Pete Fairman (David Garrett), Julien responded: "What did you do, kill someone?"
Showrunner Joshua Saffron acknowledged the Serena reference in an interview with Town & Country.
He said: "In one of the episodes, a character says, 'I did something terrible,' and another responds, 'What did you do, kill someone?'"
"Maybe fans will realize I'm riffing on Serena [van der Woodsen, an original Gossip Girl character] saying, 'I killed someone.'"
2. "Little Z"
Gossip Girl refers to Zoya as "Little Z," the exact same way Blair and Gossip Girl would refer to Jenny (Taylor Momsen) as "Little J" in the original series.
Episode 4 — "Fire Walks with Z"
In Episode 4 of Gossip Girl, things blow up between Julien and Zoya as they go head to head in a bid to be crowned the Queen Bee of Constance Billard.
1. Milo Sparks
Milo Sparks is the name of the young boy who sits down next to Zoya on the Met steps and offers her advice on how best to take down Julien.
He instructs her to google his name alongside the words "Russian, embassy and scandal," which brings up a profile on the Sparks family.
Milo's identity is further clarified when Zoya visits his home and sees a huge wall display of Gossip Girl original Georgina Sparks (Michelle Trachtenberg) alongside Vladimir Putin, Elon Musk and Ed Sheeran.
It then transpires Milo is Georgina's son.
Episode 5 — "Hope Stinks"
Things are calm between Zoya and Julien in Episode 5 following the events of Zoya's birthday, but things are not looking so great for the other students of Constance Billard.
1. Serena, Blair, Chuck and Dan at prom
It's Halloween in Gossip Girl Episode 5 and the costumes did not disappoint.
Julien's rivals Bianca and Pippa dress up as Serena van der Woodsen and Blair Waldorf at their senior prom in Season 2 of the original Gossip Girl in a bid to win the coveted best-dressed prize and secure a spot in Vogue magazine.
Bianca and Pippa were upstaged when Julien and Zoya decided to dress as their dates, Dan Humphrey and Chuck Bass respectively.
2. Zoya and Dan Humphrey
In Episode 5, Zoya befriends Simon, a New York Magazine researcher who is posing as a student at a local high school in a bid to find out who Gossip Girl is.
Zoya connects with the seemingly charming Simon, who begins to suspect Zoya could be Gossip Girl.
He begins to draw comparisons between Zoya and Dan Humphrey. "You're a student, just like Dan Humphrey was, a writer like him, an outsider like him. You can nail the voice not to mention the literary references and Gossip Girl was resurrected right when you arrived and not a moment sooner," says Simon—hinting that Zoya should confirm or deny his theory.
Although the similarities are undeniable, Simon is looking in the entirely wrong place.
3. Nelly Yuki
To expose Simon's true identity, Obie enlisted the help of a family friend who turned out to be a Gossip Girl icon, Nelly Yuki.
Nelly was a recurring character throughout the original show. Originally academic competition to Blair, she later became one of her minions before turning her back on her.
Today, Nelly is a successful magazine editor and Simon's boss. Even better, Yin Chang who played Nelly in the original series reprised her role for the reboot.
Gossip Girl airs on Thursdays on HBO Max.
Update 8/5/21 7:49 a.m. ET: This article was updated to include recent episodes.