'Gossip Girl' Episode 1 Recap: Introducing Blair and Serena Drama 2.0
Gossip Girl episode one, titled "Just Another Girl on the MTA," introduced viewers to the new generation of New York's Upper East Side. Sadly, there was no Blair (played by Leighton Meester), Serena (Blake Lively), Chuck (Ed Westwick), Dan (Penn Badgley), or Nate (Chace Crawford). But if one thing was made clear in the Gossip Girl reboot premiere, their legacy well and truly lives on.
One familiar face (or voice) who is back is Gossip Girl herself, voiced by the iconic Kristen Bell but no, it's not Dan Humphrey—who is a writer now apparently—running the blog. The teachers of Constance Billard have re-launched Gossip Girl on Instagram to "take back the power." Sound crazy? Newsweek has the full recap of episode one of the Gossip Girl reboot.
First, we are introduced to the new generation at Constance Billard. We meet Julien (Jordan Alexander), Obie (Eli Brown), Max Wolfe (Thomas Doherty), Audrey Hope (Emily Alyn Lind), Aki (Evan Mock), Luna (Zión Moreno), Monet (Savannah Smith), and Zoya (Whitney Peak) all in succession. They seem like the usual rich, self-obsessed rich kids we all love to hate then grow to love. Standard Gossip Girl procedure, everything is in check.
It takes six minutes for the reboot to make reference to the original Gossip Girl. The proud moment happens after Julien, Luna, and Monet insult teacher, Kate Keller (Tavi Gevinson), and even laugh when coffee is spilled on her average brown blazer.
Furious, and needless to say mortified, Kate storms into the teacher's staff room, where she is surrounded by equally attractive teachers, and cries out for the power to be put back into the teacher's hands instead of the students.
The oldest teacher in the room (a woman who is probably in her late 20's) looks back to nine years ago, remembering a sweet time when the students at Constance Billard were kept in check by an anonymous blog—Gossip Girl. Ah, nostalgia.
Constance alum Rebecca (Sarah Baskin), who is now a teacher at the school, shared: "When I was a student, we lived under constant threat. People like Nate were scared straight. It was this thing that started in Freshman year, called itself Gossip Girl. Kind of like an Orwellian big sister. Kept tabs on students it deemed important.
"If she knew your secrets and she always did she told them. She kept us all accountable. Everyone thought it was me but it was actually one of my classmates—Dan Humphrey."
In a stranger than fiction move that we are absolutely here for, the teachers decide to revive Gossip Girl, creating a Twitter and Instagram account under the name Gossip Girl 2.0.
Let the drama begin.
As Frank Ocean's "Super Rich Kids" plays out, we are introduced to the main cast of the Gossip Girl reboot and their Constance Billard clique.
Julien is the school's Queen Bee and IT girl. She's surrounded by her wealthy followers, Luna and Monet, and has an Instagram-perfect relationship with Obie, the richest kid in the school with the biggest heart.
Max is the bad boy of the group, sexually driven and manipulative—it's clear isn't one to be messed with. Audrey seems sweet but feels overshadowed by Julien. Her boyfriend is Aki, who seems laid-back and removed from all of the drama.
Zoya is the new kid on the block. Sweet and innocent, she is the half-sister of Julien and is attending Constance Billard on a scholarship.
Zoya, who is channeling big Jenny Humphrey vibes, makes her debut at Constance Billard, Blair Waldorf headband in tow. Julien comments on her trainers, much to her friend's disgust, "Should we throw lattes on her?" Monet asks.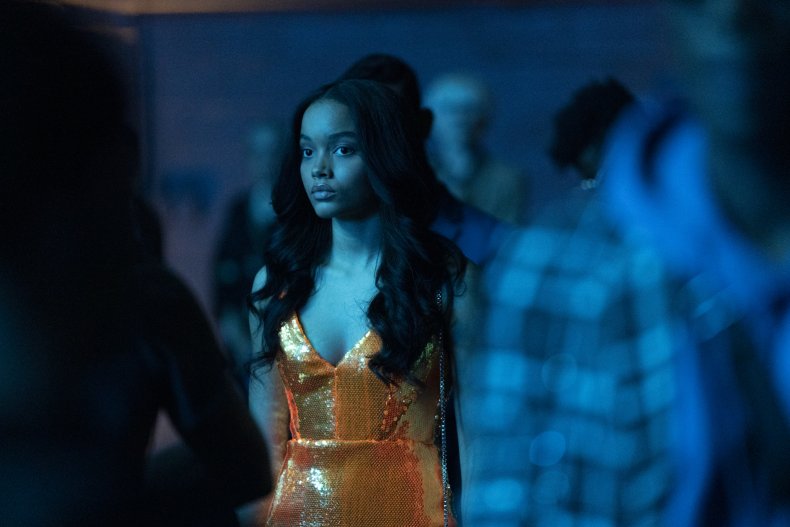 Turns out, Julien and Zoya are actually half-sisters and have secretly arranged their entire meeting. Julien insists on bringing Zoya into the group "Met Steps at 11am sharp!." Zoya looks a bit overwhelmed by the entire thing but she has deciphered pretty quickly that Julien is boss and she better not challenge anything, especially on her first day.
During the very much staged encounter on the Met Steps, Zoya catches the attention of Julien's boyfriend, Obie. They bond over social justice and appear to have a genuine connection. Well, anyone would seem like they have a connection compared to Julien and Obie.
Julien invites Zoya to the private members club, where these underage rich kids can drink martini's and whiskey—not to mention publicly engage in three-way kissing and oral sex in the corridors.
Two major things happen at the club, foreshadowing what is to come in the Gossip Girl reboot.
First, something's going on between Audrey, Aki, and Max. The sexual tension between Audrey and Max is sizzling (think Chuck and Blair) but her love for Aki is so pure (think Serena and Nate or Blair and Nate, whichever couple you prefer).
Max, who is described as a "polyamorous pansexual" is Chuck Bass 2.0 and Scottish star Thomas Doherty has got the allusions to Chuck down to a T.
After he made a move on Audrey, she runs to find her boyfriend Aki, and the pair engage in a fiery make-out session and things got a little NSFW. This all happened in view of Max, and Audrey and Aki both wanted him to see, with Aki even turning his head to make eye contact when he was you know...getting intimate with Audrey under her dress.
Later in the episode, Audrey watched on as Aki and Max got undressed and changed into their clothes for a fashion show (standard Gossip Girl event for teenagers), and needless to say, it turned her on. Later, Aki and Audrey have sex, with Aki telling her "you can think about him." He meant Max right? Will there be an Elite-style throuple situation on the cards? Hopefully, things will heat up in episode two.
Back to the club. It is clear that Gossip Girl is out to take down Julien. How exactly this happens is a little vague, but basically, it is revealed Julien effectively paid for Zoya to get a scholarship at Constance Billard.
The half-sisters share the same mother, who sadly passed away when they were teenagers. Their fathers despise each other and the two girls never met. Julien explains her father is in charge of admissions and she simply pushed Zoya's application to the top of the pile, but Zoya's ego is left crushed after thinking she got in on her own merit.
Queue a storm out from Zoya, who is followed by Julien's boyfriend, Obie, who is most definitely over all of the drama—side note, Obie is oozing serious Nate vibes.
The chemistry between Zoya and Obie is so genuine it hurts. Caught in a rainstorm, Obie invites Zoya inside, where they are snapped by one of the 'Gossip Girl' teachers undressing out of their soaking wet clothes.
As expected, the photograph goes viral thanks to Gossip Girl and everyone at Constance Billard thinks Obie has cheated on Julie, which (unfortunately for Zobie stans) never happened. What actually happened was Obie low-key expressed his doubts to Zoya about his relationship with Julien, and the pair had an adorable conversation about kindness.
Julien comes up with a plan taken "straight out of the Serena and Blair playbook" to restore the status quo and Zoya, who is desperate to clear her name, agrees.
Julien, who is equally as desperate to have her Queen Bee status restored, has planned to deliberately embarrass Zoya by inviting her to a fashion show and leaving her off the after-party guest list.
Julien believes this will reassert her position of authority, but her evil sidekicks, Monet and Luna, have other plans.
They managed to steal Zoya's phone and air-dropped an explicit picture, taken by Luna, to the entire audience. The move resulted in Zoya being removed from the venue, in front of everybody, and on a livestream for the world to see.
An embarrassed and hurt Zoya confronted Julien after the show. As expected, Julien played innocent, insisting she didn't know Luna and Monet's other plans, but Zoya argued back that she could have intervened and stopped it.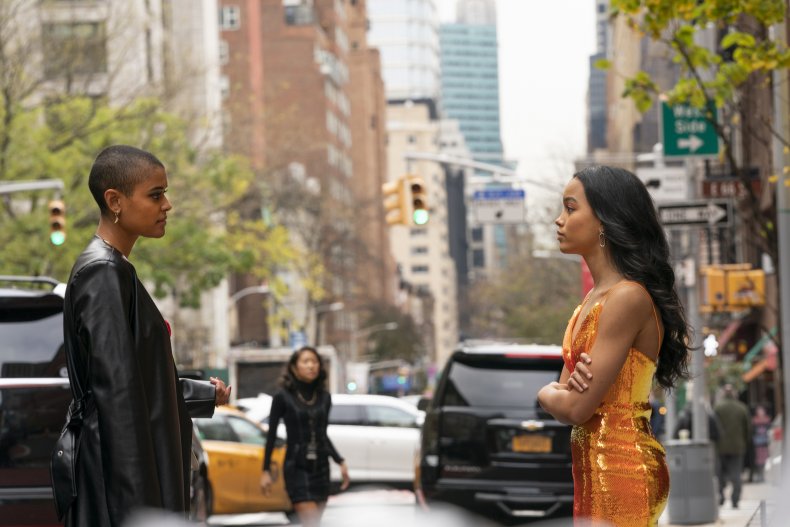 The two half-sisters effectively kick off the war which will frame the story of Gossip Girl. "You can either learn me or you can leave." Julien threatens, to which Zoya bravely responds, "I've learned enough but I'm not going to leave either. There's room for more than just you to matter." Ouch.
One thing is for sure, Julien seriously underestimated Zoya, who turns up at school the following day unashamed and dressed in her biggest oversized jumper and knee-high socks. She bumps into Obie—who has just dumped Julien due to her behavior at the fashion show—and the pair decide to attend a protest later that afternoon, right in front of Julien's eyes.
The first episode comes to an end with Julien's mean girl façade slightly shattered but no doubt, she will be hell-bent on revenge.
'Till next time.
XOXO Gossip Girl.
Gossip Girl airs Thursdays on HBO Max.