Gossip Girl episode 3, titled "Lies Wide Shut", was the Thomas Doherty show—and we had front-row tickets. Move over Chuck Bass, Max Wolfe is the new broken bad boy on the Upper East Side.
The third installment of the Gossip Girl reboot was a little slow. Nothing really happened (unless you are Max Wolfe), which has got me thinking episode four "Fire Walks with Z" is going to be explosive. Surely the mundane events of episode three are setting up for something spectacularly Gossip Girl in style?
The biggest shock this week was learning Zoya is supposedly 14 years old. Gossip Girl almost got shut down but the lovely teachers of Constance Billard found a scapegoat, framing one of their own as being the owner of the Gossip Girl account. Is it just me or are Kate Keller (Tavi Gevinson) and her crew just as bad as the students themselves?
The episode kicks off with an opening shot of the NYC skyline, the standard GG aesthetic. Julien (Jordan Alexander) is trying to move on from Obie (Eli Brown), who has found love with her half-sister Zoya.
Julien's quite frankly evil, self-obsessed friends Savannah (Monet de Haan) and Luna (Zión Moreno) are doing everything in their power to get Julien back on top but she isn't buying any of it. She doesn't want to be on Instagram, she doesn't want to date heirs from around the world and she certainly doesn't want to get involved with Gossip Girl again. Maybe things are changing around here and Julien is actually nice?
Enter Thomas Doherty as Max, who arrives on school steps and gives Julien some harsh truths: "Do you want to know why no one you've been on a date with wants to get to know you better? It's because they can't. You're a billboard, not a body. Curated, untouchable, willingly filtered by you."
Long story short, Max takes Julien on a wild night out, self-titled the "Manhattan Maxploration."
At the end of episode two, Audrey (Emily Alyn Lind) and Max slept together. However, earlier that day, Max and Audrey's boyfriend kissed Aki (Evan Mock), and let's be honest, he liked it. A lot. Things have inevitably been weird between Aki and Audrey ever since and both of them try and confide in their friends instead of telling each other the truth.
Audrey heads for Julien screaming: "I did something bad! I'm a terrible person!" Side note, Emily Alyn Lind is great as Blair 2.0 and she needs more screen time. I demand it.
"Did you kill someone?" responds Julien and I just want to say bravo to showrunner Joshua Safran, what a niche nod to the original Gossip Girl when Serena (Blake Lively) believed she had killed Pete Fairman (David Garrett).
Julien pretty much tells Audrey to 1) not Sleep with Max again and 2) don't tell Aki. Obie pretty much tells Aki the same thing, "to save Audrey the hurt and embarrassment", except he doesn't know Aki kissed Max and not a girl. The only interaction and bad advice from Julien and Aki has left me stunned. Why are these kids just accepting bad behavior and cheating? It's not cute.
Cut to Max and Julien, as underage New Yorkers partying the small hours away (on a school night). Julien takes some "space coke" as Max spends the night scrolling through a dating app called Scruff (think Grindr) sipping martinis.
Julien takes a bathroom break where she becomes best friends with a girl in the toilets. Turns out that girl is YOU star Elizabeth Lail. First Dan Humphrey star Penn Badgley plays a killer in YOU opposite Lail and now Lail is in Gossip Girl as Lola Martin. My brain can't process this information.
Anyway it quickly transpires Lola is Julien's dad's (Luke Kirby) secret girlfriend. No huge shock there, wherever Julien goes, drama seems to follow.
Now that all of that is out the way, episode three truly becomes the Thomas Doherty show. In the middle of the club, his character Max is about to receive some news that will set off a course of events that will change everything, potentially the rest of the season.
As he scrolls through Scruff he comes across his dad Roy's (John Benjamin Hickey) profile. As far as he and we as the audience are aware, both his dads—Roy and Gideon (Todd Almond)—are happy and in love. The revelation sets Max down a path of self-sabotage. He sets up a fake Scruff account, using the identity of his classics teacher Rafa (the one he tries to seduce every time they cross paths).
He then purchases Rafa a ticket for a play that the entire of New York's elite are going to see, sitting him next to his parents. After the play, Roy tries to introduce himself to Rafa but it is not long before Max and Gideon interrupt their conversation and the truth comes out. Quite rightly, Rafa denies ever speaking to Roy, because the entire time Roy has actually been communicating with Aki and Max.
Roy and Gideon's relationship blows up right in front of Max's face and ends in tears for everybody involved. I really don't think Max thought this one through. Audrey and Aki watch on as Max tries to drink through the pain and do a line of coke here and there. They try to intervene to take him home but their invention causes him to completely lose it.
He's got a point in his drug-fuelled rant. All of these characters talk about trying to be their "true self" and preach about "authenticity," but at that moment Max, high on coke, is the only real person in the room.
Even better, he stares Aki and Audrey right in their faces and reveals they both cheated on each other, with him.
From the top of his lungs, Max shouts: "I am outside my boundaries just like both of you. In fact, I am so outside I don't know if you are going to be able to hear me when I say I am not the only one who f***** up here.
"You f***** up too. You f***** me and you wanted to. C'mon it's about time we stopped hiding and started being who we really are right? Right? No more lies only truths. So I will go first as the only truth-teller here.
"You guys, you just don't do it for each other anymore. You just do me but you can't have me. Nobody can have me. I am not even here I am gone and end f****** scene."
And just like that, Doherty has performed which is sure to go down as one of the most memorable scenes of the Gossip Girl reboot, if not Gossip Girl history. Honestly, there is no shame in rewinding the scene and watching again and again, it is chilling.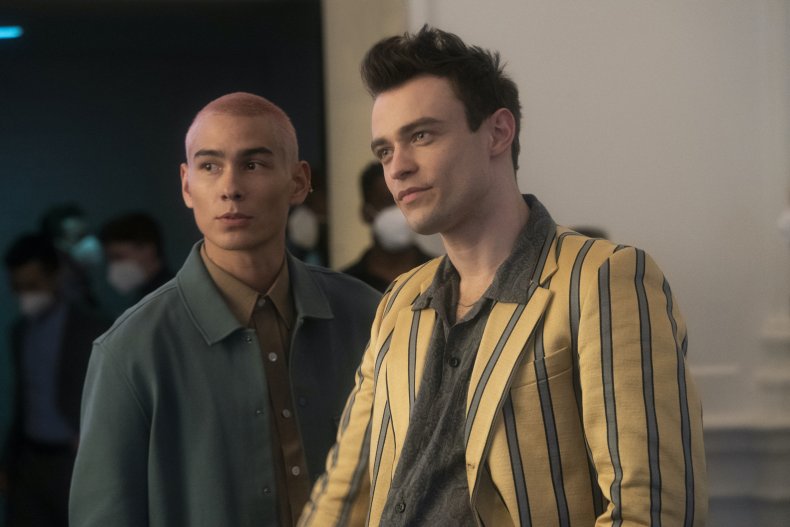 Sadly, the last we see of Max is him breaking down in tears and crying into the arms of Rafa, who takes Max in and lets him sleep on the couch. Things are getting seriously interesting between them and I cannot wait to see what happens next.
Yes, Obie and Zoya are still present in this episode but they might as well not be (I told you it's all about Max). What could be considered as the most predictable turn of events, Zoya tries to change herself to fit in, despite insisting to everybody around her the most important thing to her is being able to be her true self.
What I didn't see coming is her enlisting the help of Luna (Zion Moreno is so good in this role), who gives her a makeover in the school library, tells her not to eat in public, and gives her contact lenses so she can "smize" 24/7.
And no, Zoya and Luna are not friends. Luna's only helping because Julien is no longer the Queen B of Constance. "If Julien falls we aren't going with her, might as well get with the new world order" she instructs Savannah. Zoya is going to regret ever speaking with Luna, just wait.
Zoya's new persona is pushing Obie away but somehow it is all his fault. "It's hard to date the Prince of New York when he won't admit who he really is" she tells Obie, which sends him down the road to apologize to Julien, for the role he may have played in Julien "losing herself."
We get another Zobie kiss and I just really want them to be together forever but I don't trust this show to give them the happy ending they deserve, especially considering the cliffhanger ending of this episode.
I don't know why Luna and Savannah are so hellbent on taking down Zoya, Julien has no interest in her half-sister. The girl even showed up to school with no phone and asked for no drama, read the room girls!
Full of rage at the fact Julien has chosen to stay off social media for the day, Savannah and Luna decided it was time to make sure Zoya is sent far away from Constance immediately.
As Obie and Zoya pass them hand in hand, Luna reveals she knows a secret about Julien which will end her for good. I have a feeling it will have a little something to do with the fact Zoya let slip to Lunda her grandmother's apartment is rent-controlled and the housing board do not know she is there. Will Zoya be forced out of her apartment and potentially New York by law?
And after all of that, I just hope Max is going to be ok.
'Til next time
XOXO Gossip Girl.
Gossip Girl airs Thursdays on HBO Max.