Gossip Girl Episode 5, titled "Hope Sinks," was a lot calmer than last week's explosive fourth episode, which saw the Julien (played by Jordan Alexander) and Zoya (Whitney Peak) rivalry come to an end. This week, the toxicity that once plagued the sisters' relationship is behind them, but that does not mean they are free from others around them who want to rain on their parade.
It's Halloween this week and, as per Gossip Girl tradition, the students of Constance Billard (and their teachers) will be attending an exclusive party. While the majority hide behind their masks, there are some who cause chaos hiding in plain sight.
Newsweek has everything you need to know about Episode 5 of Gossip Girl from beginning to end.
It seems like the troubled Max Wolfe (Thomas Doherty) got what he wanted in the end— an illicit affair with his classics teacher Rafa (Jason Gotay), making out during school hours and doing very inappropriate things on school property. We all just want Max to have a shot at love but this feels very transactional and not quite right. Also, that door is a little bit too open for our liking. Surely it's a sign they are most definitely on track to get exposed by Gossip Girl, or somebody else for that matter?
Meanwhile, it's all rainbows and sunshine over in Julien and Zoya land, who put their differences aside after last's week escapade where Julien humiliated Zoya at her own birthday party. Julien's trying a little too hard though and all of her efforts are starting to make sense—she's trying to prove to her Instagram followers and the entire school she is not a bad person.
Obie (Eli Brown) interrupts their BFF-fest with the news a student at their rival high school brought a gun to school after being bullied in the comment section of the Gossip Girl page. However, that is not what catches the girls' attention and instead, Julien, Monet (Savannah Smith) and Luna (Zión Moreno) are quick to ask about Pippa and Bianca, two students at the school who are perceived to be the biggest threat to Julien's crown.
Away from the lunch tables at Constance Billard, just like Max is a reincarnation of Chuck Bass (Ed Westwick) and Audrey Hope (Emily Alyn Lind) is Blair Waldorf 2.0 (Leighton Meester), history is almost repeating itself in this episode with regards to Audrey's home life—except Audrey does not have a maid like Dorota (Zuzanna Szadkowski) to rely on.
Just like Blair and her mother, Audrey and her mother Kiki's (Laura Benanti) relationship remains strained and becomes even more fractured when Kiki drops the bombshell they will have to move back to her hometown in Connecticut. Wrapped up in Constance Billard life, Audrey is adamant she is not moving because of her mother's own mistakes and it's fair to say, Audrey probably would be just fine on her own.
Elsewhere there is trouble in paradise for Zoya and Obie. Zoya may have her sister back but she is losing Obie by the minute. She is distracted by Simon, a random man who is anti-Gossip Girl that she met on the bus. Zoya also seems to be more interested in how she and Julien will beat Pippa and Bianca at a Halloween costume party dressed as Beyoncé and Solange. "Sadder than sad Keanu," reflects Jordan (Adam Chanler-Berat) and he is right, poor Obie, but thankfully this sadness won't last for too long.
For once, Obie is taking the power, status, wealth he has and using it to his advantage. That's right, he has called in a favor, name dropping his full name, Otto Bergmann IV, to find out more about Zoya's new friend Simon.
Elsewhere, Zoya's obsession with Halloween was worth it, just for the nod to the original Gossip Girl series. Pippa and Bianca sabotaged Zoya and Julien's Solange and Beyoncé look and decided to steal the show by recreating Blair and Serena's (Blake Lively) looks at their senior prom. Determined not to go down without a fight, Julien and Zoya wore Aki and Obie's suits, dressing up as Chuck Bass and Dan Humphrey, the dates of Blair and Serena to the prom in Gossip Girl Season 2.
It is no surprise Julien's shallow PR, Monet, was behind the sabotaging of Julien and Zoya's Halloween outfits. Not that it makes much of a difference but Monet has now switched sides, breaking her alliance with Luna and cutting ties as Julien's friend. Savannah Smith will be missed for sure, her character Monet...not so much.
Has anybody noticed how much Aki (Evan Mock) is obsessed with Max? He has clocked on to Max's secret affair with Rafa and he is most definitely not happy about it (despite trying to work on his relationship with Audrey). He even threatens Rafa with sending a picture of him and Max to Gossip Girl, which does not go down too well.
Regardless, Aki is hellbent on keeping Max and Rafa apart and does some digging into Rafa's background. Rafa has told Max he has no father and no family, a void that Max wants to fill. However, Aki has discovered Rafa does have a family, who own an exclusive vineyard and winery. There's even a website with pictures to prove it, so Aki sends Rafa a message, accusing him of lying with a link to the website and confronts Max and Rafa face to face. Oh Aki, you really shouldn't get yourself involved in another love triangle.
In the end, Rafa's undoing didn't come from Aki, it came from an ex-boyfriend who told Max at the bar he had a sexual relationship with Rafa when he was a student at Constance. Apparently, it is a "thing" Rafa does and Max does not stop short of confronting him about it. Realizing the mess he has got himself into, Max turns his back on Rafa, who quite clearly thought he was in control. This doesn't seem like it will end well for Max going forward.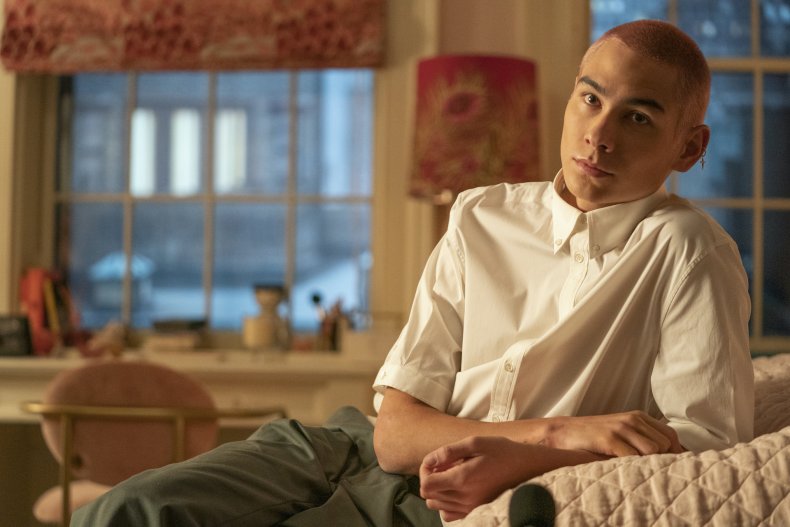 Elsewhere, Zoya's new friend Simon seems to know a little bit more about Gossip Girl than she thinks. He claims to have never checked out Gossip Girl's accounts but seems to know a hell of a lot about the original Gossip Girl, Dan Humphrey (Penn Badgley). He even goes so far as to suggest Zoya could be Gossip Girl, noting all her similarities to Dan. Thanks to Obie's investigative work, it turns out Simon isn't actually a student, he is a researcher for New York Magazine, trying to suss out who is really Gossip Girl and sadly, little Z fell right into his trap.
To expose Simon's lies, Obie enlisted the help of Gossip Girl icon Nelly Yuki, who has grown up to become a successful magazine editor. Yes, that really is Yin Chang reprising her role as Blair's former rival Nelly for the reboot.
If you were worried Audrey may be leaving the Upper East Twice, think again. As the Halloween party came to a close, Audrey received a phone call from the hospital, revealing her mother was in the emergency room. Exactly what happened to Kiki has not yet been revealed, but the doctor did confirm it would be a "long road to recovery," with Audrey reassuring him she won't be "going anywhere" anytime soon (phew!). Max is also back in Audrey's life, making his way to the hospital and reuniting with his friends after ignoring them for so long. Vulnerable Max really is the best.
As the episode drew to a close, Kate Keller (Tavi Gevinson) decided to take control of the narrative and own the fact she is Gossip Girl and she is pretty good at it. After getting rejected by the Paris Review, Kate logged back into the Gossip Girl Instagram account and deleted the entire feed, starting afresh with a clean slate. Kate also turned off the comment section, teasing that Gossip Girl is the only voice they "need to listen to anyway."
But what exactly will this new and improved Gossip Girl do next?
'Till next time.
XOXO Gossip Girl
Gossip Girl airs on Thursdays on HBO Max