The Gossip Girl reboot is back after a short hiatus, which for many fans would have no doubt felt like an eternity.
Following on from Part One's nail-biting cliffhanger, the first 3 episodes of Part 2 are available to stream on HBO Max now and, better yet, there are three more episodes to come after this initial drop.
Teasing what's in store for Part 2, showrunner Joshua Safran spoke to Newsweek about the "tragedy" and "comedy" that has yet to come.
When is Gossip Girl Back?
Before we get to the...uh, well, gossip, let's first explain when and where you can watch the new installment.
Episodes 7, 8, and 9 are available to stream via HBO Max now, and the final three will drop on Thursday, December 2 at 3 a.m. ET.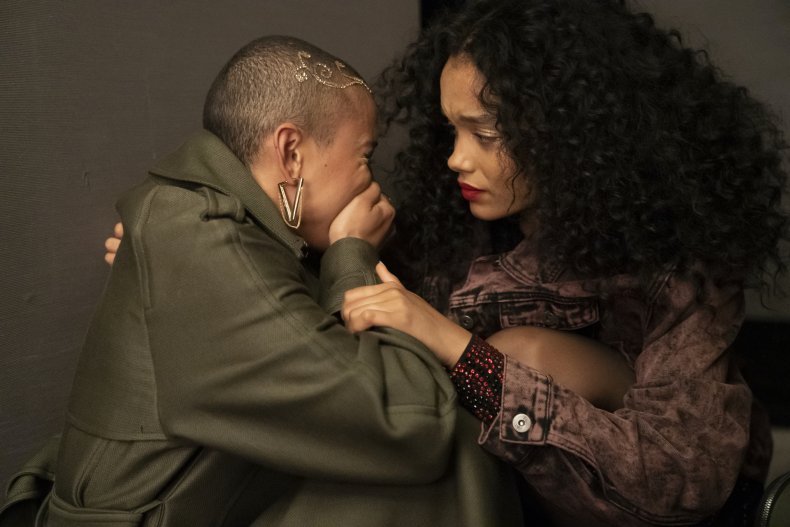 What Will Happen in Gossip Girl Part 2?
Showrunner Joshua Safran, who was also a writer and executive producer on the original Gossip Girl series, revealed to Newsweek some details of Part 2.
He said: "We set up everybody, all the characters, in the first season in a precarious position before they fall. That is basically what happens in the second half of the season—everybody is sort of dealt a series of blows by Gossip Girl and in the wider world, and they have to reckon with just what the world looks like with Gossip Girl."
He added: "There's also more tragedy and more comedy."
Gossip Girl (aka, Kate Keller, played by Tavi Gevinson) found herself in serious trouble at the end of Episode 9. Determined to reclaim her throne as the leader of the tell-all Instagram account, Kate decided to take matters into her own hands and live stream JC's meeting with alleged sexual assault victim Riley.
However, the move totally backfired and instead of helping JC's reputation, it fuelled the narrative JC was trying to silence her father's victims, when in fact JC was doing the opposite.
Away from the JC drama and the fact her father is facing allegations of sexual assault, Max also found himself in an emotionally challenging situation.
Despite giving off bad boy vibes, it was revealed to viewers that Max Wolfe does actually have feelings.
However, the bad news is, there is a huge possibility he could get hurt if things keep going for him the way they are.
For Max, his late-night rendezvous with Aki and Audrey actually meant something to him, but for now, it looks like Aki and Audrey are stronger than ever as a couple, and only a couple, leaving Max feeling pretty vulnerable.
Following in the footsteps of Chuck Bass (Ed Westwick), we all know what happens when Max hits a low point; he self-destructs. And fans can expect to see plenty of drugs, sex, and lack of self-care in the remaining 3 episodes for Max.
Saffron expanded on this, telling Newsweek there would be more from Max, Aki, and Audrey's relationship to come in future episodes.
He shared: "The first day I pitched this show to Warner Bro's and HBO Max, like two years ago, or two and a half years, whatever it was, I said want to explore a triad relationship where three partners are equal, it's not actually throuple like we've seen in Elite and other shows where it's sort of like, titillating, this is actually about romance and feelings. Can three people engage in a romance together?"
Luckily, fans will not have to wait too much longer to find out.
Gossip Girl Episodes 7, 8 and 9 are available to stream on HBO Max now.