'Gossip Girl' Cast: Where Is Monet and Will Savannah Smith Return?
Gossip Girl on HBO Max introduces a new generation to the world of Gossip Girl. The once mysterious blogger is no longer in hiding (and is no longer Dan Humphrey) and the gossip is now being dished by a Constance Billard teacher, Kate Keller (played by Tavi Gevinson). The reboot also features new characters, with many serving as a nod to the original cast.
Savannah Smith plays Monet de Haan, one of Julien Calloway's "minions" who loyally served her throughout the first five episodes. Episode 6 dropped on Thursday, August 12—and she was noticeably missing from it.
In the week leading up to the episode's release, Smith could not be seen in any of the trailers or artwork for the series. Where is Monet and will Savannah Smith return for Gossip Girl Part 2?
Newsweek has everything you need to know.
Where is Monet de Haan in 'Gossip Girl' Episode 6?
Monet de Haan decided to turn her back on Julien and Luna (Zión Moreno) in Episode 5 of Gossip Girl.
As Julien's PR and content creator, Monet had become frustrated with Julien's decision to embrace authenticity and strike up a friendship with her half-sister Zoya. Worse, Julian had begun to ignore Monet's advice and expertise.
In the end, Monet carried out the ultimate friendship betrayal and sabotaged Zoya and Julien's look for Halloween.
She sided with Julien's rivals, Pippa and Bianca, and encouraged them to recreate Blair (Leighton Meester) and Serena's (Blake Lively) looks at their senior prom as their costume, overpowering Zoya and Julien's Solange and Beyoncé look.
Monet's decision to side with their rivals may explain her absence in the midseason finale which shifts its focus away from the everyday drama at Constance Billard, and instead dives deep into the relationships between Aki (Evan Mock) and his father Rodger (Malcolm McDowell), and Obie (Eli Brown) and his mother Helena (Lyne Renée).
OG Gossip Girl fans are also aware that Blair's minions did not get as much air time as the main cast, but they were present in pretty much every episode so Monet's absence came as a bit of surprise.
Perhaps Monet is off conspiring against Julien or planning an epic comeback of her own for Gossip Girl Part 2. After all, Kate Keller did describe Monet as the "school villain" in Episode 1 of the reboot, so there is a lot more to her.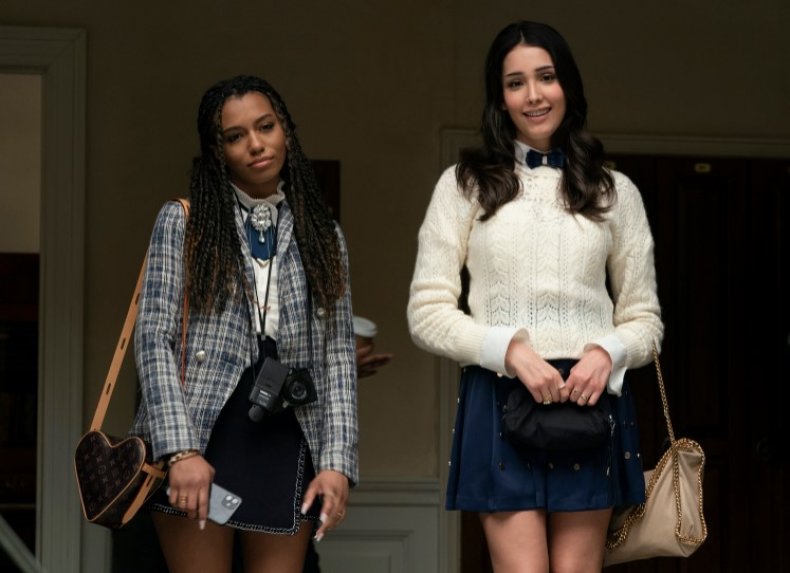 Many fans agree, with some taking to social media to express their sadness at Monet's absence from Episode 6.
One Gossip Girl fan tweeted: "Wait I knew something was missing from this episode no MONET??? the whole next episode better be about her or I'm suing #gossipgirl."
A second fan wrote: "either way I miss queen Monet #GossipGirl."
Another said: "Gossip Girl just not the same without Monet I fear."
Will Savannah Smith Return to 'Gossip Girl'?
There is good news for fans of Monet and Savannah Smith.
A representative for Smith confirmed to Newsweek that she will be returning in "future" episodes of Gossip Girl as Monet.
In an interview with Refinery29, Gossip Girl showrunner Joshua Safran also said there would be plenty more Monet and Luna in the second half of Gossip Girl, as well as more about the back stories and lives beyond Julien's world.
Smith has already shared some background details about her character. After Monet was spotted kissing a girl in Episode 3 of Gossip Girl, Smith posted about her sexuality on Instagram and Twitter.
She tweeted, "so yea, she's into girls," and followed up with, "And only girls."
Speaking to Essence, Smith said: "She's evil! She's cutthroat. She's the maker of all drama, and she makes people cry. I definitely thought about the angry Black girl trope, but it's just not there.
"Monet is a very complex character," she continued. "In the first few episodes, you'll see her on the surface level, but you can tell that there's a reason she acts the way she does."
Hopefully, by the end of Season 1, we will all know Monet a bit better.
The first six episodes of Gossip Girl are streaming on HBO Max now.
Update 8/13/21, 5:50 a.m. ET: This article was updated to add a comment from Savannah Smith's representative.