In Defense of 'Gossip Girl' on HBO Max — Why We Need to Cut the Reboot Some Slack
Just when you thought the world had seen enough reboots, in 2019 HBO Max announced it was bringing Gossip Girl back to life and the reaction was divided.
Some OG Gossip Girl fans rejoiced that the world of Serena van der Woodsen (played by Blake Lively) and Blair Waldorf (Leighton Meester) was being re-opened, others rolled their eyes with claims of 'nothing could ever beat the original'.
Gossip Girl ran from 2007 to 2012 and millennials and some lucky Gen Z's were hooked from day one. We watched religiously for six seasons to be dealt the blow that Dan Humphrey (Penn Badgley) was actually Gossip Girl all along and yes, we are still trying to process that.
So when HBO Max said Gossip Girl was coming back, in a new form with original writer and executive producer Joshua Safran at the helm, how was it going to work? Pretty well actually.
Yes, it has its flaws, it's a little far-fetched at times and the acting falls short at some points but didn't the original series have the exact same flaws, if not many more? We loved it all the same!
Here's why we need to cut the Gossip Girl Reboot some slack ASAP.
1. It's A Standalone Sequel, Not A Remake
Fans of the original Gossip Girl series do not need to worry, the Gossip Girl Reboot is not trying to be something it's not, it is trying to be exceptionally different.
Set in the present day, the reboot follows the lives of a new generation of students at Constance Billard. The social hierarchy does still exist at the NYC private school but that's hard to eliminate when it's embedded in the education system.
There's Queen Bee JC (Jordan Alexander), her minions Monet (Savannah Smith), Luna (Zión Moreno). Audrey (Emily Alyn Lind), JC's best friend, Obie (Eli Brown), JC's on-off boyfriend, and Zoya (Whitney Peak), Julian's half-sister.
There's also Aki (Evan Mock), a bi-sexual skater who is dating Audrey, and Max (Thomas Doherty), who is effectively Chuck Bass (Ed Westwick) re-incarnated.
The first season saw the re-birth of Gossip Girl, who fell silent after Dan Humphrey gave up her identity. This time around, it's not the students who run Gossip Girl, it's the teachers of Constance Billard, already setting a completely different tone from the original where the identity of Gossip Girl was unknown until 120 episodes had passed.
Gossip Girl Showrunner Joshua Safran told Newsweek: "I mean, the goal wasn't to try to do the first show over again, the first show exists, there are 120 episodes of it."
He explained: "Because it isn't the same cast, it just didn't feel right to try to recapture that lightning in a bottle. So, I made the decision to sort of keep the DNA of the show. There is a presence called Gossip Girl that's wreaking havoc on teenagers lives who go to a private school in New York City, the same private school, but outside of that I sort of looked at the world today and 2021 is very different from 2007. So I'd say the show is different and similar and I'd like to think that it's good that they stand apart."
He continued: "The first time around, the show was about the kids and their parents and this time around the show is about the kids, their parents, and the teachers caught in the middle."
2. The LGBTQ+ Representation and Diverse Cast
In hindsight, it is glaringly obvious how little LGBTQ+ representation there was in the original series of Gossip Girl, all of the six main characters were all white, cisgender and hetreosexual, the only main exceptions being Serena's younger brother Erik van der Woodsen (Connor Paolo) who had a gay storyline and Vanessa (Jessica Sohr), who was biracial.
From the get-go, the Gossip Girl reboot was set to be different from the original, just by looking at the main cast alone.
To begin with, the lead actress in the reboot, Jordan Alexander who plays JC, comes from a mixed background. According to Pop Sugar, she is of German-Irish descent and mixed African-American heritage. JC's half-sister Zoya Lott (Whitney Peak) was born in Uganda and is of Ugandan and Canadian heritage and Zoya's father Nick (Johnathan Fernandez) is Afro–Latin American.
JC's best friend Monet, played by Savannah Smith is African-American and Smith herself identifies as bisexual. In an interview with Wonderland, Smith shared: "It's already a dream to be able to be a part of this project [Gossip Girl], but on top of that I get to be a part of a greater responsibility that I feel as a Black, bisexual woman in the media."
Luna, JC's other minion is played by transwoman Zión Moreno.
Safran also highlighted the "inclusive storytelling and the queer stories and the frankness of sexuality and the content" as strikingly different from the original show.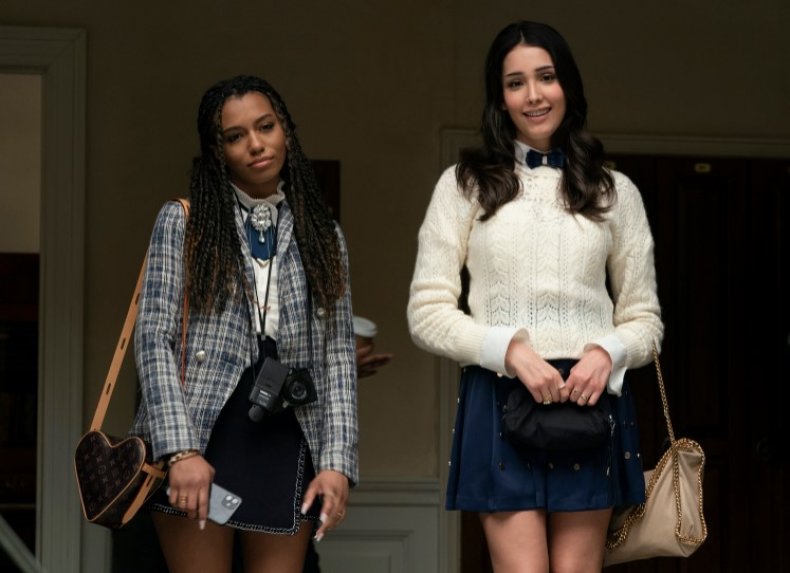 Scottish actor Thomas Doherty plays the role of pansexual Maximus Wolfe, who by the end of Season 1, begins a triad relationship with Audrey and her boyfriend Aki, who identifies as bisexual.
On the inclusion of a triad relationship, Safran revealed to Newsweek it was a storyline he pitched from day one to Warner Bros and HBO Max over two years ago.
He shared: "I said want to explore a triad relationship where three partners are equal. Can three people engage in a romance together? You know, it's that part of that sort of breaking down the world of societal norms, and binaries so not only does it look at sort of a new type of couple, but it also looks at the breaking down of these norms for these characters in the world they live.
Safran also compared the handling of this relationship to how things went down in the original show: "The first Gossip Girl, the only threesome that we had, was like a threesome for a plot reason in one episode and then it sort of reverberated a little bit but it wasn't an actual exploration of that, because that's not the way that show worked. Here, it's been really great to take 12 episodes to really look at all of the dynamics from each of those parties."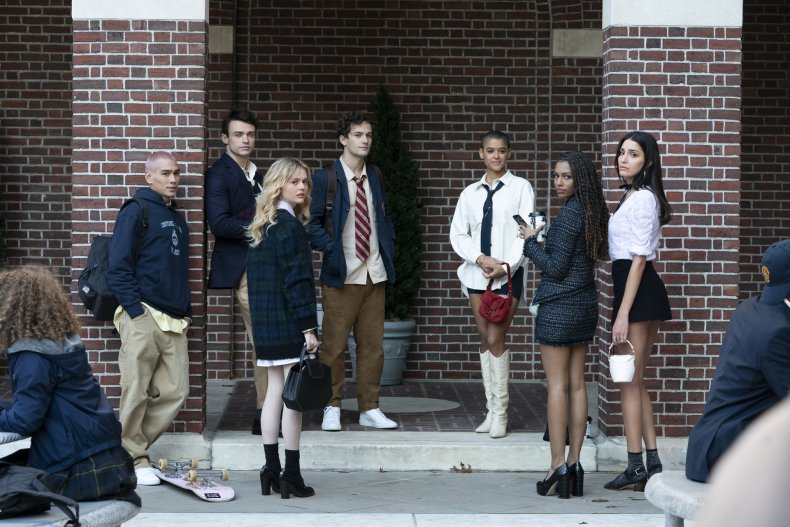 3. The Reboot is Louder and More Believable (To An Extent)
A big attraction of Gossip Girl, both old and new is that it took you away to a world you weren't a part of. Both seasons are a form of escapism for many viewers. Both series hooked audiences following the elite Upper East Siders of Manhattan attending fashion shows and prestigious events that would just never happen in the real world.
However, a key difference in the reboot is Safran's choice to not shy away from the cruel realities of the present-day world. The Gossip Girl reboot is set in a post-COVID society and doesn't shy away from mentioning the lockdowns across the world. There are also references to Donald Trump, who in the season finale is cropped into a photo with Aki's media-mogul father Roger (Malcolm McDowell), an obvious nod to Rupert Murdoch.
In Part 2 of Gossip Girl, there is a pretty big focus on the #MeToo Movement, when JC's father Davis (Luke Kirby) a Grammy-winning music producer is accused of sexually assaulting past and present colleagues.
Black Lives Matter also gets the attention it deserves throughout the season alongside social injustice, via the proposed demolition of social housing in place of skyscraper luxury apartments. In comparison, the original barely touched on the political and cultural climate of the time, instead focusing on just which rich kid is going to get into Yale and defeating Gossip Girl.
Safran explained to Newsweek addressing social and political issues was a deliberate choice, inspired by the mass amount of information being received online and how young people now engage.
He said: "I think I think teenagers today themselves cover everything. In 2007 the internet wasn't as big as it is now Twitter, Instagram, TikTok. They weren't as big as they are now and so now you kind of can't hide from what's going on in the world."
Safran continued: "I've watched, young people discussing major issues in a way that in 2007, they were not, so I'd say that that was the goal in this version of the show that these teenagers would be aware and would have grappled with all these things so let's show that. Let's put that all in."
4. It Hasn't Forgotten Its Predecessor
It is true, the Gossip Girl reboot would be nothing without the original Gossip Girl and the reboot is fully aware it exists in the same world.
There have been references galore to the original season and even cameo appearances from former cast members sprinkled throughout the series.
From the first episode alone we got an insight into where the original Gossip Girl is now. Dan Humphrey put his blogging skills to use and became a very successful writer. Snaps and claps for Dan.
Rebecca Sherman, yes thee Rebecca Sherman (played by Sarah Baskin), stopped by in Episode 1, where she revealed to her colleagues Gossip Girl was the one who held the power over Constance Billard when she was a student, sharing she studied alongside Dan, Nate (Chace Crawford), Blair, Serena and Chuck.
In episode 10 of the reboot, Margaret Colin reprised her role as Eleanor Waldorf, Blair Waldorf's mother alongside Wallace Shawn as Blair's stepdad Cyrus. Dorota (Zuzanna Szadkowski) also made an appearance alongside her husband Vanya (Aaron Schwartz).
Episode 11 of the reboot also paid homage to that Blair and Serena fight from Season 4, Episode 1, when Blair pushed Serena into the fountain alongside the moment in Season 2, Episode 6 of Gossip Girl when Serena and Blair got into a fight over Yale. These are just two examples of many nods to the original throughout the season.
And of course, Kristen Bell, who voiced Gossip Girl in the original series voices Gossip Girl in the reboot, if that isn't paying respect to your origins, what is?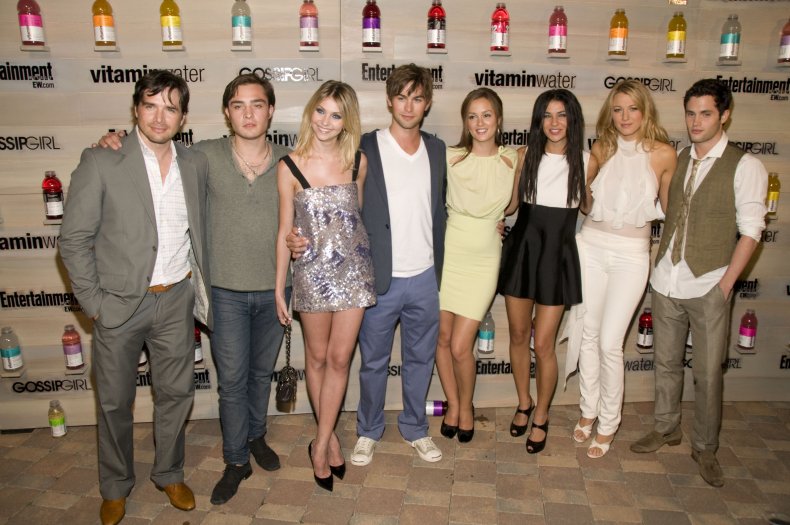 5. Thomas Doherty, Thomas Doherty, Thomas Doherty
Ok so, the acting in the Gossip Girl Reboot isn't the best thing we have seen, there aren't going to be any Oscars handed out, that's for sure, but was the acting in the original Gossip Girl much better?
However, there is one standout star from the reboot and that person is 26-year-old Thomas Doherty. He plays Max, a self-destructive, pansexual who is Chuck Bass re-incarnated. We all knew we needed Chuck Bass (played by Ed Westwick) back in our lives and we will thank Doherty for taking up the mantle.
Doherty is exceptional in his portrayal of the troubled, and at times twisted Max, who isn't a replica of Chuck Bass, but brings the same sort of energy to the character we all fell in love with back in 2007.
Speaking about the influence of Chuck to Glamour Magazine Doherty said: "In terms of the character, that's why I was lucky to have those months leading up to filming. They were important to me, because it really did allow me to create my own character void of Chuck, but also still being aware of the dynamic. As far as Max and Chuck, I actually think they're very different. They are both polished in their exterior, but Max is a lot more light. He has a much greater sense of self, so there's not a lot of insecurity with him. There's a much greater comfortability in the character separate from the others. Max is very, very much someone that does everything for the experience of it, as opposed to the end goal. Whereas, I feel like Chuck is more about the end goal."
Season 1 of the reboot has been pretty JC-centric, just like Season One was pretty Serena-focused. Hopefully, Season 2 will branch out into other characters' backstories and we will see a lot more of Doherty on our screens.
In a world of guilty pleasures like Selling Sunset, Grey's Anatomy, Sex/Life and not to mention High School Musical: The Musical: The Series, please, can we just let the Gossip Girl Reboot live?
Gossip Girl is streaming on HBO Max now.
Correction: 11/02/2021, 6:30 p.m. ET. This article has been updated to correctly state Johnathan Fernandez, who plays Nick Lott in Gossip Girl, is Afro-Latino.