The Gossip Girl reboot is finally here, and the first episode was full of nods to the original serious, from name drops to fashion choices. We learned Gossip Girl himself Dan Humphrey (played by Penn Badgely) was now an accomplished writer, and Nate Archibald (Chase Crawford), in the end, turned out to be an "amazing student."
Six minutes into the reboot's first episode, titled "Just Another Girl on the MTA," a character who first appeared in season 2 of the original Gossip Girl series was re-introduced. Since the first episode dropped, fans have been left trying to join the dots of who the mysterious Rebecca Sherman really is and her significance in the original series. You don't need to be Gossip Girl to work out the connection. Newsweek has everything you need to know.
Who is Rebecca Sherman in the Gossip Girl reboot?
In episode one of the Gossip Girl reboot, a teacher by the name of Rebecca Sherman (played by Sarah Baskin) revealed to her colleagues Gossip Girl was the one who held the power over Constance Billard when she was a student.
Rebecca let slip to her colleagues when she studied at the school alongside Dan, Nate, Blair (Leighton Meester), Serena (Blake Lively), and Chuck (Ed Westwick) in 2009, Gossip Girl effectively controlled their lives.
She said: "When I was a student, we lived under constant threat. People like Nate were scared straight. It was this thing that started freshman year, called itself 'Gossip Girl.'
"Kind of like an Orwellian Big Sister that kept tabs on the students it deemed important. If she knew your secrets, and she always did, she told them. She kept us all accountable. People thought it was me, but it was actually one of my classmates, Dan Humphrey. It was ridiculous. I wouldn't even read it."
Rebecca's revelation planted the seed for Gossip Girl's rebirth. Kate Heller (Tavi Gevinson) and her colleagues revive the account on Instagram and Twitter in a bid to take back power.
Fans were left puzzled about Rebecca's identity, considering she seemed to know so much about Dan and Nate and the fact she was apparently a Gossip Girl suspect.
Rebecca Sherman is one of the series many Easter Eggs and it is no shock fans did not instantly recognize her as back in season 2—which aired in 2009—Rebecca was only mentioned by name.
Joshua Safran, the showrunner and creator of the Gossip Girl reboot explained the existence of Rebecca Sherman to The Wrap.
He said: "It's such a very deep Easter egg, I assumed that nobody would know.
"Unfortunately, her full name would make you know her if you Googled it. But I couldn't get her full name in. I tried and I just couldn't say, 'Rebecca Sherman, you went to school here?' But Rebecca Sherman is the name of the character at the end of Season two that they briefly think could be Gossip Girl before they think that it is Eric's boyfriend."
If you want to go back and refresh your memory, Rebecca is mentioned, but never seen, in the season two finale of Gossip Girl, which sees the rich teens graduating from high school and trying to figure out Gossip Girl's true identity.
At the after-party, Chuck shows Blair a blurry Facebook profile with the name Rebecca Sherman and a photo of a brown-haired girl wearing a beret.
Blair shuts down Chuck's suggestion exclaiming: "No, her head's always in a book. She doesn't have time to be posting all the time."
Chuck then proceeds to show other photos of suspects. If you look closely, he has a collection of 48 people he believes Gossip Girl could be.
Taking matters into her own hands, Serena decided to send a tip to Gossip Girl, hoping the person who would receive the text was in the room.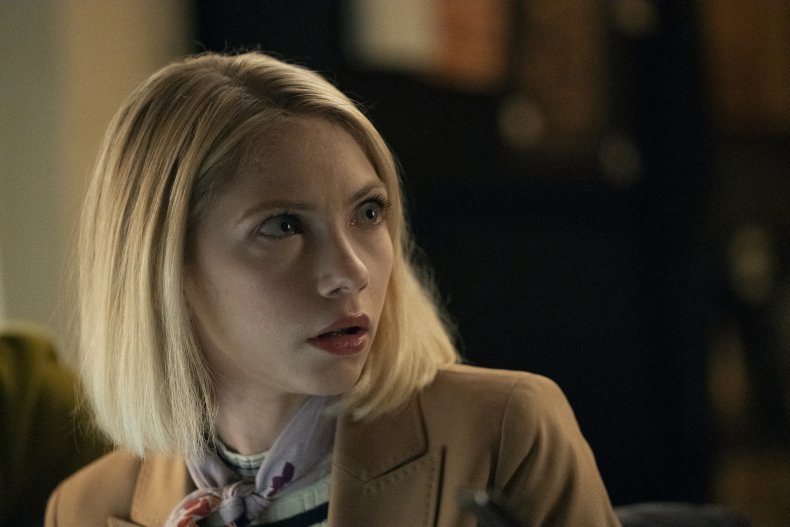 In a surprise twist, Jonathan (Matt Doyle), Eric's (Connor Paolo) boyfriend, received the text, suggesting he was the one controlling Gossip Girl's account.
However, it was a case of mistaken identity. Jonathan was able to explain that he received the text as he had hacked Gossip Girl's servers over the spring break in a bid to find out who she was, not because he was actually Gossip Girl himself.
Fans have taken to Twitter to share their surprise at the inclusion of Rebecca Sherman in the reboot series.
One fan tweeted: "the way this Rebecca Sherman ended up as a teacher at Constance in the reboot helping create gossip girl 2.0 #GossipGirl."
A second Gossip Girl fan wrote: "Rebecca Sherman's head might have always been in a book but she's a teacher now and just helped to revive @gossipgirl. #GossipGirl"
A third fan added: "OH MY GOD the teacher on the new gossip girl who mentioned that she graduated with the NJBC is named Rebecca Sherman and in 2x25 they actually mentioned Rebecca Sherman. THIS SHOW YALL."
Gossip Girl airs Thursdays on HBO Max.