Got an Ugly Thrift Shop Painting? This Man Will Transform it with Star Wars
Star Wars can make anything infinitely better, including hideous thrift store paintings. Reddit user DaveRuinsArt shared his story on Tuesday, posing with a lighthouse painting transformed with the addition of R2-D2 and AT-ATs storming the otherwise unremarkable beach scene. Dave owns vintage art store Arrowhead Vintage & Homemade Goods in Canton, Ohio.
"Early in the pandemic I was really freaked out and worried about my small business and I posted my Mandalorian altered art piece on Reddit," Dave wrote on Reddit. "You guys absolutely saved my store from closing and help me bridge the gap to getting one of the SBA [Small Business Administration] loans."
"I'm having this made into postcards and I'm going to send it to every address that ordered something from me in April," he continued. "You guys are f***ing awesome. Thank you."
The painting Dave is holding in the Reddit thread is titled "R2 Versus the Empire," as per his website. He noted that it was meant to be a surprise for a fellow Redditor, who stumbled upon the post organically. "Holy crap, you guys made that work really well. Cats out of the bag now though," Dave wrote.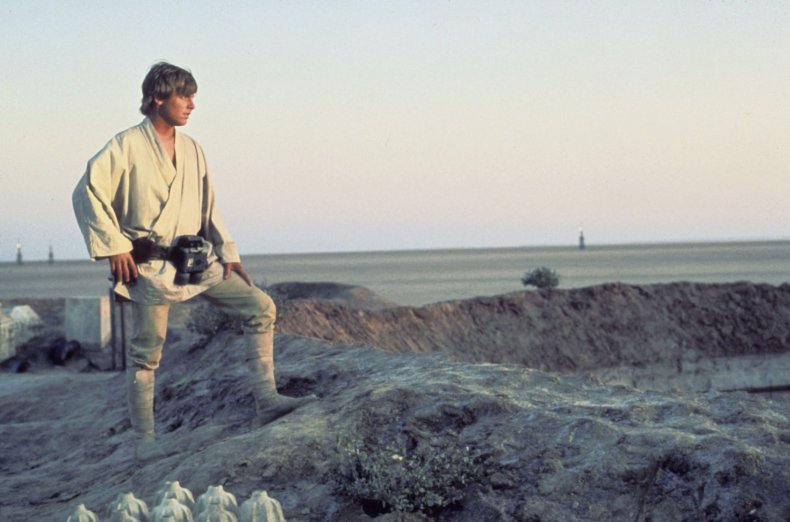 Redditors loved Dave's creativity. "Your concept is absolutely brilliant; art meets re-purposing," one user noted. "You are doing the Lord's work," another said.
"And by Lord, I mean Vader."
"As someone who's been browsing art recently (just moved to a new place), there is a lot of ugly secondhand art available. Thank you for your service in improving the art world," a third wrote.
"The art work I never realized my home was missing!!!" someone added.
"Abso-f***in-lutely the hero we need in these dark times. Love the work my dude. Definitely book marking your site for when I have money again," another gushed.
Dave told Newsweek about what inspired him to start repurposing painting with Star Wars scenes. "I own a very small vintage store in Canton Ohio and I love beautiful landscape paintings but I couldn't sell them," he wrote via Facebook Messenger.
"I had one for $5 but sat unsold for two years, and I figured if I was going to throw it away I might as well do something interesting with it and see how it does."
His website boasts Star Wars characters and scenes added to paintings, along with The Dude from The Big Lebowski, Tiger King's Joe Exotic, Daenerys Targaryen with Drogon, Rhaegal, and Viserion from Game of Thrones, and more.