Gottlieb Says 'Certainly Reasonable' Kids Could Be Fully Vaxxed Against COVID by Thanksgiving
Dr. Scott Gottlieb, a Pfizer board member and former FDA commissioner, said Sunday that it's "certainly reasonable" to expect that some children could be fully vaccinated against COVID-19 by Thanksgiving Day.
Pfizer and BioNTech asked the FDA on Thursday to approve emergency use of their COVID-19 vaccines for kids between the ages of 5 and 11. The federal regulators have pledged to prioritize the request and a decision could be made by Halloween, following a scheduled meeting on October 26 to consider the recommendation.
"Assuming that they authorize the use of the vaccine, CDC's Advisory Committee is going to meet on November 2 and 3 and make a final decision about who should be eligible for the vaccine," Gottlieb said on CBS News' Face the Nation.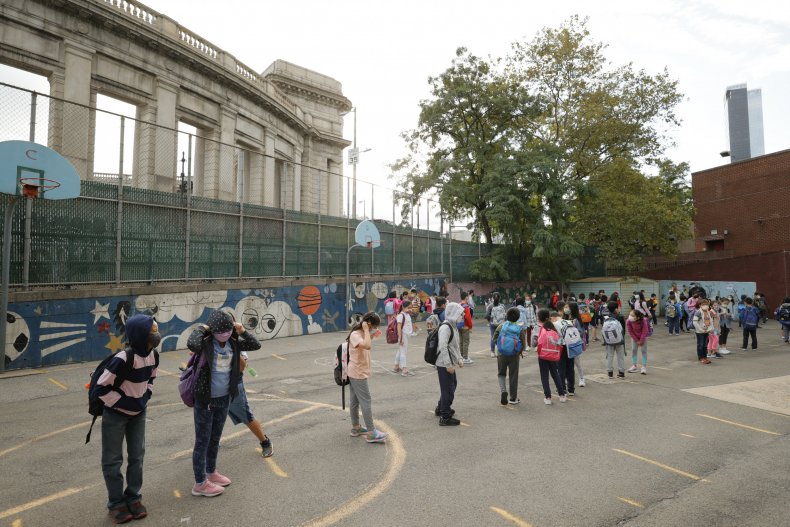 "Assuming both of those events go well, and you get a positive recommendation out of both the FDA and CDC, this should be available almost immediately after the CDC makes a final recommendation and be available in pharmacies and perhaps pediatricians' offices as well," he added. "Pfizer plans to ship this vaccine in smaller vials and also smaller trays that could make it more accessible to more pediatric practices."
The FDA has authorized vaccines for people over the age of 12. As the virus continues to spread in schools, health officials have pushed to vaccinate younger children to curb the latest wave of the pandemic.
Pfizer has supported administering one-third of an adult dose of their vaccine for children and intends to submit a proposal to the FDA to provide details on their method.
The process of authorization begins with a recommendation from FDA vaccine advisers, followed by an FDA vote. Then the CDC would have to approve the recommendation before officials can start offering vaccines to younger children. Once available, parents will be left with the decision on whether to vaccinate their kids.
Although children rarely suffer severe cases of COVID-19, about 645 people younger than 18 have died of the virus in the U.S., according to the Centers for Disease Control and Prevention (CDC). Children account for roughly 27 percent of virus cases in the country despite making up 22 percent of the total population, according to a report published by the American Academy Pediatrics Monday.
"With new cases in children in the U.S. continuing to be at a high level, this submission is an important step in our ongoing effort against Covid-19," Pfizer said in a statement Thursday.
Newsweek reached out to the FDA for comment.