Gov. Abbott Should Respect the Religious Freedom of Texas' Foster Agencies | Opinion
Governor Greg Abbott knows that Texas is at the forefront of our nation's migrant crisis. Just recently, he joined former president Donald Trump at Texas' southern border to decry the Biden administration's approach to border security.
Governor Abbott has witnessed the damage that cartels, gang members, smugglers and other criminals have caused. Amid the highest levels of border apprehensions in decades, Border Patrol is overwhelmed by the number of migrants—and particularly of migrant children—it is required to handle. Our border agents need help, and so do the migrants who must be housed in safe and humane conditions while they are processed under the terms of U.S. law.
Luckily, Texas has a robust network of child welfare service providers, including a significant number of Christian agencies motivated by biblical convictions, ready to step up and help meet this challenge by housing vulnerable children in partnership with the federal government.
There's just one problem: Governor Abbott won't let them.
Governor Abbott's executive order from earlier this year will deprive Texas's child welfare system of its ability to care for migrant children. Under Abbott's order, all 52 Texas organizations that partner with the federal government to house migrant children are now in danger of losing their state licenses if they continue to do so past August 30th.
This order isn't just undermining the state's ability to take a comprehensive approach to the border; it is also unnecessarily hurting migrant children who have nothing to do with border security problems Governor Abbott is campaigning against.
I've dedicated much of my life to advocating for human dignity. Having spent years in the pro-life movement, the evangelical church and the foster care space, I am heartbroken by Governor Abbott's approach. Each state has an obligation to care for its citizens, of course, but from a Christian's perspective, all children are of equal importance to God and therefore should be to us as well.
The Bible teaches that God's heart inclines toward the vulnerable, including the sojourner, the homeless and the orphan. When we see vulnerable children, we have a responsibility to act. The children arriving at our border have already suffered the severe trauma of fleeing their homes and making a difficult journey to the U.S. If we pack thousands of them into unlicensed emergency influx shelters or allow them to back up in Border Patrol holding facilities again—the likely result if Governor Abbott bars small-scale, licensed shelters and foster families from providing care—we will only add to that trauma.
Through my work at Women of Welcome, I've heard horrifying testimonies about the conditions that migrant children can be subjected to in Border Patrol facilities and unlicensed centers. Under no circumstances can we view these jail-like facilities as a viable alternative to state-licensed, specialized care.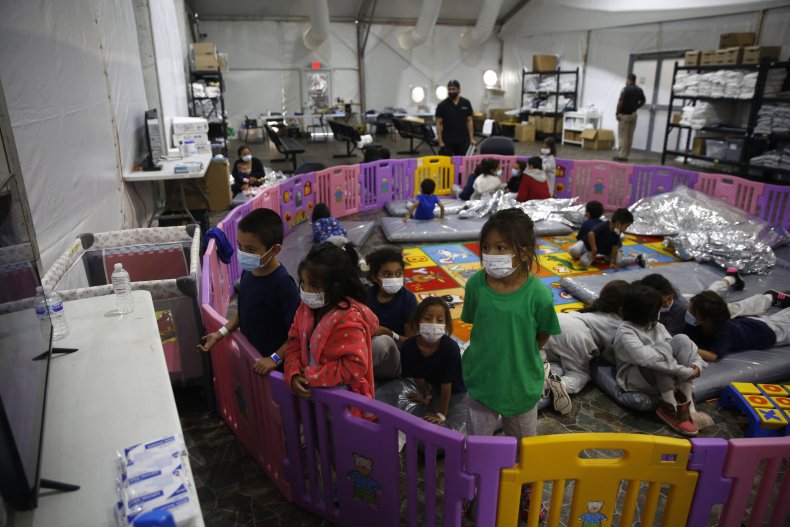 Governor Abbott claims that his executive order will help Texas's foster care system direct sparse resources toward Texan children. But that's simply not true.
By revoking state licenses for facilities that provide temporary shelter to migrant children, Governor Abbott will prevent these facilities from caring for any children. That's because transitional foster care for migrants and traditional domestic care are both covered by the same license. If the governor withdraws that license in the name of prioritizing Texas-born kids, he will not only be harming migrant children; he will also be reducing the state's capacity for domestic foster care.
Migrant children aren't competing with Texan children for resources; we can and should care for both. Housing migrant children in state-licensed facilities is part of the solution, not the problem.
I hope Governor Abbott will see this as an opportunity to bring together those who care deeply about immigration issues with those who work in the state's foster care system. He could encourage the recruitment of new families who aren't currently operating in the foster care space to become transitional foster families for migrant children. This bridge-building work would connect families to the state's foster care system, and perhaps lead them to consider going beyond their first placement as a transitional foster family, benefiting Texas foster kids in the long run.
I lived in Texas for years while studying at Dallas Theological Seminary. I met countless faith-filled Christians who saw their calling in bringing comfort to vulnerable children. For many Christians, opening up our homes and our facilities to migrant children is a way to live out our faith. Threatening action against care facilities will prevent Christians from exercising their vocation to care for the needy, the vulnerable and the sojourner. It actually impinges on the free exercise of religion.
And we know that Governor Abbott values religious freedom. He recently passed a bill that would prohibit the government from closing places of worship. And I'm sure Governor Abbott was paying attention to the recent Supreme Court decision in Fulton v. City of Philadelphia, where the Supreme Court unanimously ruled against a city government's decision not to renew a contract with a religious charity because of its faith commitments.
Is the current situation in Texas that different from the one in Philadelphia? I believe that religious worship and caring for the vulnerable are both God-given responsibilities, and the state should not restrict Texans from either.
My friend Jamie Ivey, an influential Christian leader based in Austin, expressed the views of many evangelicals concerned with the well-being of migrant children: "This order puts faith-based and other organizations in such a hard spot. I fear that this order has the potential to punish—not help—organizations that spend their days caring for vulnerable children, making them choose which children to care for."
We have a legal obligation to take care of these kids, as well as a moral one. The William Wilberforce Trafficking Victims Protection Reauthorization Act and the Flores Settlement Agreement offer legal protections to migrant children and oblige the federal government to provide acceptable shelter. So taking care of these kids is actually following and enforcing our U.S. laws.
If Governor Abbott truly wants Christians to have the freedom to live out their faith by showing compassion and hospitality, I hope he reconsiders his threat to withdraw licenses to Texas's child welfare facilities.
Bri Stensrud is the director of Women of Welcome and previously served as the director of Sanctity of Life and Community Outreach for Focus on the Family.
The views expressed in this article are the writer's own.