Gov Cuomo's DNC Speech Underscores His and Trump's Differences on COVID-19
On the first night of the Democratic National Convention (DNC), New York's Democratic Governor Andrew Cuomo slammed Republican President Donald Trump over his response to the ongoing coronavirus epidemic.
Cuomo's statements underscore his working history with Trump during the pandemic and the difference between the two leaders' early responses in handling coronavirus.
"In many ways, COVID is just a metaphor," Cuomo said during his remarks at the DNC, which began virtually on Monday. "The virus attacks when the body is weak and when it cannot defend itself. These past few years, America's body politic has been weakened.... In effect, our immune system and our current federal government is dysfunctional and incompetent—it couldn't fight off the virus."
"The virus had been attacking us for months before they even knew it was here," Cuomo continued, adding that the federal government then tried to deny, ignore and then politicize the virus.
"Today, six months after it began the nation is still unprepared," Cuomo continued. "Today we trail the world in defeating COVID—we have over 5 million cases."
"Americans learned the critical lesson: how vulnerable we are when we are divided, and how many lives can be lost when our government is incompetent," Cuomo added, stating that Trump's presidency has weakened the nation by exacerbating pre-existing racial, anti-immigrant and anti-Semitic sentiments
"Trump didn't create the initial division," Cuomo said. "Trump only made it worse.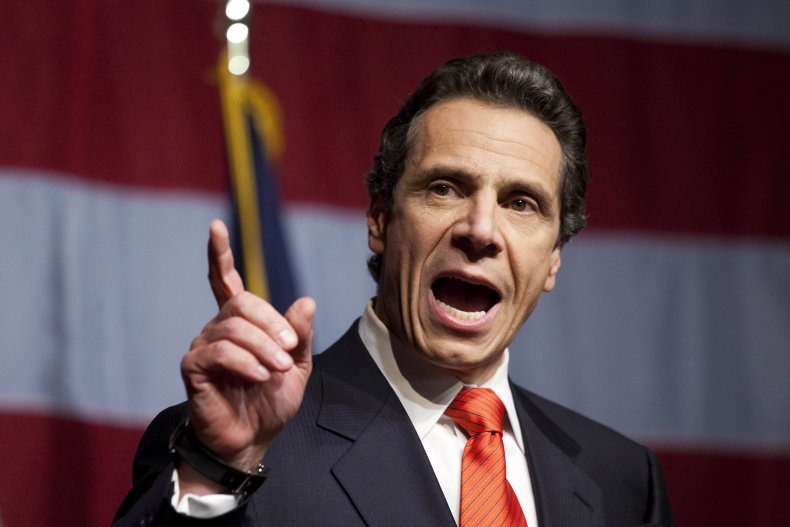 Trump and Cuomo's different handling of the virus was apparent well into the first month of the epidemic.
On March 2, when New York reported its first case of coronavirus, Cuomo reported the news at a same-day press conference. That day, Trump criticized Democrats for " fearmongering" about the virus.
Then, on March 8, Cuomo criticized the Trump administration's response in regards to expanding testing, stating, "We mobilized quickly, but the federal government has been slow off the mark and they continue to be slow. That's unacceptable."
The same day, Trump tweeted about his handling of the epidemic, "The Fake News Media is doing everything possible to make us look bad. Sad!"
By March 13, Trump declared COVID-19 a national emergency, and on March 16, Trump said his phone discussions with governors "went very well," but he said Cuomo specifically had to "do more."
"I have called on the federal government to implement nationwide protocols," Cuomo said on the same day, continuing, "but in their absence, we are taking this on ourselves," Cuomo said.
On March 21, while Cuomo said New York would take actions to increase available supplies of personal protective equipment (PPE), Trump said he had invoked the Defense Protection Act to do the same, but the president didn't actually direct any U.S. companies to do so until mid-July.
However, by March 23, the Trump administration shipped 73 pallets of PPE to New York, and Cuomo acknowledged the receipt of hundreds of thousands of masks, face shields, gloves and gowns. Two days later, Trump said Cuomo was "happy" with the 4,000 ventilators his administration had sent, but Cuomo said the state would need roughly 30,000 in two weeks' time.
When March 28 rolled around, Trump voiced the idea of enacting a quarantine around New York state, New Jersey and Connecticut. Cuomo said the president had never mentioned the idea to him and added that he wasn't sure whether such a quarantine would even be legally enforceable.
At the end of the month, Trump blamed New York for its becoming the center of the epidemic, citing its "very late start." In response, Cuomo's communications director said, "The states were not slow to respond—the federal government was absent."
Despite any disputes between the two leaders, on Monday, a top aide to Cuomo told Newsweek that the state also had received help from Trump's son-in-law and senior adviser, Jared Kushner, who headed a coronavirus response team.
"After we met with Jared and the White House in April, they helped New York secure sufficient reagent allocations to double our testing output and provided New York with enough swab and vial test kits to meet our demand," said Melissa DeRosa, secretary to the governor.