Gov. DeSantis Says 'Hell, Hug 'Em!' If People Wear PPE and 'Don't Sneeze'
Florida Governor Ron DeSantis insisted that hugging nursing home residents who could be vulnerable to COVID-19 is "fine" as long as personal protective equipment (PPE) is being used.
DeSantis spoke against "fixating" on testing for COVID-19 when developing plans for allowing loved ones to visit vulnerable residents of long-term care facilities during a Tuesday roundtable discussion on the difficulties the virus poses for those in the facilities.
"Do not only fixate on testing... look, I'm comfortable with the PPE," DeSantis said. "Hell, hug 'em, I mean come on. If you have PPE on and you hug and don't sneeze or do something on them, you're going to be fine... obviously, if you're there for 30 minutes doing that and then you do, well then that's going to be a different situation."
"But to just have... just go give a hug, I think you could do that, and I think that would be very meaningful," he added. "I kind of feel like to stay six feet away, it's kind of still, you know, providing the reminder that it's still not normal... so I do think the touch is important."
DeSantis stressed the importance of addressing "some of the serious emotional damage" to people in facilities and their relatives who have been unable to visit them over fears of spreading the virus, which he said was unintentionally caused by "countermeasures to the virus."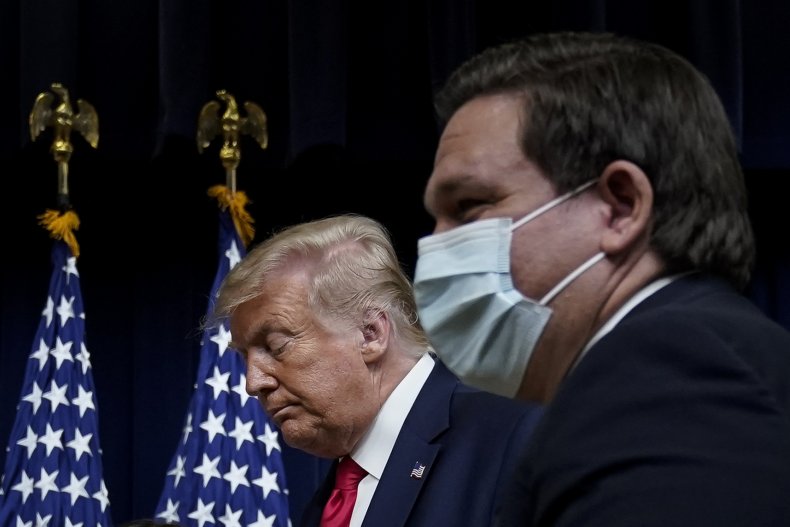 Florida is home to one of the nation's worst outbreaks and many thousands of new cases have been added each day to a total that neared 500,000 on Tuesday, while positive test results for residents of long-term care facilities have more than doubled over the past month.
Despite the surge, DeSantis hopes to again allow visits to nursing and other care homes, which had been halted in mid-March when the Florida outbreak was much smaller. He indicated that he supports immediately allowing those who test positive for coronavirus antibodies to visit loved ones, claiming that a positive antibody test indicates that a person is immune to the virus for "six months."
"I think if families have antibodies... if they have antibodies, man, we obviously need to be recognizing that and how powerful that can be," DeSantis said.
Experts disagree with the governor's assertion, with no clear consensus that an antibody test proves a person is immune to the virus. While antibodies almost certainly confer some protection, the role they play in immunity and the length of time a person may be immune is yet to be determined. White blood cells known as T cells could also play an important role in keeping the virus at bay.
Concerns about the accuracy of antibody tests have also been raised. The quality of available tests is inconsistent, and some have reportedly produced false positives by detecting antibodies for other types of coronaviruses, which do not result in COVID-19 and would not provide any immunity from it.
DeSantis also suggested that people who are concerned about spreading the virus but do not have COVID-19 symptoms are "probably better off" getting an antibody test instead of a test for an active infection since it will "tell you whether you've ever had it." Even if the tests are accurate, they might not detect current infections since the body can take weeks to produce antibodies.
Newsweek reached out to the office of DeSantis for comment.