Gov. Nixon Won't Replace Controversial Prosecutor Bob McCulloch on Michael Brown Case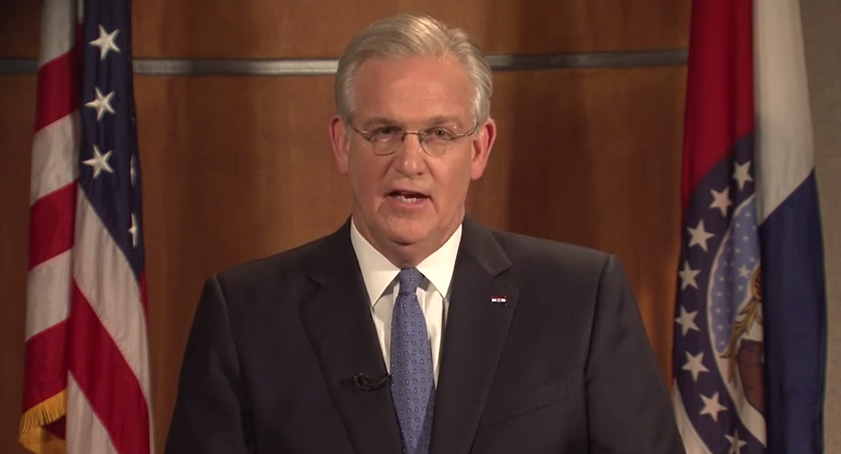 Missouri Gov. Jay Nixon issued a statement Tuesday evening announcing he will not replace St. Louis County Prosecutor Bob McCulloch as the head prosecutor in the investigation into the death of Michael Brown, the unarmed black teenager who was shot and killed by a Ferguson police officer last Saturday. The announcement comes after several elected officials expressed concerns about McCulloch's ability to present a fair case.
"There is a well-established process by which a prosecutor can recuse themselves from a pending investigation, and a special prosecutor be appointed. Departing from this established process could unnecessarily inject legal uncertainty into this matter and potentially jeopardize the prosecution," Nixon said.
But USA Today journalist Yamiche Alcindor reported that there will be two prosecutors handling the case, and that one will be an African-American woman, according to the Missouri Attorney General Chris Koster.
Some have expressed concern that Bob McCulloch, a 23-year veteran of the position of St. Louis County prosecutor, may be too biased to fairly present the evidence of Michael Brown's killing to a grand jury. As noted by the New Republic, police officers are always part of the prosecution team by virtue of their duty to gather the evidence and testify as witnesses for the state. That poses one possible conflict of interest among prosecutors who are weighing charges against police officers.
In addition, Bob McCulloch's father was killed while in the line of duty as a police officer, and McCulloch opposed Nixon's decision to replace the St. Louis police department patrolling Ferguson with the Missouri Highway Patrol.
"It's shameful what he did today, he had no legal authority to do that," McCulloch told the St. Louis Post-Dispatch following Nixon's decision. "To denigrate the men and women of the county police department is shameful."
Meanwhile, U.S. Attorney General Eric Holder and other top officials in the Department of Justice are considering whether to open a broader civil rights investigation into Ferguson's police practices at large, the New York Times reports. The possibility of a wide-reaching investigation was raised in light of a 2009 case in which a man said that four Ferguson police officers beat him and then charged him with damaging government property for getting blood on their uniforms, according to the Times. Holder is scheduled to visit Ferguson on Wednesday.
In a taped address also released Tuesday evening, Governor Nixon called for peace and healing for the residents of Ferguson, and a "vigorous prosecution" in the wake of Michael Brown's death:
The democratically elected St. Louis County prosecutor and the Attorney General of the United States, each have a job to do. Their obligation to achieve justice in the shooting death of Michael Brown must be carried out thoroughly, promptly, and correctly; and I call upon them to meet those expectations

Finally, once we have achieved peace in Ferguson and justice for the family of Michael Brown, we must remain committed to rebuilding the trust that has been lost, mending what has been broken, and healing the wounds we have endured.

This is hard. Nothing about this is simple. We won't always get it right, but we're going to keep trying. Because Ferguson is a test, a test not just for the people of this community, but for all Americans. And it is a test we must not fail.
Read the full transcript here and watch the video below: