Governor Brown Orders First-Ever California Water Cuts After Seeing No Snowpack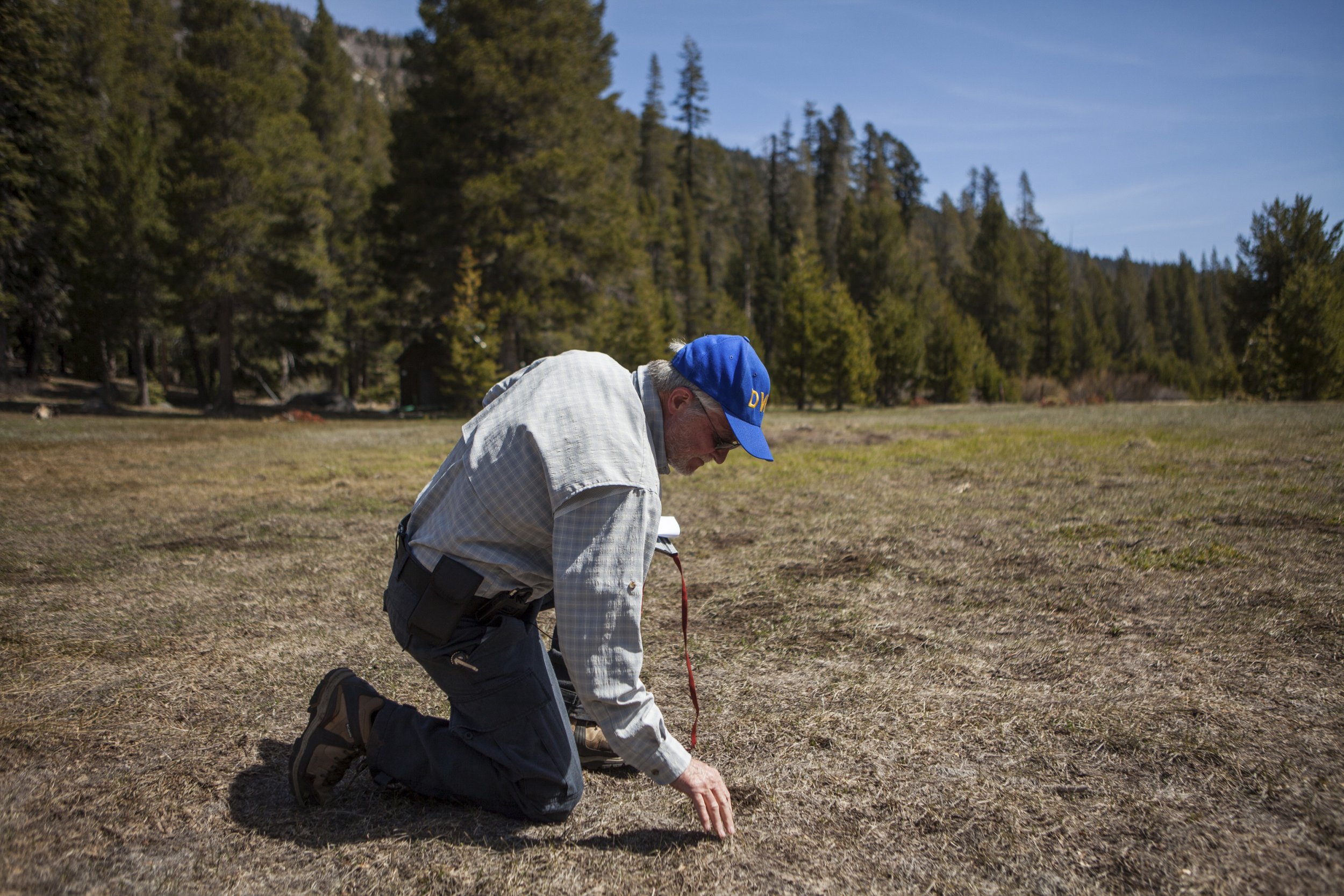 Not long after looking at the bare ground in the Sierra Nevada mountains where approximately 66.5 inches of snow should have been, California Governor Jerry Brown on Wednesday ordered unprecedented water restrictions for the state.
By executive order, Brown announced California would implement mandatory measures to cut its water usage by 25 percent. This is the first time in California's history that mandatory water restrictions have been put in place. The water cuts would be achieved with measures such as replacing 50 million square feet of lawns with landscaping that doesn't require constant watering, and by requiring golf courses, campuses, and other highly irrigated ornamental landscapes to significantly cut their water use. The order also calls on state departments to help temporarily relocate families whose domestic wells have run dry to housing where running water is available.
April 1 typically marks the height of the snowpack in the Sierras—the brief window after a winter's worth of snowfall, just before the snow begins to melt. Since 1941, when yearly measurement began at the spot where Brown stood on Wednesday, the depth of snow on April 1 averaged 66.5 inches of snow. There's nothing on the ground now.
"We are standing on dry grass and we should be standing on five feet of snow," CBS News reported Brown saying Wednesday, speaking from a podium atop brown, exposed grass in the Sierras. "We're in a historic drought and that demands unprecedented action."
Last year, Brown announced a drought state of emergency for California, but until now, all calls for water rationing have been on a voluntary basis.
"People should realize we're in a new era.… The idea of your nice little green grass getting lots of water every day, that's going to be a thing of the past. We're not going to change things overnight but we are in a transition period. People have to realize that in many parts of California, they are living in a desert," Brown said, according to CBS News.
Brown's order includes a provision announcing that the state will take action "against water agencies in depleted groundwater basins that have not shared data on their groundwater supplies with the state."
Runoff from the snowpack in the Sierras is critical to California. The water from the melting snow typically provides one-third of the total water California uses each year over the summer and the fall months. "What that means is that there will be no water to replenish our rivers and reservoirs," Jay Famiglietti, senior water scientist at NASA's Jet Propulsion Laboratory, said on Tuesday. Famiglietti made headlines last week when he published an op-ed in the Los Angeles Times explaining that California only has one year worth of water left in its reservoirs.