Gov. Ron DeSantis Says Florida Won't Waver in Fining Cruise Lines Over Passenger Vaccination Requirements
Florida Governor Ron DeSantis said Friday that the state would not hesitate to fine cruise lines thousands of dollars if they require passengers to show proof of vaccination against COVID-19.
DeSantis' remarks came two days after the Centers for Disease Control and Prevention (CDC) issued approval for the first revenue cruise to leave an American port in over a year. Starting on June 26, the Celebrity Edge, a Royal Caribbean Cruise, will embark from Fort Lauderdale, Florida, for a seven-night trip.
The cruise is set to have a fully vaccinated crew and will require all passengers aged 16 and older to be fully vaccinated. Those 12 and older will have to meet that requirement as of August 1, the cruise line announced Wednesday.
But DeSantis warned Friday that he would "enforce" Florida law to ensure cruises will be penalized for such measures. In accordance with a vaccine passport ban which DeSantis signed into law on May 3, and will go into effect on July 1, cruise lines could be fined up to $5,000 for each passenger asked to show proof of vaccination, The Orlando Sentinel reported.
"We are going to enforce Florida law," DeSantis said Friday. "I mean, we have Florida law. We have laws that protect the people and the privacy of our citizens, and we are going to enforce it. In fact, I have no choice but to enforce it."
Earlier this month, the CDC gave two options for cruise lines seeking to set sail again, with the first being simulated cruises with volunteer passengers to test out COVID-19 precautions before carrying paying customers.
The second option requires at least 95 percent of passengers and at least 98 percent of crew members to be fully vaccinated. Celebrity Edge opted for this route, and chose to extend CDC guidance to enforce require full vaccination for both passengers and crew members.
On Saturday, a representative from DeSantis's office told Newsweek that the governor has been a "champion" for the cruise industry, and seeks only to penalize cruise lines for enforcing vaccine mandates as required by the CDC.
"Governor DeSantis has always been a champion for the cruise industry - and the whole hospitality sector. He is excited for cruise lines to set sail in compliance with Florida law. The only issue is the CDC attempting to overstep their authority and hold hostage an entire industry that they have no legal standing to regulate," the spokesperson said.
"There is no law requiring vaccine passports, and the CDC has no constitutional authority to mandate a coercive policy like that. The state is in mediation with the CDC, and we expect an outcome that will allow cruises to resume freely and lawfully," they added.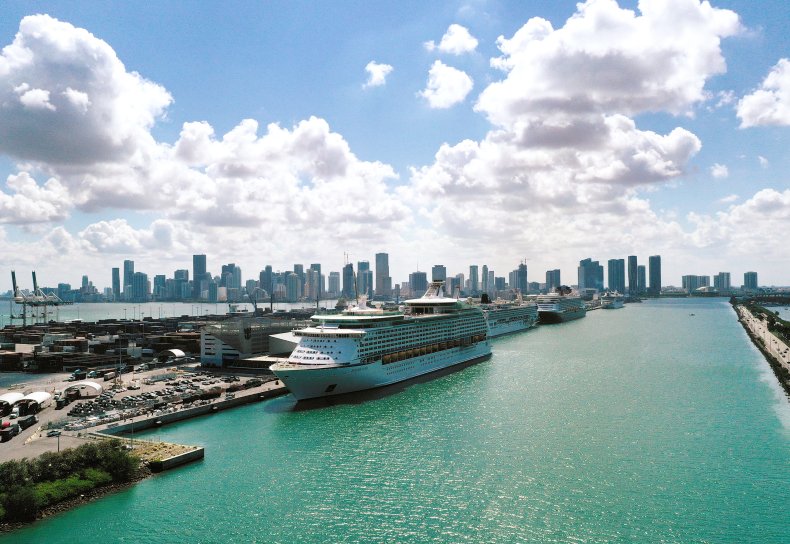 DeSantis, who has been a fierce critic of all vaccine requirements, filed a lawsuit against the CDC in April over the agency's "no sail order" and recommendation that vaccines should be required before cruises are approved to set sail again.
"We're [suing the CDC] because it obviously has hurt our state," DeSantis said Friday in Lakeland. "But it's a larger issue than just the cruises. You cannot have some bureaucracy — that does not have the legal authority to do this — claim an emergency and shut down commerce," DeSantis said Friday, according to WFLA.
The Republican Florida governor added that the state "will win" the case, which is currently in a court-ordered mediation and will continue next week.
"Maybe there will be a resolution," DeSantis said. "Ultimately, we wanted to vindicate the state's immediate interest with this [lawsuit]. But there is a larger point, and I am confident: we will win the case. We will win. We were right on the law. I think all the indications are that we will be. And we will absolutely be upheld in the 11th Circuit [Court of Appeals]."
On Friday, DeSantis added that, "nobody has fought harder, not just for cruises, but the entire leisure and hospitality sector in this state in its history than me."
Update 5/30/21: This story has been updated with a comment from Governor Ron DeSantis' Office.