Govee Aura Smart Table Lamp Review: Simple Smart Light With Alexa Support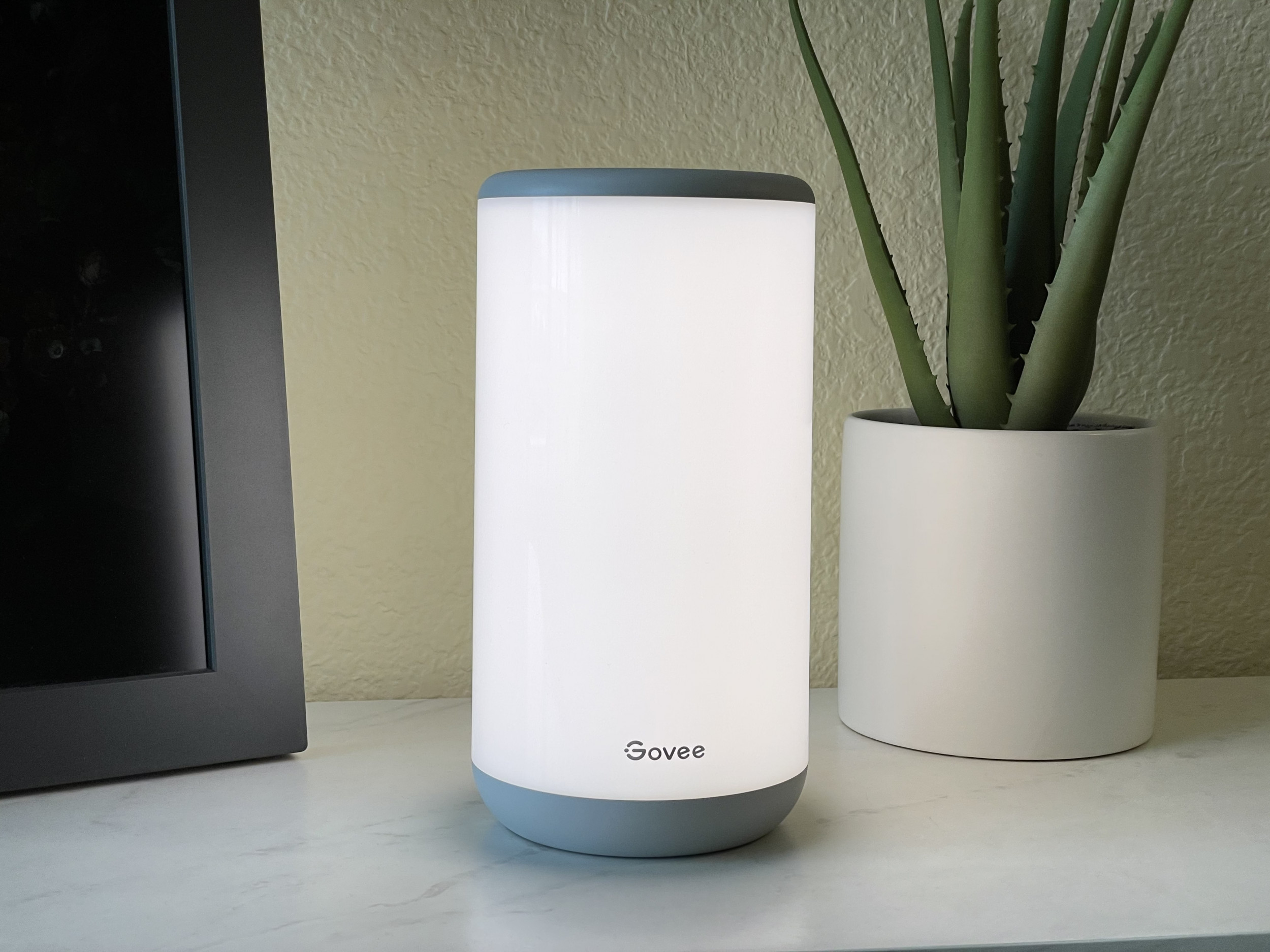 Govee's new Aura Smart Table Lamp is a well-rounded light to make your home a little smarter and brighter. Its name may emphasize its smarts, but the light can be as dumb and simple as you want it to be. That's actually one of its highlights and benefits. The table lamp packs plenty of features to justify its $60 price, but its dedicated buttons also mean that if you don't want to fumble with a smart app, you don't need to.
For those unfamiliar, Govee has been steadily growing its lighting collection starting with basic LED light strips and scaling up to more complex and smart devices. In addition to this Aura Smart Table Lamp, for example, the company has released Flow Pro Wi-Fi TV Light Bars that can identify what content your TV is showing and then change the colors to reflect the scene.
Govee smart lights are competing directly with Hue lights and offer a compelling price point for newcomers to smart lights. Govee is also competing with plenty of low-end generic offerings as well. While Govee doesn't have the whole home offering or smart platform network built out yet like Hue does, it is definitely moving in that direction. Govee, unlike Hue, however, doesn't support HomeKit so iPhone users will be required to exclusively use the Govee Home app for control over a phone—if they don't also have an Echo or Google Assistant device in the house.
Features
The feature list for the Aura Smart Table Lamp is quite extensive for its price. Not only can it display 16 million colors, but it can also listen and move to the rhythm of music, adjust itself automatically with timers, and be controlled by voice commands with Alexa or Google Assistant.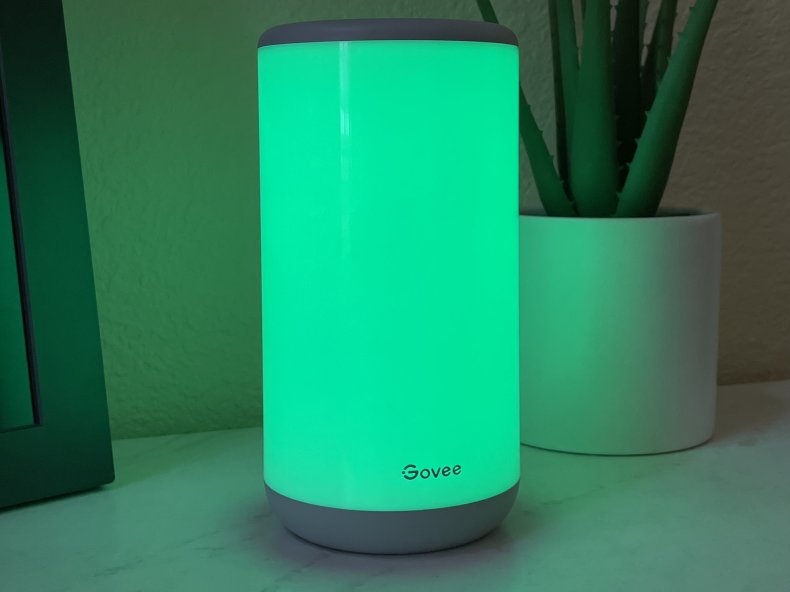 Out of the box it includes 20 different lighting effects that can be triggered in its app. There are themes for most holidays available, but the app allows new themes and patterns to be created as well.
One of the immensely useful features for a connected light is the ability to turn on or off automatically. The Govee Aura can do that with four available timers plus two additional ones dedicated to wake or sleep. It advertises the wake and sleep timers assisting in a more comfortable way to wake up to a gradually brightening light. At night the timer will dim until it's off over a selectable period of time. It offers a range of color temperatures between 2200K and 6500k for cool and warm hues.
The table lamp can also hook into platforms from Amazon and Google and receive commands from Alexa or Google Assistant. It doesn't connect with HomeKit so iPhone users looking to have Siri turn on or off the Aura will be out of luck.
Performance
The Aura Table Lamp can be as simple as you need it to be. Plug it into an electrical outlet and it's a functioning light. The physical buttons on top provide all the controls you need to turn it on and off and adjust the color, brightness, and effects. You can cycle through solid colors, toggle four different music sync patterns, change the color temperature, and adjust brightness right from the top, physical buttons. To get the additional smart features you'll need to download the Govee Home app for either Android or iPhone. Even before downloading the app, the lamp worked for me just fine and was plenty usable as a colorful table lamp.
Using the app unlocks even more depth to the already accessible features. For example, there are more controls over how the color lights move and are shown. There's even a do-it-yourself feature that will let you draw a pattern with your finger to show up on the lamp. It's neat! As for its usefulness, I didn't find the DIY feature compelling enough to come back to after an initial use, but its presence doesn't hamper other features.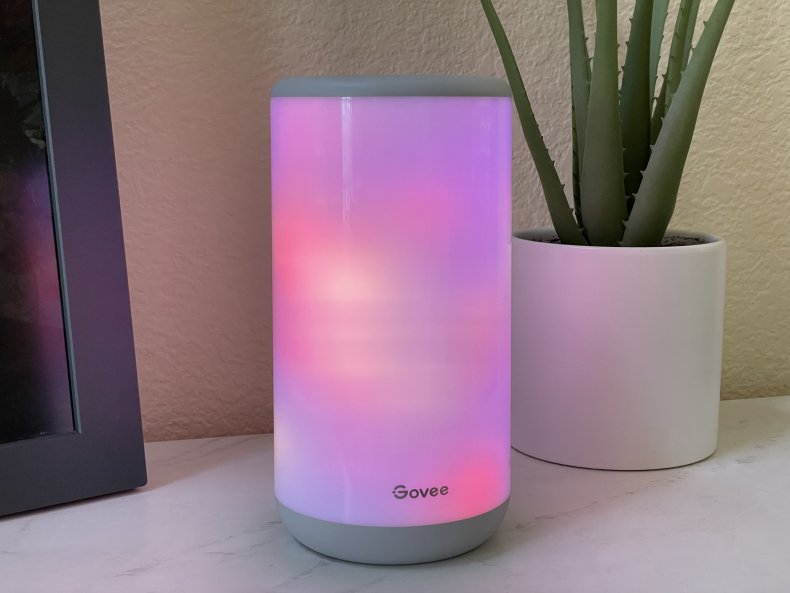 I did like the themed lighting effects that are selectable in the Govee Home app. The ability to mimic a candle or fire flame is definitely a bit gimmicky, but something I found myself coming back to several times over the course of a few weeks. It's delightful—if nothing else. Seeing the light react to music is also neat. It works well enough, even if it isn't synced perfectly.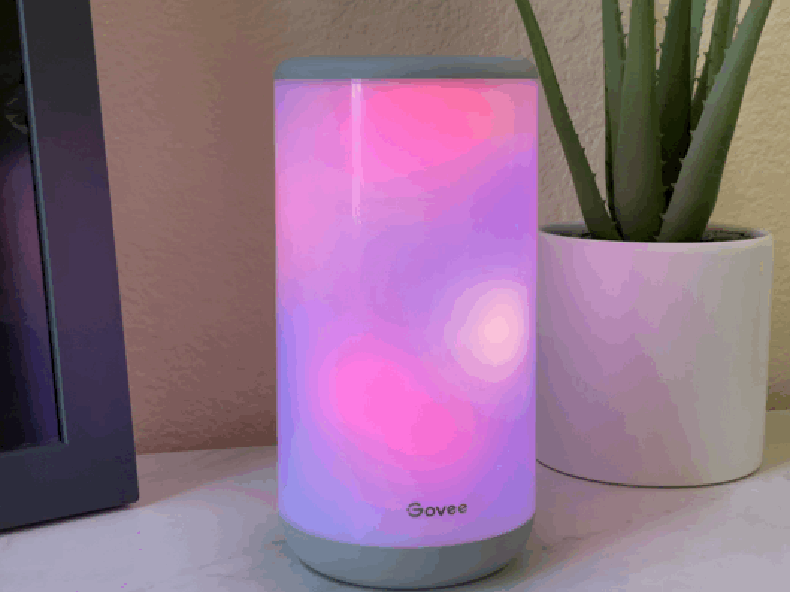 As an end table lamp, I found the Aura useful. It's bright for its compact size and cylindrical shape—7 inches tall, 4 inches wide. It's more impressive in a bedroom setting at 350 lumen, but still sufficient accent lighting in a living room. Whether you'll want to add it to a living room is a different question. Its design aesthetic is boring at best. At worst, it has a pronounced logo appearing dead center that can embellish its plasticy, cheap look in certain circumstances.
On the top of the device, there are physical buttons. They are handy for controlling it without a phone or voice but add to its utilitarian look. The appearance will be a personal taste. I found it small enough to be able to tuck away, out of sight, so it wasn't a focus. Hopefully, a second version will add even just a little bit more refinement to the design. This could help it get a more prominent placement out in the open. A quick glance at another Govee product, the Glow Smart Table Lamp, shows a little more taste and attention to aesthetics.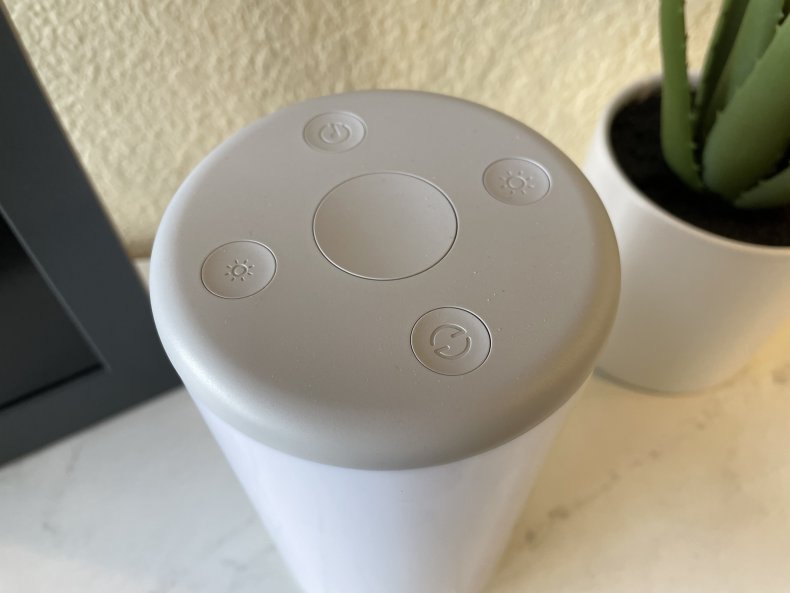 If you do place it out of the way, you might find its connection to Google Assistant or Alexa a welcome addition. Instead of needing to tap the light on or off, it can be controlled by voice. You'll need to connect it to your Wi-Fi to get this functionality, but it works like other similar devices.
Official Specs
20 Lighting Effects
Customizable DIY Mode
Voice + App Control
Timer Function
4 Music Modes
16 Million Colors
Bluetooth and Wi-Fi connectivity
Alexa and Google Assistant compatible
7.87H x 4.06W inches
Is the Govee Aura Light Worth Buying?
Ultimately, the Aura Smart Lamp is a wonderful way to brighten and add some color to any room in your home. It isn't the most attractive fixture and may be a little pricey if none of its smart features are taken advantage of, but it performs admirably.
The Govee Aura Smart Lamp emphasizes key features without inflating the price. It manages to stand out in a crowded collection of smart home lights. In fact, even though it doesn't have the same ecosystem as Hue lights or the same compatibility across all smart platforms, its ease of use goes a long way in making it great to use. This smart light should do the job you need it to do without much fuss.
Buy at Govee.
Newsweek may earn a commission from links on this page, but we only recommend products we back. We participate in various affiliate marketing programs, which means we may get paid commissions on editorially chosen products purchased through our links to retailer sites.