Govee Lyra Smart Floor Light: Modern Lighting That's Fun and Useful
Just say the word to the smart voice assistant and lights come on at your command. Connected lights are a marvel. Maybe you've already taken the plunge and added a few connected light bulbs throughout the house. If so, the convenience is clear. As smart home lighting becomes more ubiquitous though, the challenge is finding more utility for it and naturally integrating it in more places. Govee's latest Lyra floor light tackles this in a slim form, making it a solid way to add easy-to-control lighting to more places around your house—versus just another standard light bulb.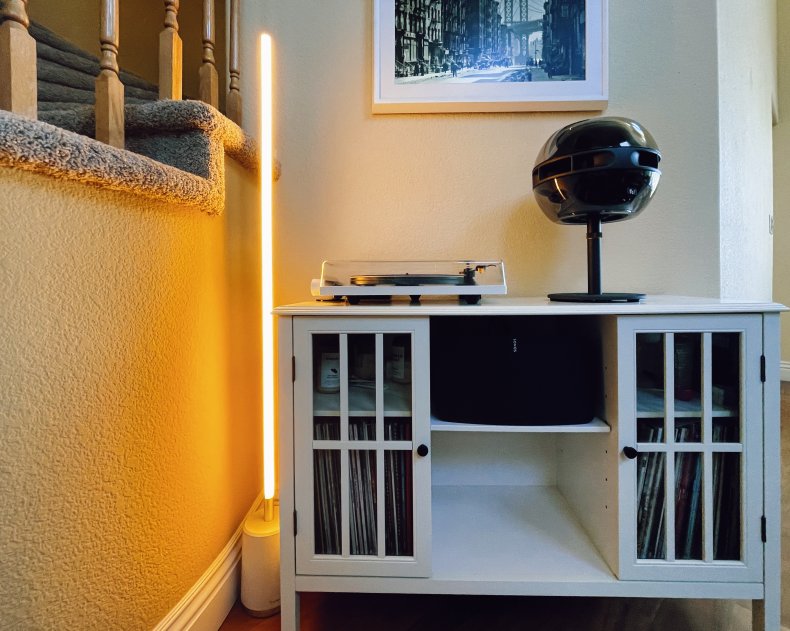 On the surface, the Lyra floor light provides all the lighting basics. There's an extended range of color temperatures from cool to warm as well as 16 million colors that allows for subtler color selections between each solid one. You should feel confident that there will be the hue available to complement any mood. It also supports Wi-Fi-enabled voice control via Alexa and Google Assistant beyond its included remote control. Going further, the floor light can pulse to sound and features a DIY mode, so anyone can craft the exact lighting to fit their home. It's a fun but extremely useful light that can manage its way into most budgets.
Govee Lyra Modern Lighting
Lyra is a thin and tall light that's anchored by a weighted base. The silver housing running to its top is present just enough to provide a frame for the light strip. This minimal design creates a contemporary aesthetic. The light will look best in spaces with similar modern decor, but depending on where you want to use this floor lamp, it could mostly disappear into a corner. Its pared-back look shouldn't discount it from consideration, at least not off the bat.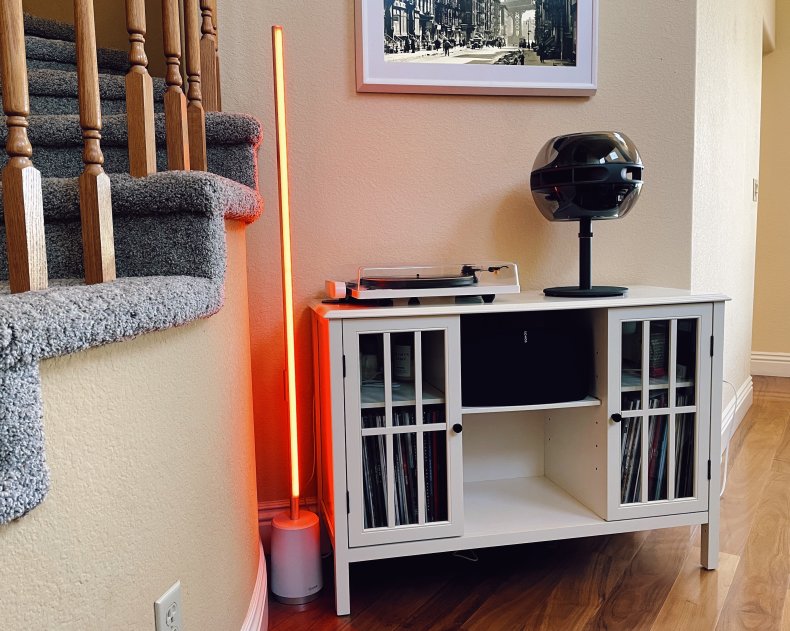 It's not clear from pictures, but Lyra is actually just a light strip that snaps into an aluminum frame. I was surprised by the small size of its packaging when it arrived, but I quickly realized it would need to be assembled, even though it looks like a single unit with no seams. The instructions aren't great, particularly when it comes to designating the directional placement of the parts. Still, it didn't take too much time to figure out how to attach the four pieces with the included screws and screwdriver.
I have a few different light strips from various smart light manufacturers, and I've found them harder to integrate around the house than I had anticipated. Light strips just don't work in as many places as they might seem; they require a specific place, such as on top of a cabinet or behind a piece of furniture. I think Lyra is a clever solution for repurposing a smart light strip by giving it an elegant casing to stand it up straight.
Lyra Performance and Uses
I was first introduced to Govee with its Aura tabletop light. It's not the sleekest or most attractive light, but it has proved to be dependable and handy. Lyra retains that solid reliability, but, in my opinion, it adds more attractiveness to the mix.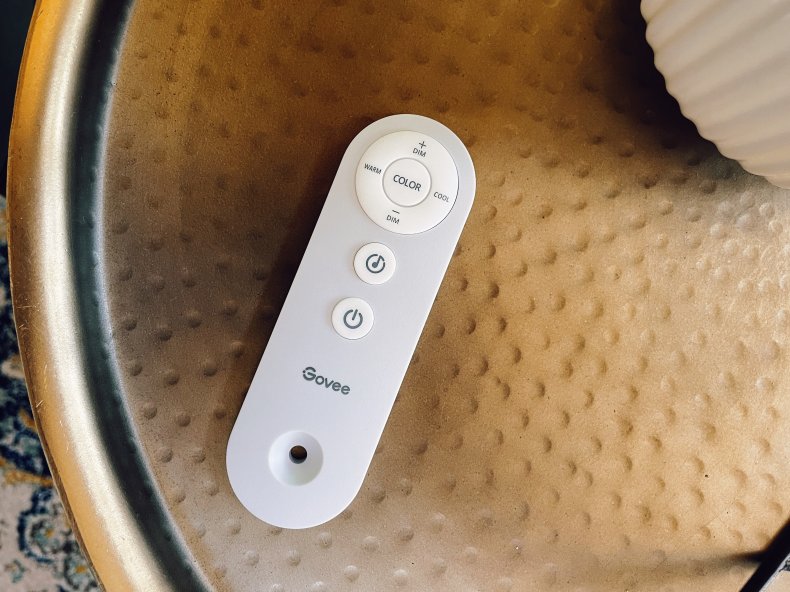 Even if you don't want to connect the light to your Wi-Fi, it can perform most of its functions without your ever touching its mobile app. The included remote control can change the color temperature from warm to cool and dim as well as brighten the light. There's a button to cycle through several distinct primary colors, too. There's also a button to activate the audio rhythm feature, which makes the light dance in time with sound. Of course, there's a power button to turn the light on and off that rounds out the simple remote. There's also a magnet in the back of the remote so it can be attached to the back of the light frame.
If you do want to set up voice commands or dig into even more colorful lighting options, you'll need to use the free Govee app. For example, in the app, you can apply lighting effects to match thunderstorms or beach waves if your goal is to use the light to soothe and calm. Timers can be set inside the app. There are also preconfigured lighting settings, including Fireworks, Halloween, Ripple, Sunset Glow and more. There's a DIY mode so you can use your finger to "paint" sections of the light—basically providing infinite lighting options.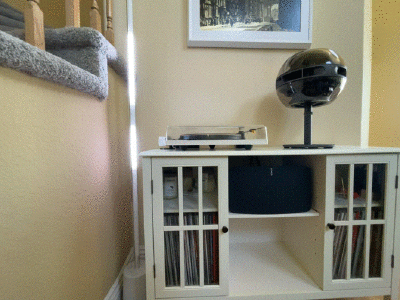 The app itself works fine and has plenty of features. It's not the most intuitive, but, again, it does the job. In my daily use of the floor lamp, I tended to rely on the physical remote to control it. From there, I regularly adjusted the color temperature to match the lighting mood to the time of day. I set up the light next to a record player and speaker, so I found myself using the rhythm mode more than I would have guessed. The microphone on the power cable was sensitive enough to make the lighting effects dance continuously.
Although I like the extra features the app provides, I found myself not returning to them frequently. It would be neat to have a programmable button on the remote to have quick access to whatever app setting you'd like, but that would also make it much more complex.
Should You Buy a Govee Lyra Smart Light?
There are several places around my house where I've needed a bright light, but I haven't had space for one. This is where I think Lyra shines. There are complex lights that stick to the wall, but this minimal, connected light bursting with features is one of the simplest, most robust options.
I like that this light can hook into the Google and Amazon smart systems, but it doesn't need to. It has plenty of smart functions for controlling it, but at the end of the day, it's just a reliable and minimal floor light.
Buy at Amazon.
Newsweek may earn a commission from links on this page, but we only recommend products we back. We participate in various affiliate marketing programs, which means we may get paid commissions on editorially chosen products purchased through our links to retailer sites.