Government Entities, Officials in Texas Could Be Fined $1,000 if They Try to Impose Mask Mandate
Texas government entities and officials will soon face a new punishment if they try to require the use of face masks.
Governor Greg Abbott signed an executive order Tuesday that will prohibit counties, cities, school districts, public health authorities or government officials from mandating mask wearing.
If a local government or official tries to do so anyway, or imposes a restriction that is inconsistent with Abbott's order, the person could be subject to a fine of up to $1,000, beginning May 21.
"The Lone Star State continues to defeat COVID-19 through the use of widely available vaccines, antibody therapeutic drugs, and safe practices utilized by Texans in our communities," Abbott said in a statement.
The Republican continued, "Texans, not government, should decide their best health practices, which is why masks will not be mandated by public school districts or government entities. We can continue to mitigate COVID-19 while defending Texans' liberty to choose whether or not they mask up."
There are some exceptions to Abbott's order against mask mandates. State-supported living centers, government-owned or operated hospitals, jails and the state's criminal justice and juvenile justice facilities will still be allowed to require face coverings.
Public schools can also continue to follow current mask-wearing guidelines through June 4. After that, no student, teacher, parent or staff member can be required to wear a mask while on school grounds.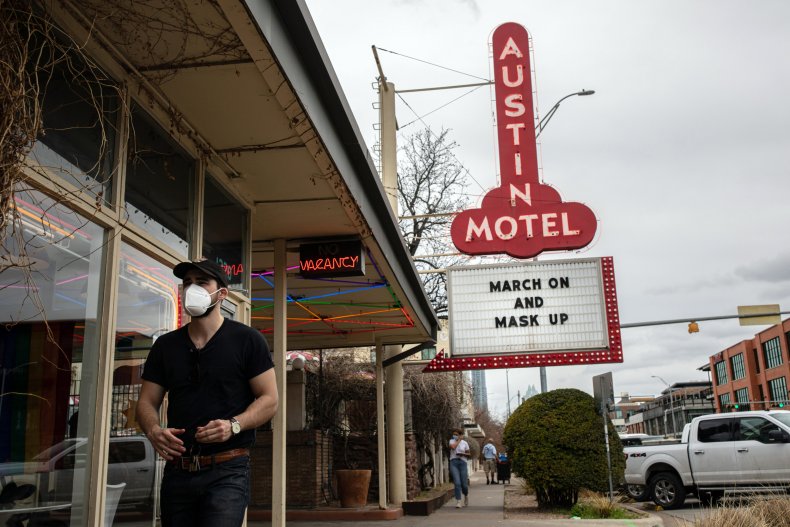 Abbott came under fire from public health experts and lawmakers earlier this year when he lifted all COVID-19 restrictions. He ended the statewide mask mandate and allowed businesses to fully reopen.
President Joe Biden at the time called it "Neanderthal thinking," and some local Texas officials pushed back, including Austin Mayor Steve Adler. He said he wouldn't stop enforcing a mask mandate for his constituents, despite Abbott's order and threats to sue.
The governor's latest executive order comes after the U.S. Centers for Disease Control and Prevention (CDC) updated its guidelines on face coverings.
The agency last week eased mask-wearing guidance for fully vaccinated people, allowing them to stop wearing masks outdoors and in most indoor settings. Fully vaccinated people must still wear a mask in health care settings, transportation hubs such as airports and stations, and public transportation.
For those who are not vaccinated, the CDC urged mask wearing for many activities. Face coverings should be worn by unvaccinated people in all indoor settings, even if there's physical distancing, and in crowded settings outdoors.
Abbott's executive order makes no mention of the vaccine, or any distinction between those who have and haven't been inoculated against the virus.
According to The Dallas Morning News, 650 more coronavirus cases in Texas were reported Sunday, including 595 new cases and 55 older ones that labs recently reported. For the first time since the pandemic began, no new COVID-19 deaths were reported.
More than 11.9 million people in Texas have received at least one dose of a coronavirus vaccine, according to the state's health department. Roughly 9.4 million people, or 39 percent of the state's population age 12 and over, are fully vaccinated.