'This Is A New Low': Government Ethics Watchdog Calls for State Department to Investigate Trump's Push to Hold G7 at His Miami Golf Resort
A government ethics watchdog is calling on the State Department's Office of Inspector General to investigate "possible corruption" after President Donald Trump's announcement that he is "possibly" looking to host international leaders at his Miami golf resort for next year's G7 summit.
Citizens for Responsibility and Ethics in Washington (CREW) announced on Tuesday morning that they filed a request for an official probe into the matter, raising concern that hosting the event at Trump National Doral could violate the Constitution's emoluments clause.
"The stunning revelation that the President of the United States is competing with American companies for a federal contract to host an event that he will lead in his official capacity marks a new low in an already ethically troubled administration," the watchdog wrote in a letter to the inspector general.
Axios first reported in July that the Florida golf club had been chosen by the Trump administration as a finalist to host the 2020 forum. The president has touted that the 800-acre resort is one of the Trump Organization's most profitable entities, even though it's been reported that revenue steadily declined at the property over the past few years.
Trump then said in late August that while he hadn't made a final decision as to where to host the summit, officials "haven't found anything that's even close to competing with" the Trump National Doral. The comments were made in a meeting with German Chancellor Angela Merkel at the G7 summit in France.
He also told reporters during a news conference that he would not make any money from hosting the event at the golf club. He added that the decision wasn't "about me, it's about getting the right location."
"In a presidency defined by profiteering and conflicts of interest, this is a new low," CREW executive director Noah Bookbinder said in a statement. "It's almost unimaginable that the president would use a vitally important international summit to prop up his struggling business, but that truly appears to be what's happening."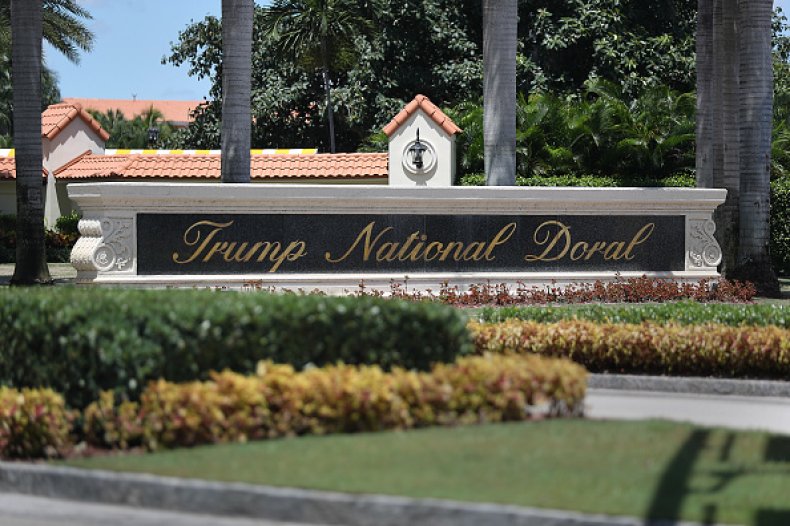 Following Trump's remarks, Democrats on the House Judiciary Committee said they intended to investigate his intention to hold the global forum at his own property. Representatives Jerrold Nadler (D-N.Y.) and Steve Cohen (D-TN) argued that such a move would allow him to directly profit from foreign and domestic governments, which violates both the foreign and domestic emoluments clauses of the Constitution.
"Potential violations of the Foreign and Domestic Emoluments Clauses of the Constitution are of significant interest and grave concern to the Committee as it considers whether to recommend articles of impeachment," the two lawmakers said in a joint statement.
CREW's executive director added in a statement that this "all could have been avoided had the president followed decades of precedent and divested from his business. Instead, we're left with a situation where every presidential action is under a cloud of suspicion for corruption, and that suspicion increasingly seems justified."
Trump is already facing scrutiny after Vice President Mike Pence lodged at a Trump golf resort during his recent trip to Ireland. The club was 180 miles away from where Pence was having meetings with foreign leaders, but a top aide said the vice president was acting on a "suggestion" from Trump to stay at his resort. The aide later walked back the claim and the White House denied it.
House Democrats are also investigating Pence's visit, citing concerns about taxpayer money being used to enrich the president and his companies. The Air Force has also ordered a review of all international layover stays following the Pence issue and other controversial visits by crew members.
'This Is A New Low': Government Ethics Watchdog Calls for State Department to Investigate Trump's Push to Hold G7 at His Miami Golf Resort | U.S.