Government Failing to Protect Green Belt Land, Report Says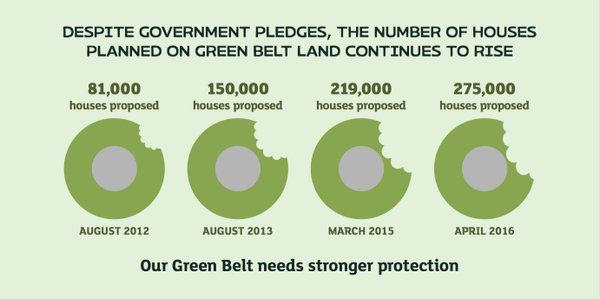 Updated | Councils in England are now planning for 275,000 houses on Green Belt land, despite Government pledges to protect it. This is a 50,000 increase on 2015, according to a new report published today by the Campaign to Protect Rural England (CPRE).
In total, there are now more than a quarter of a million houses planned for countrywide protected areas.
A policy for controlling urban growth, London's Metropolitan Green Belt was first proposed in 1935, to prevent urban sprawl, and protect the countryside. In 1947, local authorities were able to include similar proposals to their development plans.
David Cameron promised to protect "precious" rural Britain in March 2015, reiterating the Conservative manifesto pledge to safeguard "important green spaces." Despite verbal and written commitments, in 2014-15 nearly 350 hectares of greenbelt land was used for residential purposes, one of the highest annual rates since 1990, the Financial Times reports.
Concerns came at the beginning of the month when Secretary of State for Communities and Local Government Greg Clark announced that 1,500 homes would be built on land to the north of Brockworth, in Gloucestershire, "in one of the biggest developments on Green Belt for a decade," CPRE says. This followed the government's planning proposal to modify existing Green Belt restrictions on some sites to accommodate more starter homes.
A Department for Communities and Local Government spokesman made clear that using Green Belt land is a last resort: "Ministers have repeatedly been clear that demand for housing alone will not justify changing greenbelt boundaries," the spokesman said. "Councils are already expected to prioritize development on brownfield sites."
Reassurance from the government is most welcome, given that public support for Green Belt land is strong. An Ipsos MORI poll to mark the 60th anniversary of Green Belt land revealed that 64% of respondents believe it should be protected.
However, for at least three local authorities—Bradford, Durham and Northumberland, overriding existing Green Belt restrictions is justified if doing so encourages economic growth.
"To meet the government pressure for house building a lot of councils are ignoring the government's protection of the Green Belt," Matt Thomson, Head of Planning at CPRE tells Newsweek . "Planning policy allows Green Belt land to be changed in 'exceptional' circumstances. So if there are no brownfield sites or all the other sites are in a National Park for example, there is some flexibility. However, at the moment Green Belt land is not released in exceptional circumstances, it is pretty much normal. It is happening across the country, where we are losing large chunks of Green Belt."
In an effort to conserve Green Belt land, 15 councils will use a new register of brownfield land to help house builders identify suitable development sites as part of a pilot project announced in March.
This article originally stated that central government plans to build homes on Green Belt land. It was amended on April 27, 2016 to make clear that local councils are responsible for plans to build homes on Green Belt land.