Government Now Accepts Credit-Card Donations to Pay Off National Debt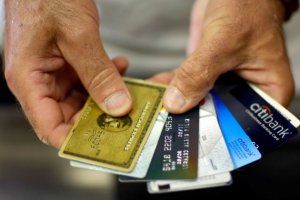 Got a few extra bucks for Uncle Sam? Since 1961, the U.S. government has accepted donations in cash or check from private citizens who wish to help pay down the national debt, currently at $13 trillion.
Now the U.S. Treasury has made it easier to donate—via credit card. In January, the department's Bureau of the Public Debt began to accept payments via Visa, MasterCard, American Express, or Discover at https://www.pay.gov/paygov/forms/formInstance.html?agencyFormId=23779454.
When asked whether encouraging Americans to use credit—taking on personal debt to pay national debt—sent the wrong message, a Treasury spokesperson tells NEWSWEEK, "We make it as easy as possible to donate." She adds, "There are many people who pay their credit cards off every month," but had no further comment.
Karen Gross, president of Southern Vermont College and an expert in consumer debt, was less circumspect. "One has to wonder," she says, "whether paying off government debt using one's personal credit card is a good decision."
"We're trying to induce people to make wiser choices on debt," she says, with reference to recent measures in the 2009 Credit Card Act to tighten consumer protections. "So why would we want to encourage people to exchange public debt for private?"
Figures for how many have actually opted to pay with a credit card are not available, according to the Treasury. But it's clear that the total contributed by the public has risen in the past few years.
Donations fluctuated between about $600,000 and $1.8 million through the early 2000s, according to figures on the program's Web site. That number climbed steadily to more than $2 million in 2008 and more than $3 million in 2009. This year, six months in, looks set to beat that total once again: more than $1.6 million has already been given.
The average donation, according to the Treasury, is less than $1,000—small donors mail checks and cash, often with notes describing a "patriotic duty." There are also larger bequests, and this year an elementary-school group made and sold donuts to help the deficit.
David Rosnick, an economist at the Center for Economic and Policy Research, says that those industrious dessert-makers, and others who have donated, could probably have better helped the country by using their money differently. "I don't think that deficit reduction should be our No. 1 priority right now." With unemployment high, he says, these donors would have been better off spending the money and stimulating the economy.
For those determined to make a donation—by credit card or otherwise—Rosnik offers one final sobering fact. "Three million dollars isn't going to pull us out of a $13 trillion deficit. That's basically a rounding error."