As the federal government enters its second week of a partial shutdown over $5 billion in funding for a wall at the Southern border, some programs are starting to run out of immediate funds.
The U.S. Department of Agriculture office, which oversees the Supplemental Nutrition Assistance Program (SNAP) and the Special Supplemental Nutrition Program for Women, Infants, and Children (WIC) has seen its staff cut by 95 percent this week, according to the USDA.
On Thursday, the agency's website read, "Due to a lapse in federal funding, this USDA website will not be actively updated. Once funding has been re-established, online operations will continue."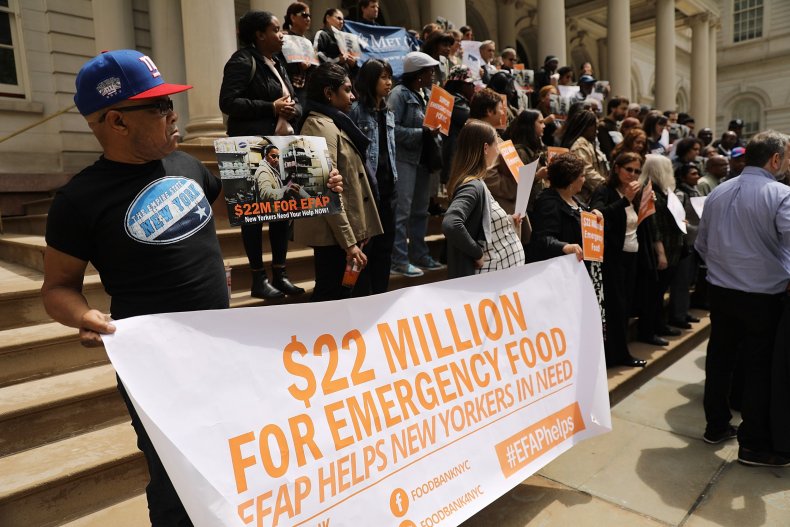 Americans can still expect to get their SNAP benefits (commonly known as food stamps) in January but will likely be unable to receive any assistance from program representatives. Those who rely on WIC or food distribution programs on Native American reservations may have greater difficulty. Those programs will lose funding, and support is subject to food availability. The Child and Adult Care Food Program and Summer Food Service Program will run out of funding by February, as will subsidized lunch and breakfast programs in public schools.
The USDA will continue its safety inspections of eggs, poultry and beef, however.
"There may be a lapse in funding for the federal government, but that will not relieve USDA of its responsibilities for safeguarding life and property through the critical services we provide," said Secretary of Agriculture Sonny Perdue in a statement.
But some argue that a lack of funding for supplemental food programs could put lives in danger. The National WIC Association released a statement urging Congress and the president to come to a resolution.
"A prolonged shutdown will drain WIC agencies of critical resources, potentially resulting in clinic closures and other adverse consequences to participants. More than 7 million mothers, pregnant women, and children rely on WIC for access to nutritious food, infant formula, and breastfeeding support," said the Reverend Douglas Greenaway, the association's president and CEO.
"The uncertainty and confusion that a shutdown causes is not only disruptive to people's lives but could also lead to significant health consequences if babies and young children lose access to nutritious foods and vital breastfeeding support. If the shutdown lasts for several weeks, families will be forced to make hard choices about how to feed their newborn babies," he said.
House Republicans said Thursday there would be no votes this week, which means the shutdown will extend into the new year.