Government Shutdown 2018: Senate Prepares Contingency Plan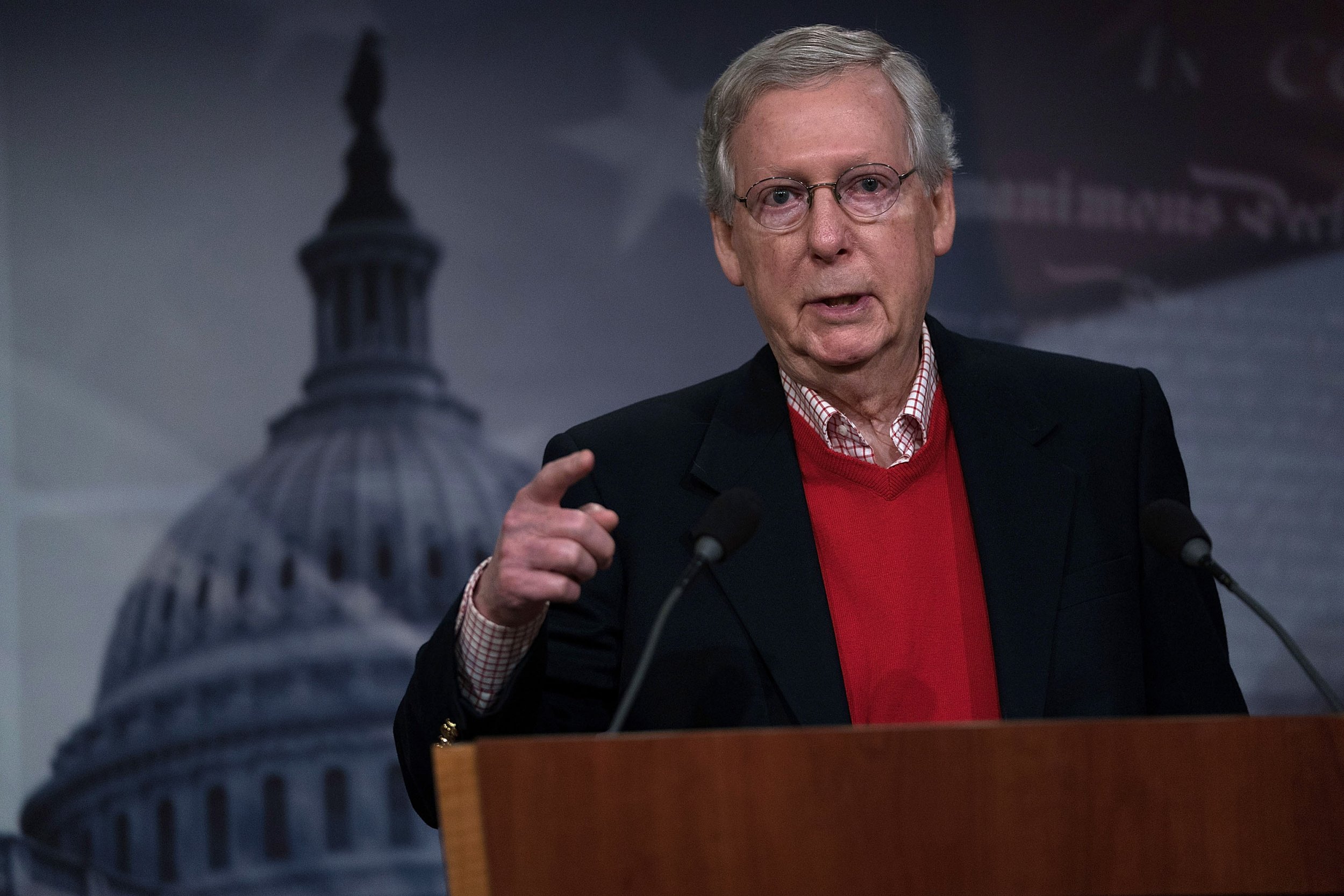 Senate Majority Leader Mitch McConnell is making plans to keep the Senate in session through the weekend if Congress can't reach a deal by midnight Friday to fund the government and avoid a shutdown—a possibility that he signaled he would blame on the Democrats.
The partisan showdown that could shut down the government is centered on the Deferred Action for Childhood Arrivals program, which allows undocumented immigrants who were brought to America as children to remain in the country. The program is currently set to expire on March 5. Also at stake in a potential government shutdown is the Children's Health Insurance Program, which is set to run out of funding imminently if not funded by new legislation.
Related: Trump, Republicans will be blamed for government shutdown, new poll finds
"We should all plan to stay through this weekend if Senate Democrats follow through and are willing to shut down the government and the Children's Health Insurance Program because they have yet to conclude a deal on DACA," McConnell told his Republican colleagues in an email obtained by Politico. "This is an irresponsible position to take as everything from pay for our military to processing social security checks will be affected. I hope not a single Republican is inclined to join them."
The latest comment echoes McConnell's Thursday morning floor speech, in which he laid out the options to avoiding a shutdown of the government, which runs out of funding at 11:59 p.m. on Friday.
"The choice before us is simple. We can pass a noncontroversial, bipartisan bill to keep the government open," the majority leader said. "Or Democrats in Congress can manufacture a crisis and force a government shutdown over the unrelated issue of illegal immigration, which we have until March, at least, to resolve."
Senator Joe Manchin of West Virginia is currently the only Democrat who said he plans to vote for a short-term continuing resolution currently under debate in the House of Representatives. But Republican Senators Mike Rounds of South Dakota and Lindsey Graham of South Carolina oppose the legislation, leaving its passage uncertain in a chamber where the GOP holds a narrow majority. A number of Democrats have stated that they will not support any bill to keep the government open without an agreement to protect Dreamers.
The GOP plan to pin the blame on Democrats may be a tough task, though, as a study out earlier this week showed that Americans are more likely to blame Trump and Republicans than Democrats if there is a shutdown.