Government Shutdown 2018 Update: Here's the Democrats' Plan to Reopen Government When They Take Over the House in 2019
Democrats in the House of Representatives apparently have a plan to reopen the government come the new year, amid the shutdown sparked by President Donald Trump's demands for funding for his long-promised wall along the southern border of the United States.
Democrats continue to have no intention of giving in to Trump, and plan to make an effort to reopen the government once they officially gain control of the House when the new Congress convenes on Thursday.
"Democrats plan to pass a stopgap spending bill to fund the Homeland Security Department through Feb. 8," wrote The Washington Post's Erica Werner and Seung Min Kim. "The legislation would continue existing levels of border funding without giving President Trump the new wall money he is seeking."
The Post reported that it will be the same stopgap bill Trump refused to sign this month, sparking the shutdown—and that Democrats planned to pass legislation to reopen several federal agencies.
But Republicans still control the Senate, where 60 votes are needed, and there's no telling what they'll do with the legislation. Politico reported that the Democrats' plan was likely dead on arrival.
"It's simple: The Senate is not going to send something to the president that he won't sign," Don Stewart, a spokesman for Senate Majority Leader Mitch McConnell, told the outlet.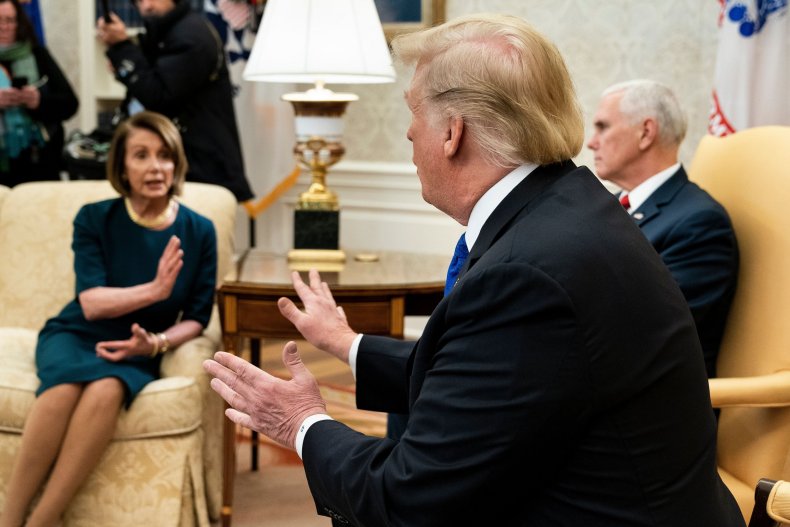 At first, Trump seemed eager to take on responsibility for a shutdown. Meeting earlier this month with presumptive Speaker of the House Nancy Pelosi and Senate Minority Leader Chuck Schumer, the president said a shutdown would be his responsibility.
"If we don't get what we want, one way or the other—whether it's through you, through military, through anything you want to call—I will shut down the government. Absolutely," Trump said in front of the cameras during a meeting at the White House in December. "I am proud. And I'll tell you what, I am proud to shut down the government for border security, Chuck. ... So I will take the mantle. I will be the one to shut it down. I'm not going to blame you for it."
But Trump has since completely reversed course and attempted to pin the shutdown on Democrats, even using the hashtag #SchumerShutdown.
"I'm in the Oval Office. Democrats, comeback from vacation now and give us the votes necessary for Border Security, including the Wall," Trump tweeted Monday. "You voted yes in 2006 and 2013. One more yes, but with me in office, I'll get it built, and Fast!"