Government Shutdown 2019 Update: Bipartisan Group of Senators Urges Trump to Reopen Government for Three Weeks
On the 26th day of the partial government shutdown, a group of bipartisan senators circulated a letter urging President Donald Trump to sign a stopgap measure to reopen the government.
The letter, drafted by Senators Lindsey Graham, the Republican from South Carolina, and Christopher Coons, the Democrat from Delaware, sets out a commitment indicating they'll work toward a border wall security package with the president if he reopens the government for a limited period. More than a dozen senators in both the Democratic and Republican parties are expected to sign the document, according to Politico, which could be sent to Trump as soon as Wednesday. However, two insiders told the media organization the White House could be urging Republicans to dismiss the letter after some key GOP members suggested they won't sign on.
Following a lunch meeting on Wednesday, Coons said Republicans are currently reviewing the draft, which he believes won't be sent to Trump unless it gathers enough support. "I hope by the end of today we have a robust, bipartisan letter that we can deliver to the president. But you've sure got people who are pushing back in their caucus, and that's striking to me," Coons said.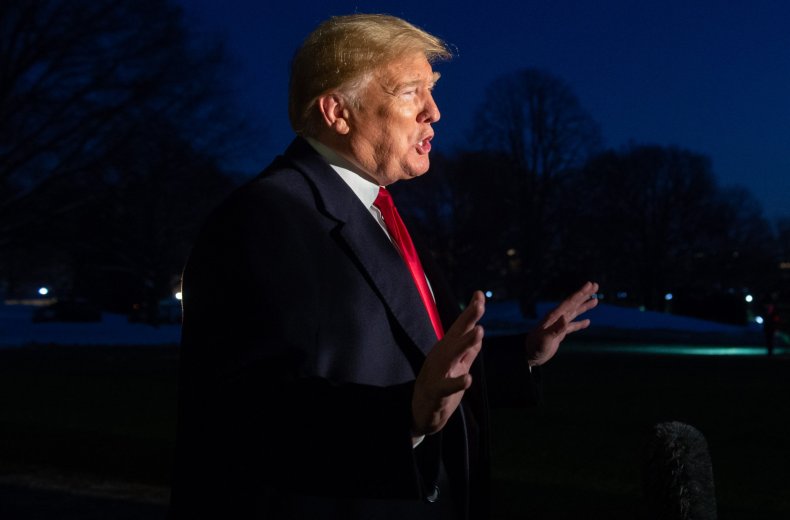 A partial government shutdown went into effect last month, after Trump declined to sign a stopgap measure that didn't include funding for his border wall—one of his key campaign promises. Around one-quarter of all U.S. government departments have been affected, with approximately 800,000 federal employees furloughed or working unpaid. Now on it's 26th day and with no resolution in sight, the partial shutdown became the longest in American history when it reached 22 days, over the weekend, beating a record set in 1996.
The shutdown is dragging on due to an entrenched stalemate between Trump and congressional Democratic leaders over funding for the president's proposed border wall. In the draft letter, lawmakers asked Trump to allow a three-week continuing resolution in return for assurance that his proposed border wall budget request will be considered by the relevant congressional committees.
"[We're] committed to resolving our current budget stalemate by strengthening border security and ending the government shutdown," the draft letter said. "We believe that such requests deserve consideration, through regular order, a process we support."
"We respectfully request that you join us in supporting a short-term Continuing Resolution (CR) of three weeks to give Congress time to develop and vote on a bipartisan agreement that addresses your request. We commit to working to advance legislation that can pass the Senate with substantial bipartisan support."