Government Shutdown Senate Votes Fail, Democratic Bill Gets More Votes Than Trump's as Republicans Split With President
Two dueling spending bills that would have ended the partial government shutdown, now in its 34th day, failed to muster enough support to advance in the Senate on Thursday. Neither bill was expected to receive the necessary 60 votes to advance, with lawmakers voting mostly along party lines.
The Republican-backed measure would have funded the government and provided $5.7 billion for President Donald Trump's southern border wall. The bill, which was outlined by Trump last weekend, also included temporary protections for Deferred Action for Childhood Arrivals program recipients and immigrants with temporary protected status, among other things. It failed in a 50-47 vote, with two Republicans—Tom Cotton and Mike Lee—voting against the proposal and Democrat Joe Manchin voting in support.
The Democrats' bill, which featured a clean continuing resolution (CR) that would fund the government through February 8 and provide no funding for the wall, also failed but wound up getting more crossover support from the Republican-controlled Senate. The same measure was passed by the GOP-controlled Senate last session, leading up to the shutdown.
This time around, six Republicans—Lamar Alexander, Susan Collins, Cory Gardner, Johnny Isakson, Lisa Murkowski and Mitt Romney—voted to advance the proposal, which went down in a 52-44 vote.
Update: Senators propose stopgap spending bill to end government shutdown, but Trump, Democrats remain divided
It's unclear where lawmakers and the president will go from here in order to reopen the government. The House and Senate are not expected to conduct business over the weekend. Senators have suggested that perhaps a deal could be reached if the government were to temporarily reopen.
"I'm pretty confident if we ever got in a room without the shutdown over us, I think" that something could be figured out, GOP Senator Lindsey Graham said. In order to get a short-term CR, Graham added, Democrats need to show "some movement."
And Democrats are prepared to do just that, but not when it comes to the wall.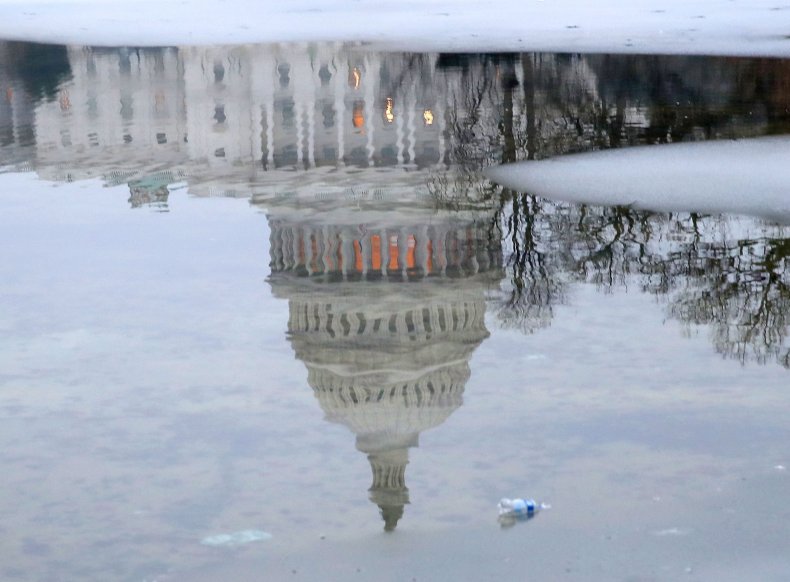 Expanding on a proposal that House homeland security committee Chairman Bennie Thompson told Newsweek about on Wednesday, House Democrats will soon unveil a $5.7 billion offer for border security in exchange for at least temporarily reopening the government. The proposal, which is still being developed by Thompson and the Democratic leadership in the House, will be delivered in the form of a letter and not an actual bill.
"At this point, the amount of money will meet or exceed what the president is asking for," Thompson said Wednesday.
The $5.7 billion offer will be far higher than what Democrats have previously said they'd be willing to provide, which ranged from $1.3 billion to $1.6 billion.