Government Shutdown Averted as Pelosi, White House Strike Pre-Election Funding Truce
House Speaker Nancy Pelosi and U.S. Treasury Secretary Steven Mnuchin have agreed on a bill designed to avoid a shutdown of the U.S. Government.
The stopgap measure will be separate from discussions about the fifth coronavirus stimulus package. However, other programs may be extended under the act, those familiar with the agreement told the Associated Press.
Pelosi spokesperson Drew Hammill said, "House Democrats are for a clean continuing resolution" on Thursday. White House Press Secretary Kayleigh McEnany said during a Thursday press conference that the White House believed they would get the necessary funding to keep the government running.
The agreement reached by Pelosi and Mnuchin is expected to allow the government to remain open during November's presidential election.
Newsweek reached out to Speaker Pelosi's office for comment.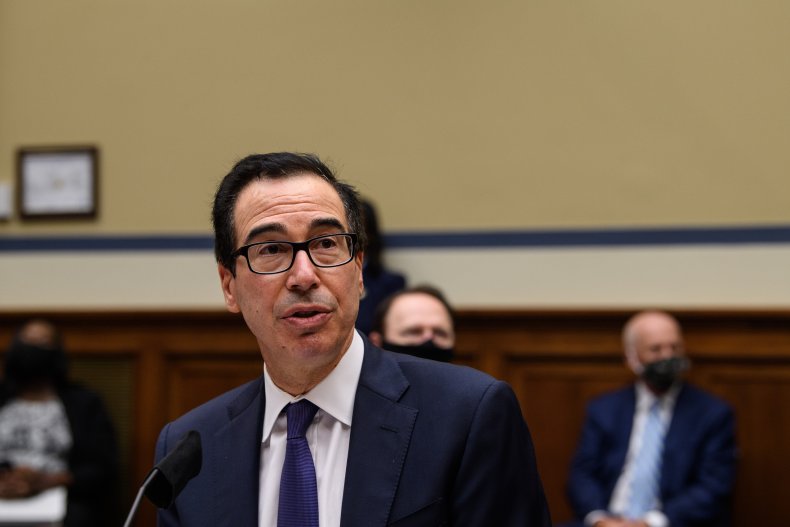 The funding measure is expected to be free of controversy, according to those familiar with the agreement. While coronavirus financial relief will not be addressed by the agreement, talks over the next economic stimulus package have stalled.
On Tuesday, Pelosi and Mnuchin spoke on the telephone concerning the package but no progress was made.
"Sadly, this phone call made clear that Democrats and the White House continue to have serious differences understanding the gravity of the situation that America's working families are facing," Pelosi said in a Tuesday statement.
The last time the U.S. government shut down was in 2018 when President Donald Trump originally sought funding for the border wall between the U.S. and Mexico. That shutdown lasted for 35 days.
Trump had demanded over $5 billion in wall funding which House Democrats did not want to allocate. Some federal agencies were closed during the shutdown, leading to the furlough of approximately 800,000 employees.
"Walls should not be controversial," Trump said in January 2019. "Our country has built 654 miles of barrier over the last 15 years, and every career Border Patrol agent I have spoken with has told me that walls work. They do work. No matter where you go, they work. Israel built a wall—99.9 percent successful. Won't be any different for us."
In February 2019, Trump declared a national emergency in order to have the wall funded, citing a tremendous criminal influence entering the U.S. from Mexico.
"I didn't need to do this," Trump said about the emergency measure, "but I'd rather do it much faster. I just want to get it done faster, that's all."