Government Shutdown Cost $6 Billion―More Than Donald Trump Wanted in Border Wall Funding
Donald Trump signed legislation on Friday evening that officially reopened the government after the longest shutdown in U.S. history. But the shutdown over border security lost the country about $6 billion, according to estimates by S&P Global.
The overall cost of the shutdown just surpassed the amount of money Trump repeatedly requested from Congress to construct his long-promised border wall between the U.S. and Mexico. Throughout the 35-day shutdown, Democrats refused to back a spending bill that included the $5.7 billion for wall funding, slamming plans for the barrier as "immoral" and "wasteful."
But after Trump announced on Friday that he would support a continuing resolution to reopen the government through February 15, he said that this was "in no way a concession."
"I wish people would read or listen to my words on the Border Wall. This was in no way a concession. It was taking care of millions of people who were getting badly hurt by the Shutdown with the understanding that in 21 days, if no deal is done, it's off to the races!" the president tweeted shortly after his Rose Garden announcement.
The Trump administration had been under increasing scrutiny about the shutdown this week, as about 800,000 federal employees missed their second paychecks. Many federal employees who had either been furloughed or forced to work without pay had to pick up second jobs or rely on food banks to get by while the government was closed.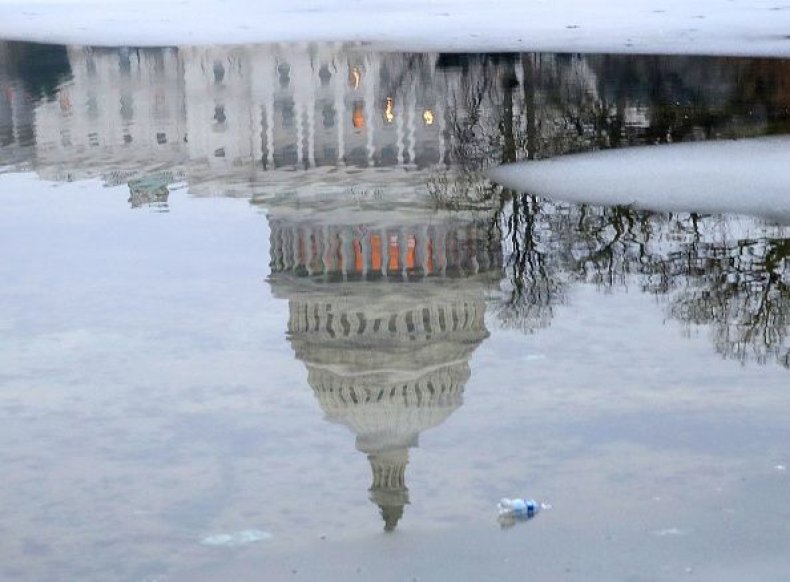 Now that an appropriations bill has been passed, most federal employees can expect to receive back pay sometime next week. During his announcement on Friday, Trump said that he "will make sure that all employees receive their back pay very quickly or as soon as possible. It will happen very fast."
Trump's shutdown was the longest and most expensive in U.S. history. In 2013, former President Barack Obama shut down the government for 16 days over the Affordable Care Act and the debt ceiling, a move that cost the country about $2.6 billion. And former President Bill Clinton's 21-day shutdown, which until now had been the longest in history, had cost $2.3 billion.
The government will remain funded for the next three weeks, until February 15. Trump made it clear on Friday that he expects Congress to reach a deal over border wall funding in their next federal spending bill. If not, he warned that the government could close again or he will use his executive power to declare a national emergency at the southern border.
"So, let me be very clear: We really have no choice but to build a powerful wall or steel barrier," Trump said. "If we don't get a fair deal from Congress, the government either shutdown on Feb. 15 again, or I will use the powers afforded to me under the laws and the Constitution of the United States to address this emergency."